This Sourdough Discard Naan is a light and fluffy recipe with a sourdough tang and very easy to make. It's delicious and perfect for snacking on with hummus or serving as a side to a meal.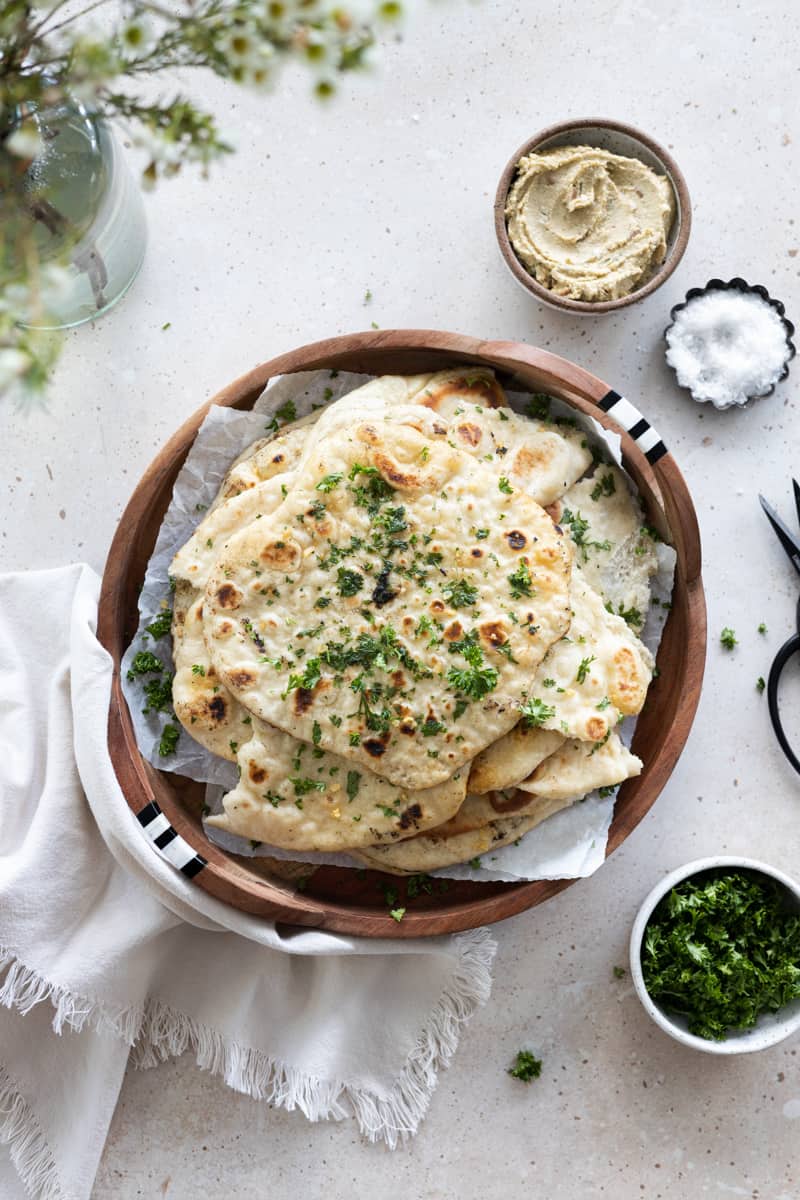 This recipe uses sourdough discard, and if you're looking for other sourdough discard recipes, I have a few great options! Check out these Sourdough Pretzel Buns, these Sourdough Discard Bagels and these Sourdough Discard Cinnamon Rolls.
If you're new to working with sourdough discard, check out these in-depth posts on how to feed sourdough starter and how to use sourdough discard.
Jump to:
Ingredients
You only need a few things to pull together this Sourdough Discard Naan.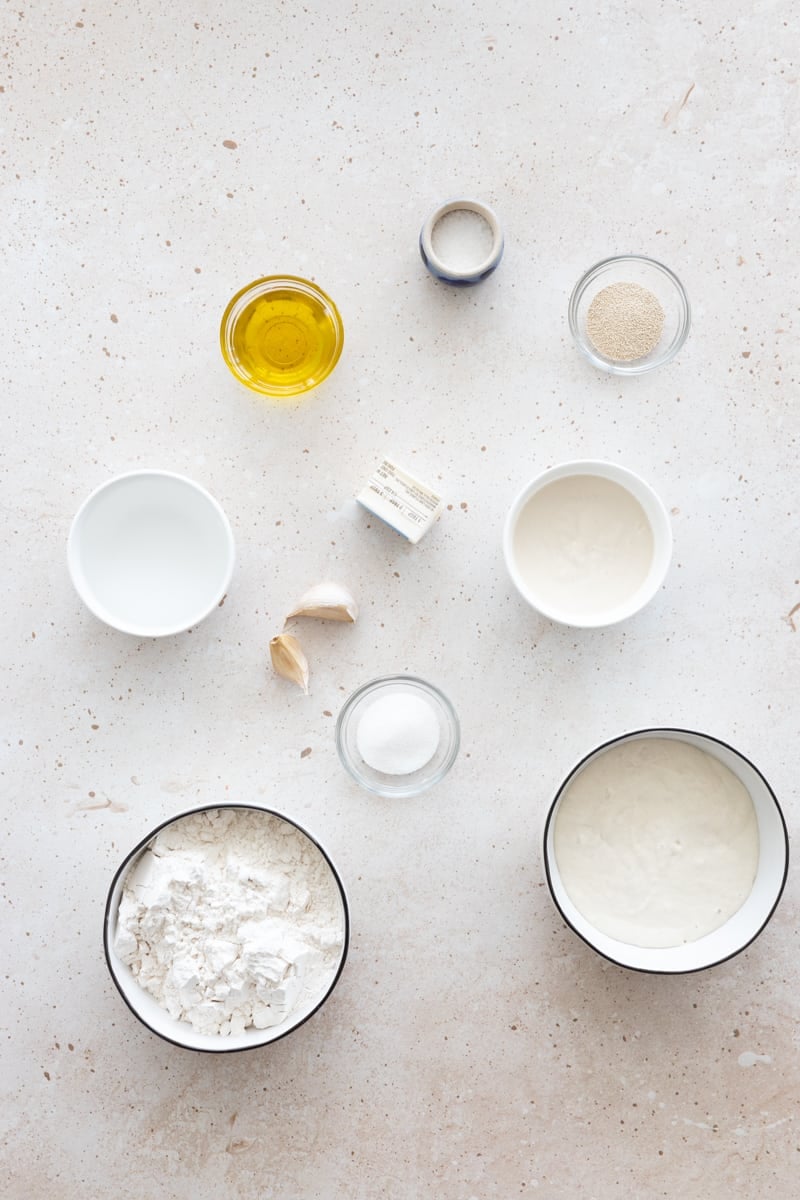 Active dry yeast: this yeast paired with the sourdough discard will help to make this naan light and fluffy.
Sourdough discard: this should be unfed and room temperature. This recipe is designed for a 1:1 sourdough discard (1 part water, 1 part flour). If your discard has a different ratio, you may need to adjust the flour or water content of the recipe to suit.
Non-dairy plain yogurt: Plain yogurt is key here. I use a non-dairy yogurt, but you can use a dairy yogurt as well.

Butter

: you can use unsalted butter or a non-dairy butter alternative.
Garlic cloves: you will use 2 minced garlic cloves to create the garlic butter. Brush it on the naan liberally!
Olive oil: for the pan while you're cooking the naan
And a few pantry staples including granulated sugar, all-purpose flour, salt and fresh parsley.
See full recipe below for detailed instructions.
Instructions
Once the dough is ready to cook, this goes quickly, so make sure you're ready!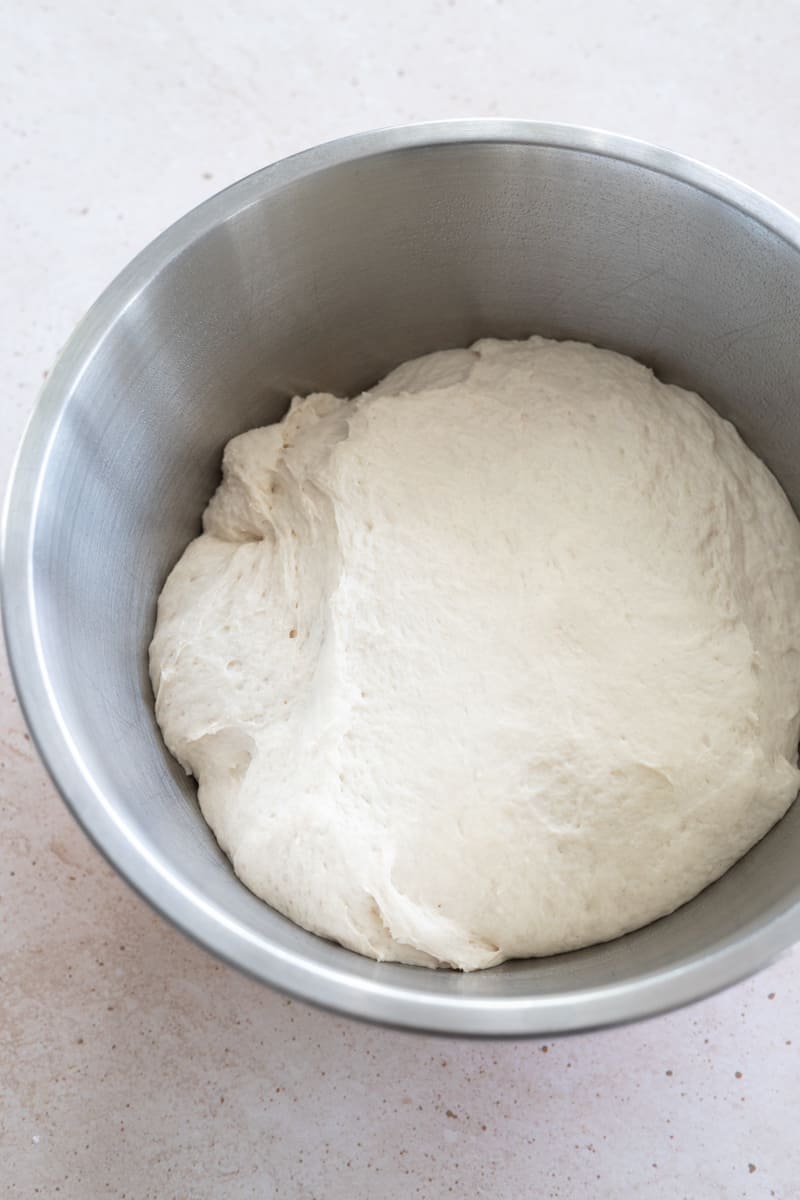 Mix your dough, cover with plastic wrap and let it rise for 1 hour, or until doubled in size.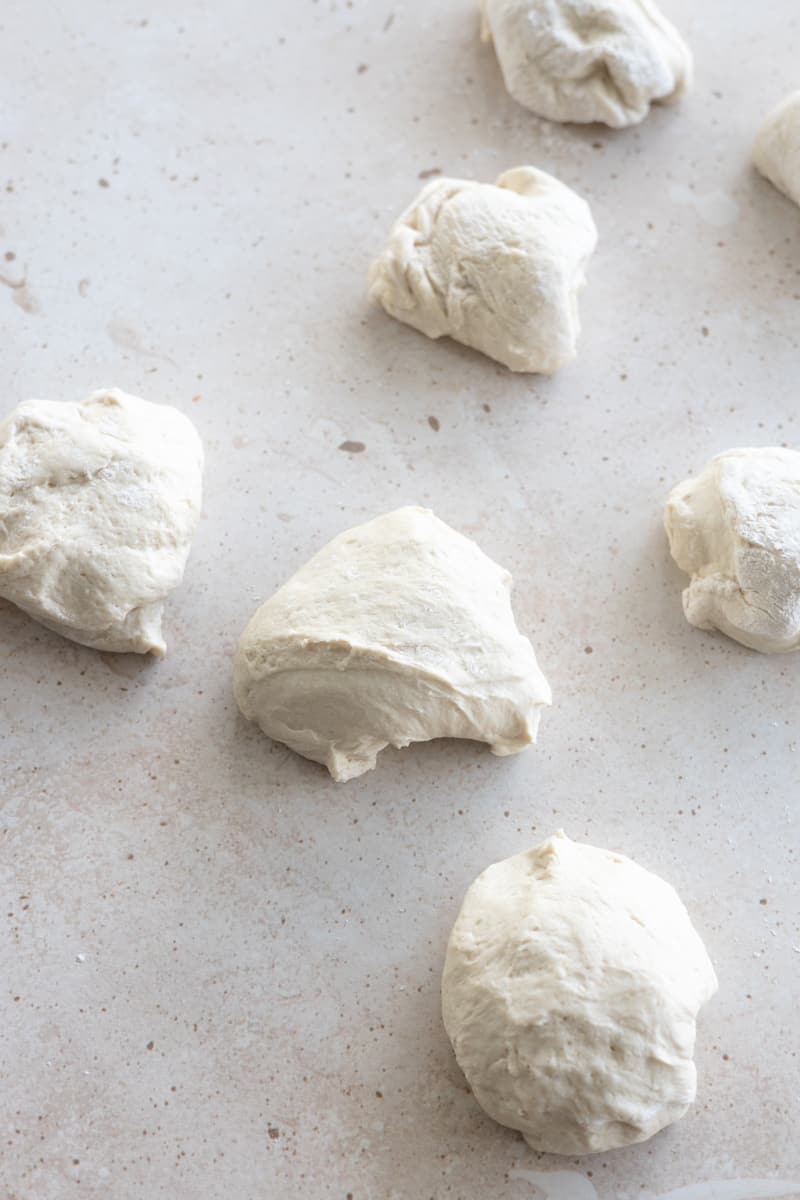 Divide the dough into 8 equal pieces. This will be a fairly soft and sticky dough.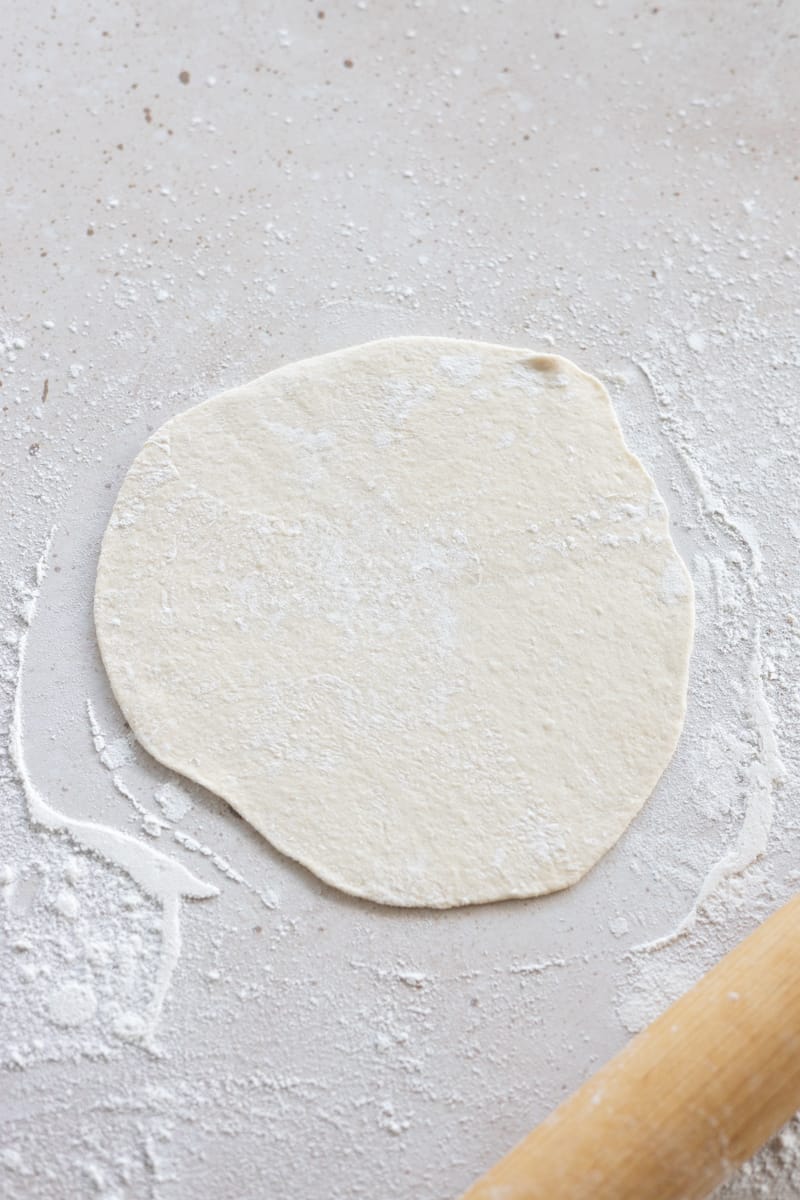 On a floured surface, roll the dough into a roughly 8-12 inch circle. It doesn't need to be perfect - the uneven edges are part of the charm!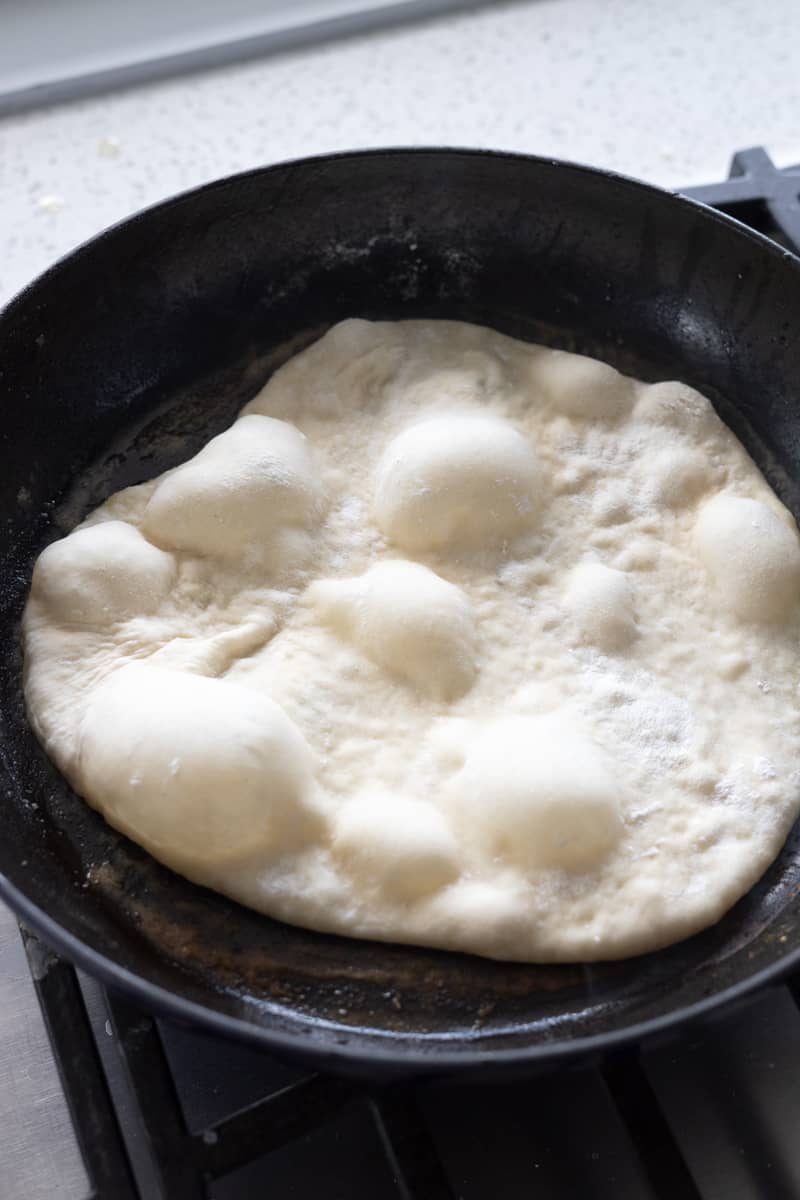 Heat your cast iron skillet over medium-high heat until searing. Drizzle with olive oil, and add your dough until puffy, bubbled and browning. Flip to brown the other side.
Transfer to a cooling rack or plate and brush with garlic butter, then sprinkle with fresh parsley. Serve immediately while warm.
Hint: This will be a bit messy, so just be ready for it! Cooking the naan in the cast iron will go quickly. You want to make sure the pan is piping hot, so it may even get a little smoky (mostly from excess flour on the naan). Turn down the heat if it seems to be burning your dough. This is also great to cook with someone helping you, so one person can handle the dough, while the second person brushes the cooked naan with the garlic butter.
Equipment
To make Sourdough Discard Naan, you will only need a few specific things. I like to make my dough in a stand mixer (I use a KitchenAid 5-Quart Stand Mixer), but you can also make this in a large bowl with a wooden spoon. You'll need a rolling pin (or large, flat bottle) to roll the dough. Use a kitchen scale to measure the sourdough discard.
I suggest using a large cast iron pan to cook the naan (Staub, Le Creuset, Lodge, and many others all make great cast iron). I also like to use tongs to flip the naan, although a spatula would also work. Finally, you'll need a brush for brushing the naan with garlic butter, and I always recommend a cooling rack. In this case, the cooling rack will also allow any excess butter / garlic / parsley to fall to the countertop.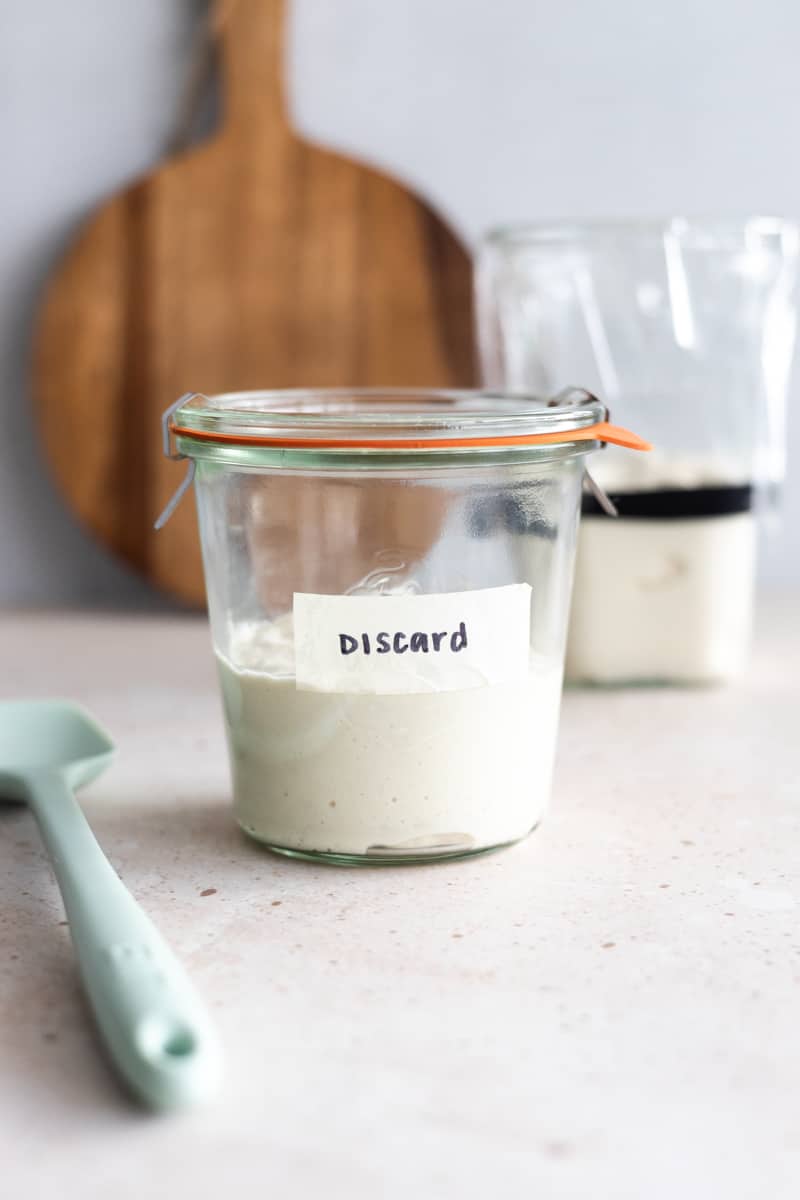 What is Sourdough Discard
If you have a sourdough starter, you also have quite a bit of sourdough discard. Every time you "feed" the sourdough starter, you essentially cut the starter in half and "discard" one portion (check out this post for an in-depth guide on how to feed sourdough starter). You can either literally throw it away, or use it in a sourdough discard recipe like this one! You can read more about how to use sourdough discard here.
Every sourdough starter (and therefore the discard) is different. This recipe is designed for a 1:1 discard (1 part water, 1 part flour). If your starter uses a different ratio, you will need to modify the recipe to accommodate.
You can always add more water or more flour to the recipe 1 Tablespoon at a time to reach your desired dough consistency. This will be a somewhat sticky, soft dough, but it should be firm enough that you can work with it with a rolling pin.
Storage
Sourdough Discard Naan is best eaten fresh and warm. With any leftovers, let them cool fully, then store them in a sealed plastic bag in the fridge for up to 5 days. You can heat them in the microwave, or eat them at room temperature.
Top tip
These will not be perfect, and that's ok! Each piece will be different, and they'll all be a bit irregular, but that is part of the charm and the fun of making Sourdough Discard Naan. They will be delicious regardless!
Recipe FAQ
Can I make this if I don't have sourdough discard?
This recipe is designed to be made with sourdough discard. Without it, you would need to adjust several ingredients.
My dough is very sticky - now what?
The dough will be a bit sticky, but if it's too much, add 1 Tablespoon of flour at a time until you reach your desired consistency. Make sure to flour your surface and your rolling pin as you're rolling the dough, too.
Why is my pan smoking?
You will be cooking this naan at a fairly high heat. Excess flour from the dough is likely to get in your pan and start to brown and burn a little bit, but that's ok! As long as your dough isn't burning, you're doing it correctly. If it does feel too hot or if you feel out of control at all, turn the heat down to medium. You can also add more olive oil to the pan if needed.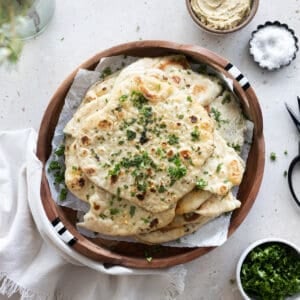 Sourdough Discard Naan
A delicious recipe for Sourdough Discard Naan, and a great way to use up some of your sourdough discard!
Ingredients
For the dough
½

cup

warm water

bordering on hot

2

teaspoons

granulated sugar

2 ¼

teaspoons

active dry yeast

2 ¼

cups

all-purpose flour

200

grams (about ¾ cup)

sourdough discard

unfed, at room temperature

¼

cup

plain, dairy-free yogurt

at room temperature

1

teaspoon

kosher salt
For the toppings
4

Tablespoons

unsalted butter

2

garlic cloves

minced

¼

cup

fresh parsley

chopped

olive oil

for the pan
Instructions
Combine sugar and water in the bowl of a stand mixer. Sprinkle with the yeast and let sit for 5 minutes until foamy. If your yeast does not foam, it is dead, and you will need to start over with fresh yeast.

Add flour, sourdough discard, yogurt and salt. Mix on low speed until combined, then increase speed to medium and knead until a loose but smooth dough forms, about 4-5 minutes. Add more water or flour 1 Tablespoon at a time, if needed, to reach the desired consistency.

Grease a large bowl, then transfer the dough to this bowl. Cover with plastic wrap and let rise for 1 hour or until doubled in size.

While the dough rises, melt the butter in a small skillet. Add the garlic and sautée 2-3 minutes until fragrant and just starting to brown. Remove from heat and transfer to a bowl.

Turn the dough onto a floured surface and divide into 8 equal pieces. Using a floured rolling pin, roll each piece into a roughly 8-12 inch circle.

Heat a large cast iron skillet over medium-high heat. Drizzle with 1-2 Tablespoons olive oil. Add a rolled piece of dough and cook until fluffy, bubbly, and browning. Flip to brown the other side, then transfer to a cooling rack. Repeat with remaining pieces of dough, adding more olive oil to the pan if necessary.

While warm, brush each piece of naan with melted garlic butter and sprinkle with parsley. Serve immediately.
Tried this recipe?
Leave a comment below and tag @thisjess.cooks on social!