Jump to Recipe
Smashed potatoes are a perfect side dish for any occasion. Outdoor barbecue? Easter dinner? Sunday night with family or friends? Smashed potatoes. And the beauty is that you can change up the herbs you use to match the season, or of course, your preferences! With spring just around the corner, these Smashed Potatoes with Green Onions & Dill are the perfect side dish for any occasion.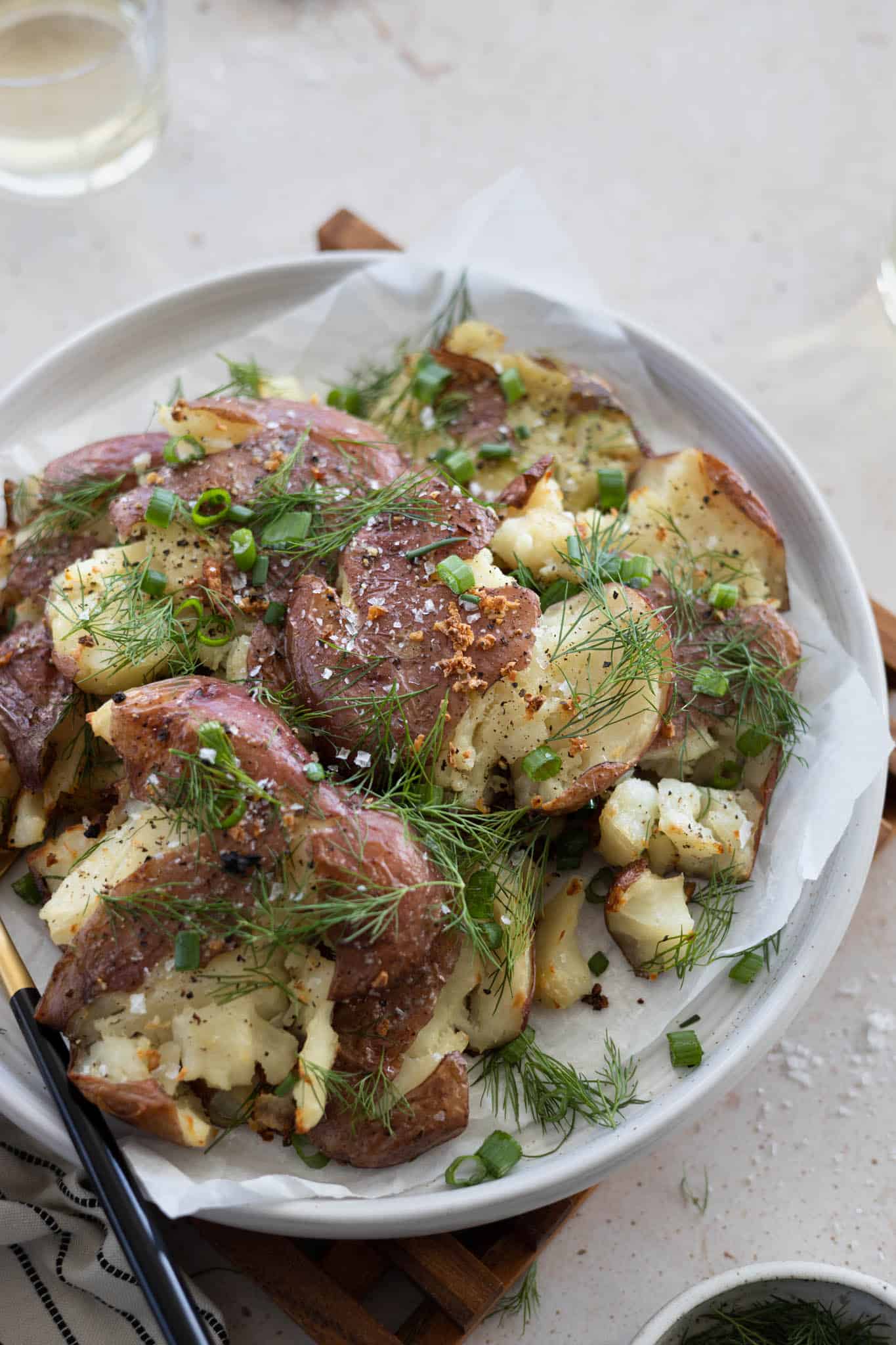 As always, I do include a few affiliate links in this post for products I truly use and love. This just means that if you make a purchase after clicking one of those links, I'll earn a little money (at no cost to you) to keep the kitchen up and running, which I promise to use to create more fun content like this! One of those affiliates is with Amazon, which requires a very clear disclosure: as an Amazon Associate, I earn from qualifying purchases. If you have any questions about affiliates, please reach out!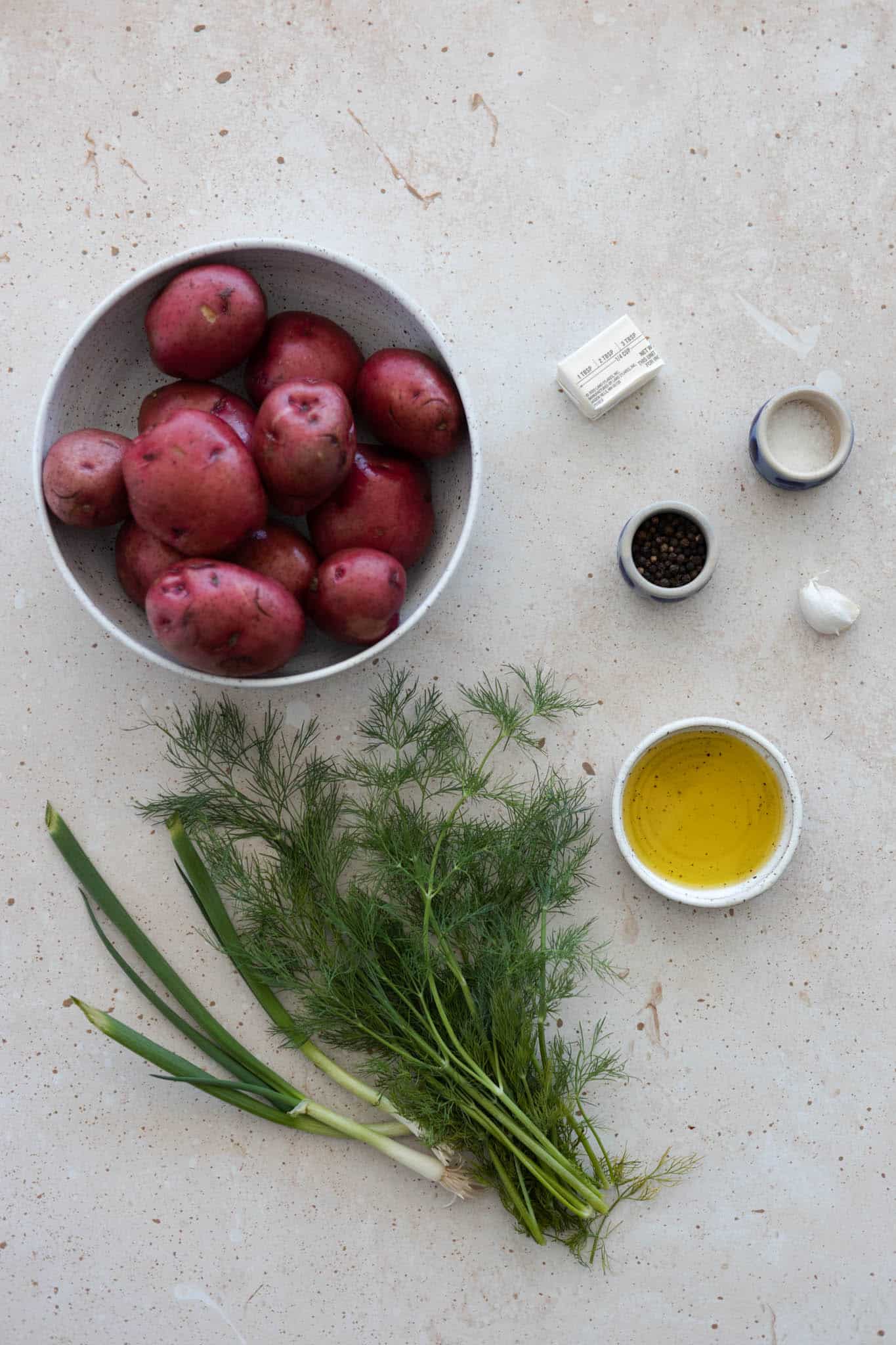 Ingredients for Smashed Potatoes
Mini red potatoes: other potatoes work well too, but red potatoes are a great size, consistency, and the color is wonderful. The size of the potato is important. When you smash them, the potatoes spread out. If you're working with large potatoes, not only will they need to cook longer, but you'll also end up with very large smashed potatoes!
Dill: the fresh herbs are the star of the dish, so feel free to be heavy-handed here!
Green onions: again, this is a place where you want to be heavy-handed!
Garlic: gives this a nice little zing
Butter: the butter helps the potatoes crisp up in the oven (and it's delicious). Want to get really fancy? Try adding some compound butter.
Salt & pepper: the final touch on this gorgeous side dish. I also love to use a big, flaky salt such as Maldon Sea Salt or Jacobsen's sea salt to really finish this recipe.
Equipment you'll need to get started
This is a really simple recipe, so you likely have everything you need. A few things I like to use: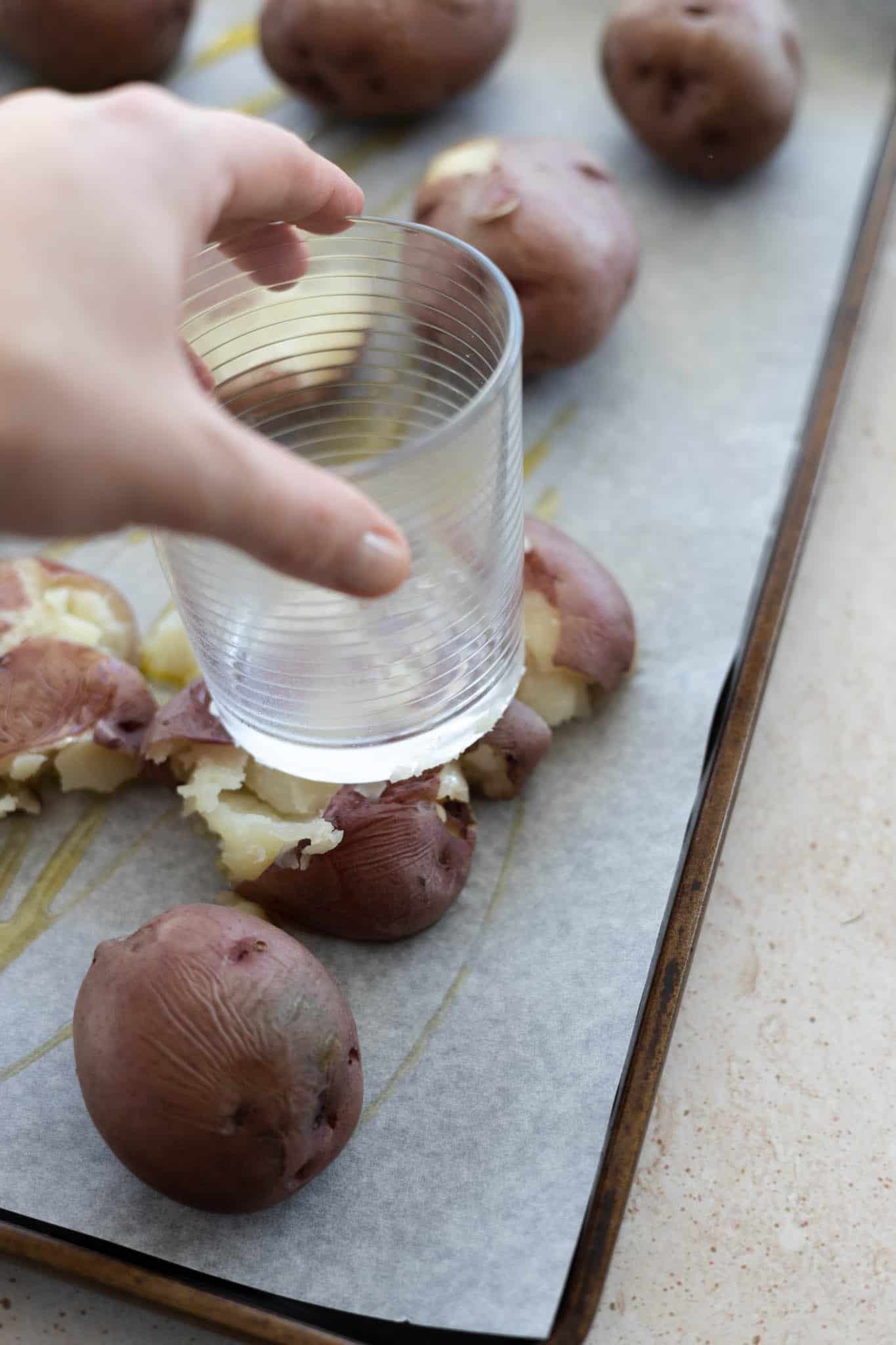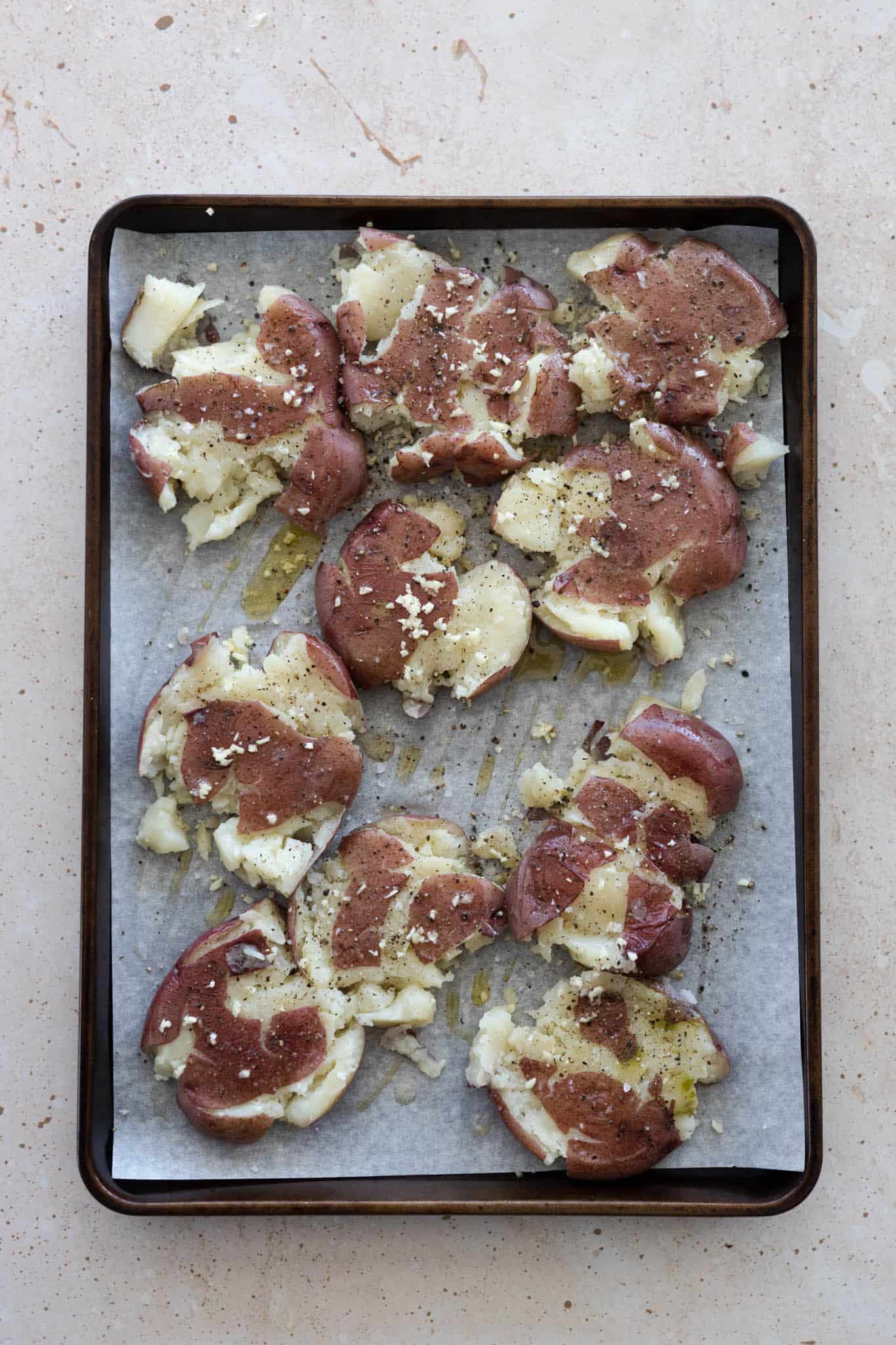 Smashing the potatoes
To smash the potatoes, lightly grease the flat bottom of a glass (cooking spray works well). Gently press the potatoes until they're about ½ inch thick. You can smash them more or less, but you're wanting to make nice edges that will crisp up.
If you have a lot of potatoes, you may need to spread them over two baking sheets. You want to make sure they have some room between each for crisping.
Also, if you are using really small potatoes (minis), you'll want to be a bit careful. If they get really flat, you won't need to cook them for as long in the oven (they'll burn), so keep an eye out!
After smashing, brush with butter and sprinkle with minced garlic.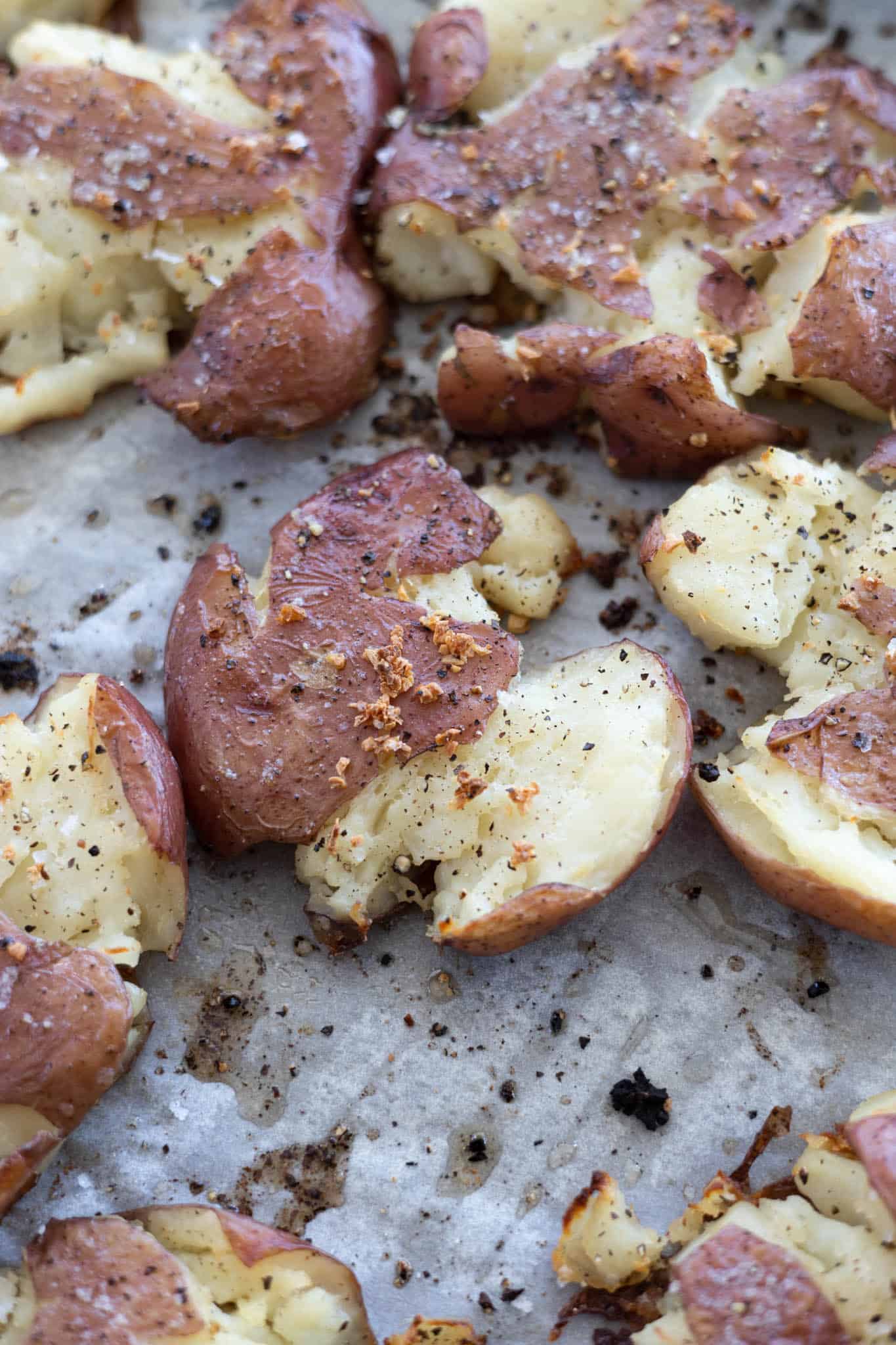 Frequently Asked Questions
How do you get smashed potatoes to be crispy?
The crispiness comes from the smashing (giving more surface area to crisp up). The butter also adds much-needed fat to encourage crispiness. If you want your potatoes to be more or less crispy, you'll want to leave them in the oven for more or less time.
Can you use different herbs?
Yes, definitely! If you don't have dill or green onions on hand, feel free to try with another herb! Rosemary is delicious here.
Can you use dried herbs?
I wouldn't recommend it. The herbs are the star of the show here. Make sure you're using fresh herbs to really make the most of it.
What do you use for the smashing?
The flat base of a sturdy glass works really well! You may need to use a bit of cooking spray so the potatoes don't stick to the cup. Anything with a nice flat surface will work well -- a large flat spoon, a cup, the base of a bowl, or even a measuring cup.
How should I store smashed potatoes?
If you have leftovers, keep them in an air-tight container in the fridge for up to 4 days.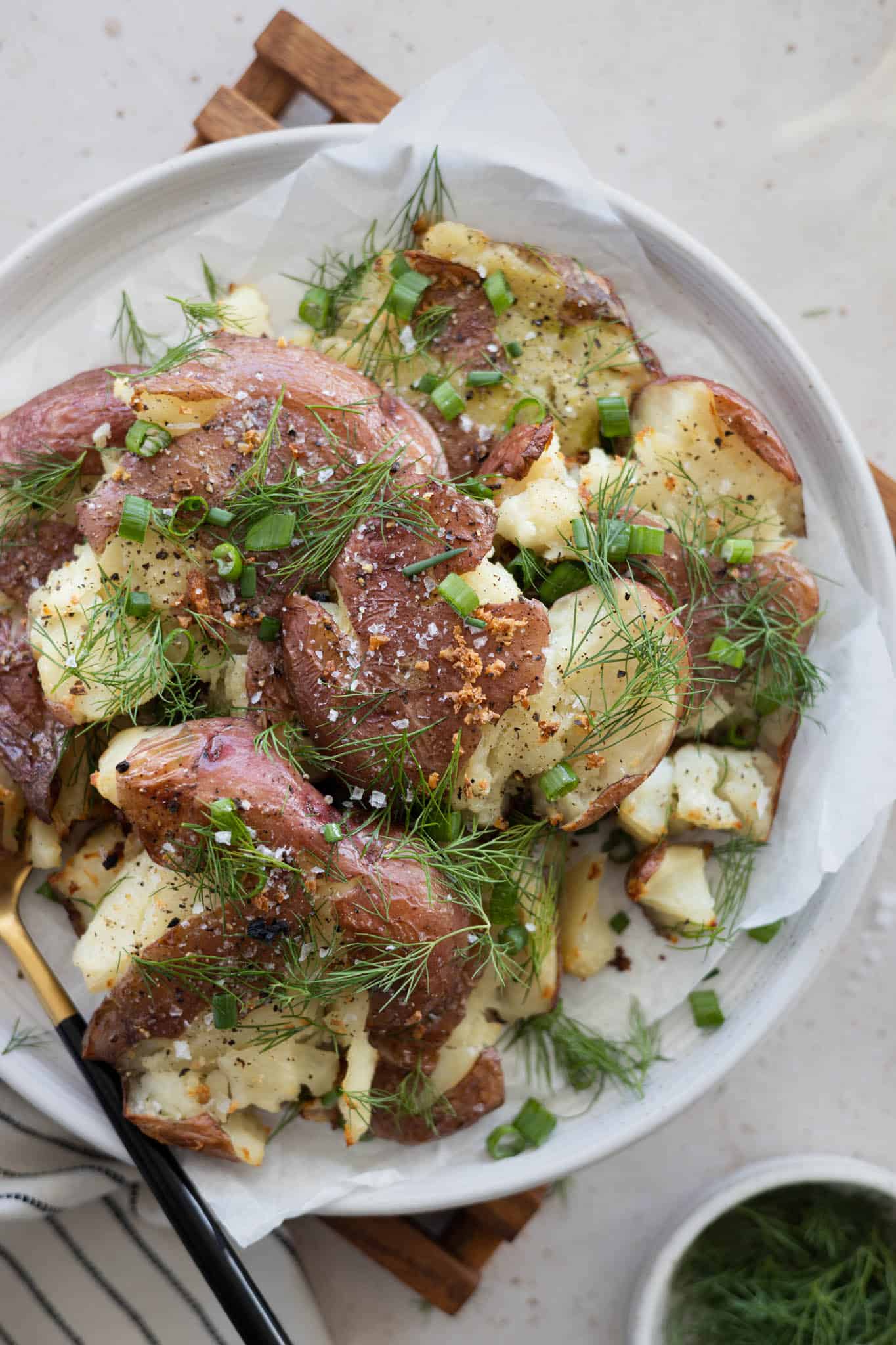 Below is my recipe for Smashed Potatoes with Green Onions & Dill. Leave a comment and let me know what you think!
Smashed Potatoes with Green Onion & Dill
A perfect side dish for any meal! And remember - the herbs are the hero of this dish, so feel free to be heavy-handed!
Ingredients
2-3

pounds

red potatoes

or other small potatoes

2

Tablespoons

olive oil

3

Tablespoons

unsalted butter

melted

1

garlic clove

minced

2-3

Tablespoons

dill

chopped

2-3

Tablespoons

green onions

chopped

Salt & pepper to taste
Instructions
Preheat oven to 450° F. Line a rimmed baking sheet with parchment paper and drizzle with olive oil.

Bring a large pot of water to a boil; add potatoes. Boil 20 minutes or until fork-tender. Drain and set aside to cool slightly.

Transfer boiled potatoes to the baking sheet, giving some space between each. Using the base of a sturdy glass (or another flat object), gently press the potatoes until they are approximately ½ inch thick. If the potatoes are sticking to your glass, spray your glass with cooking spray.

Brush smashed potatoes generously with melted butter. Sprinkle with garlic, salt and pepper.

Bake for 20-25 minutes, or until potatoes are crispy and browning at the edges. Remove from oven, and sprinkle generously (really!) with dill, green onions, and additional salt and pepper, if desired. Serve immediately.
Tried this recipe?
Leave a comment below and tag @thisjess.cooks on social!