Compound butter is wildly underestimated. It's easy to make, incredibly delicious, stores well, and immediately elevates a meal or a plain bread roll. This Rosemary Garlic Butter is one of my favorite compound butters and is something I almost always keep on hand.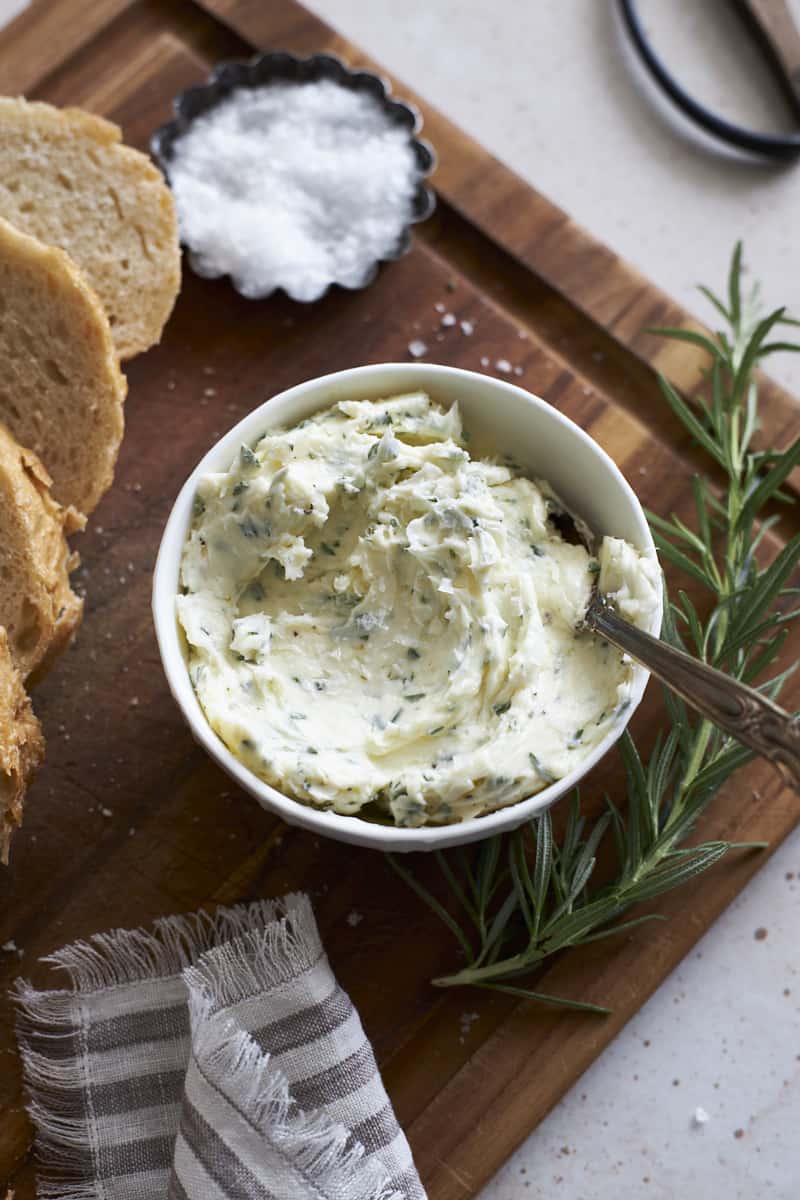 This Rosemary Garlic Butter is delicious served on any kind of bread (especially if it's warm!). Try it with these Sourdough Discard Rolls! You can also use compound butter on meats (steak and chicken are delicious!), pasta, with these Smashed Fingerling Potatoes and with this Citrus and Herb Whole Roasted Chicken.
Jump to:
Why you'll love this recipe
Compound butter is a quick and easy way to elevate a dish with additional flavors.
This is an easy recipe that comes together in about 15 minutes!
This recipe is easy to adapt to use other ingredients or herbs to suit your taste.
You can freeze compound butter and use it whenever you need a slice.
Ingredients
There are only a few things you'll need to make Rosemary Garlic Butter.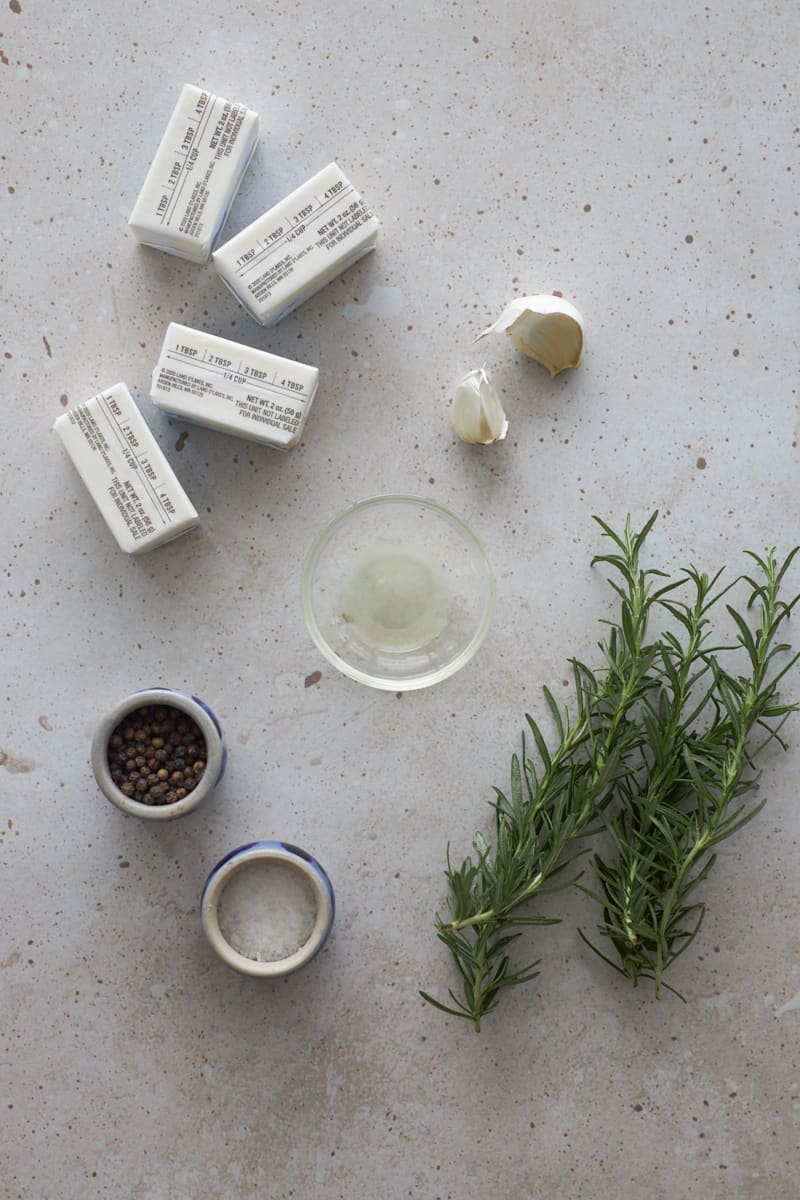 Fresh rosemary: I highly recommend using fresh rosemary rather than dried rosemary for this recipe. The fresh herbs give a wonderful flavor that just cannot be replaced!
Unsalted butter: Using unsalted butter helps control the amount of salt that you're adding to the butter overall.
Garlic: I always recommend using fresh, whole garlic rather than pre-diced, or jarred garlic.
Lemon juice: A little bit of lemon juice goes a long way in this recipe to keep it feeling light and fresh.
See full recipe below for detailed directions.
Substitutions & Variations
This is a very adaptable recipe and compound butter can be made with almost any ingredient. Below are a few easy variations to try:
Lime Jalapeńo Butter: Use lime juice instead of lemon, then add 1 teaspoon lime zest and 1 Tablespoon minced jalapeńo to the butter. This is great to serve with grilled corn or other vegetables!
Sundried Tomato Butter: Add minced sundried tomatoes to the butter. Add 2-3 Tablespoons diced sundried tomatoes to the mixture.
Dill & Shallot Butter: Instead of rosemary and garlic, use fresh dill and minced shallots. Use 1-2 Tablespoons minced shallots. This combination works with other herbs as well!
Herb Butter: This recipe uses rosemary and garlic, but you can use any herbs (I recommend using fresh rather than dried herbs). Parsley, dill, sage and thyme would all be wonderful. You can also make a mix of more than one herb!
I have not tested this recipe with other variations, but if you do, let us know how it turns out in the comments! I always love to hear how you're adapting these recipes and use those as ideas for future recipes as well!
How to make Rosemary Garlic Butter
This Rosemary Garlic Butter Comes together in a few easy steps.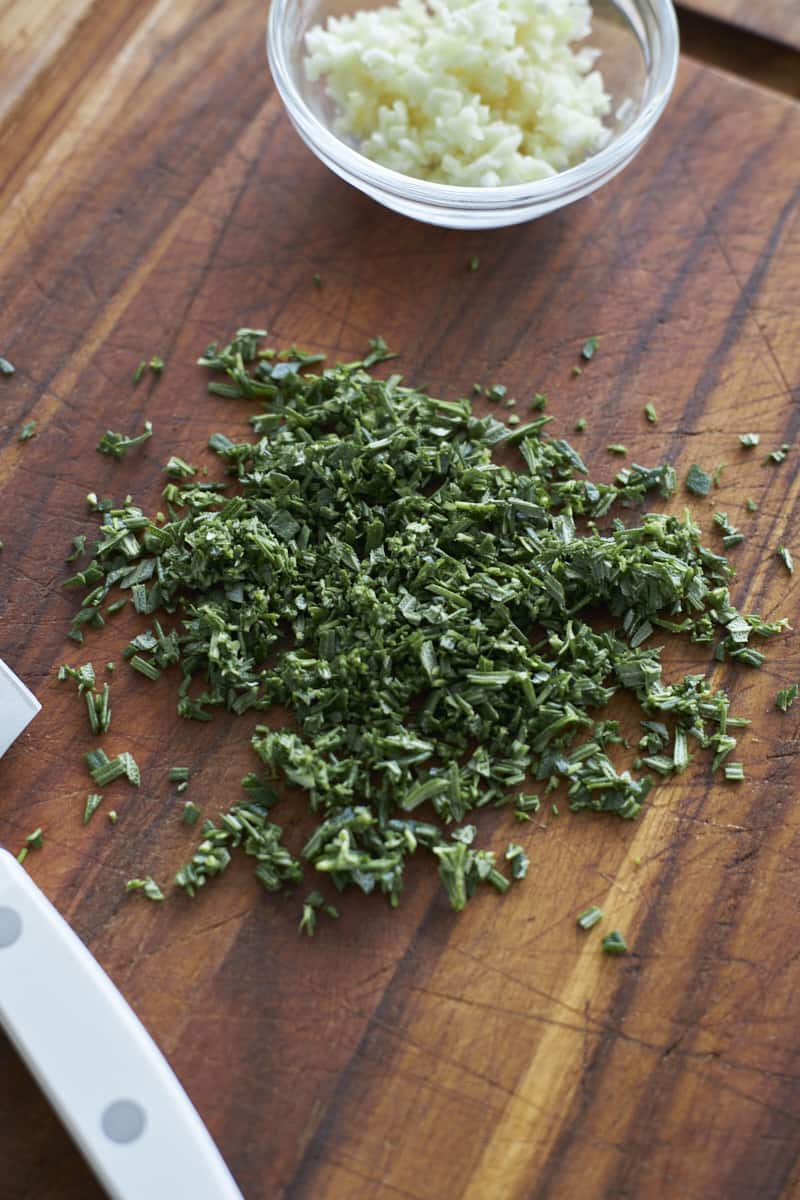 Prep your ingredients by chopping the rosemary and fresh garlic.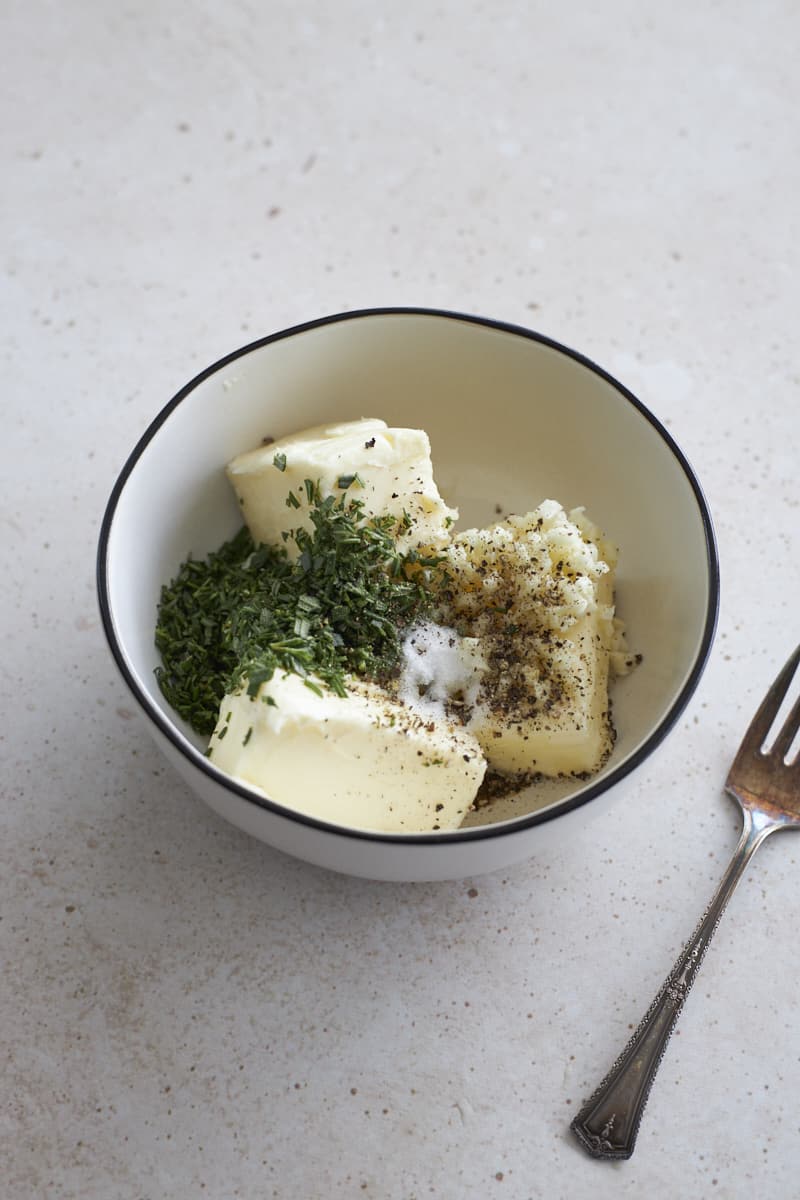 Add the softened butter, chopped rosemary, garlic, lemon juice, salt and pepper to a small mixing bowl.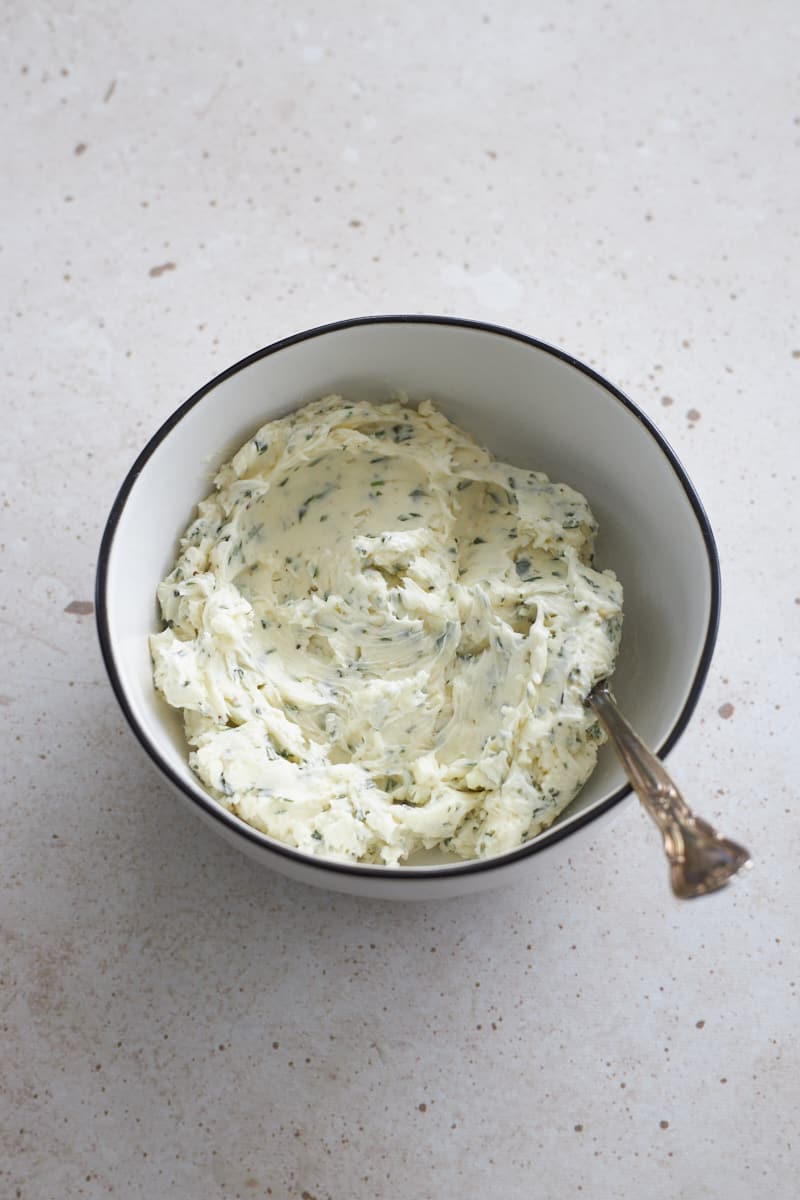 Mix to combine (I find using a fork is best here to crush the butter). You can serve this immediately, or prepare for freezing.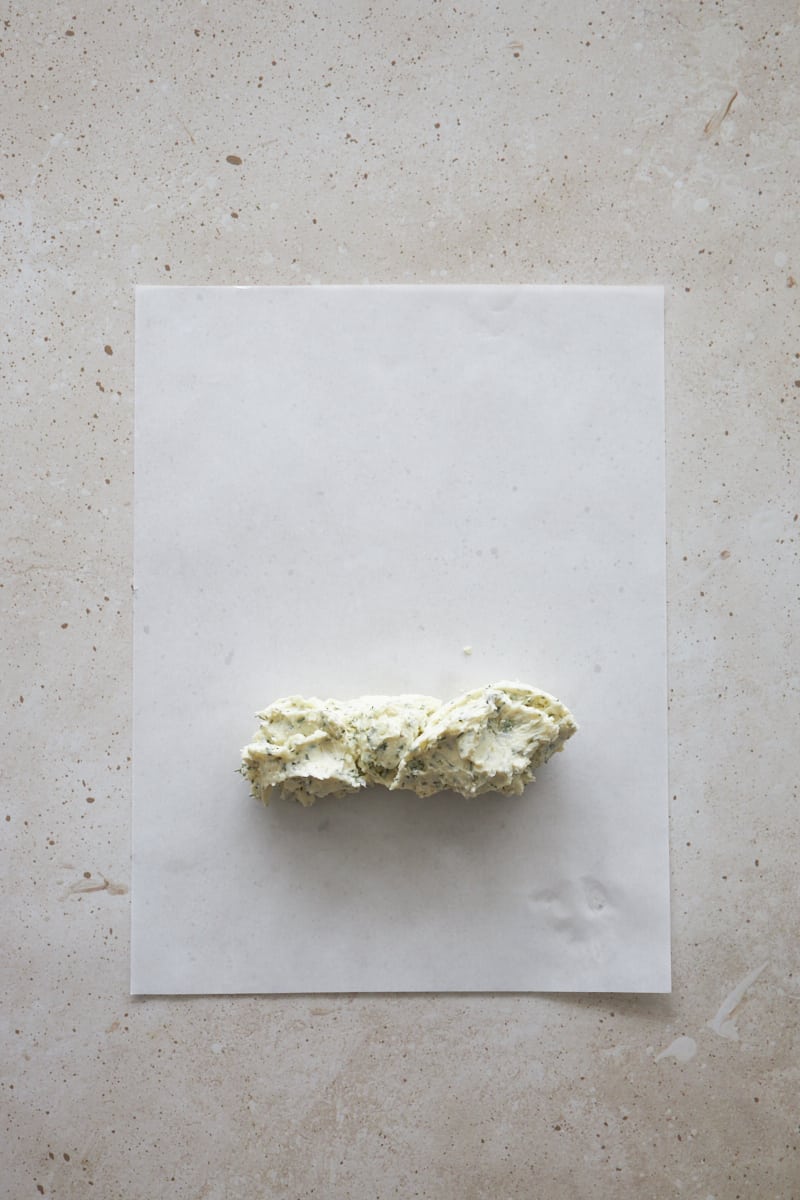 To freeze, place the butter in a rough log shape near the bottom of a piece of parchment paper.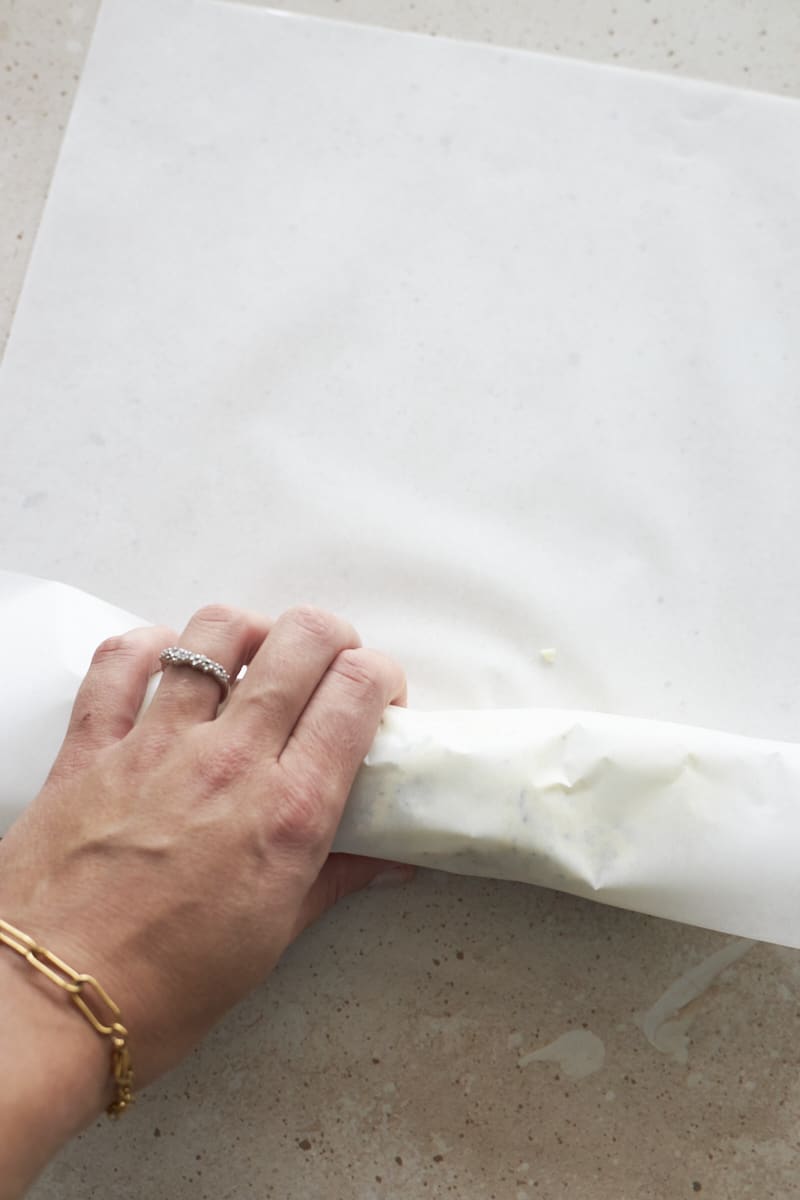 Use your hands to roll the butter in the paper. This does not need to be very tight, but you can use the tension of the paper to creat a tighter roll.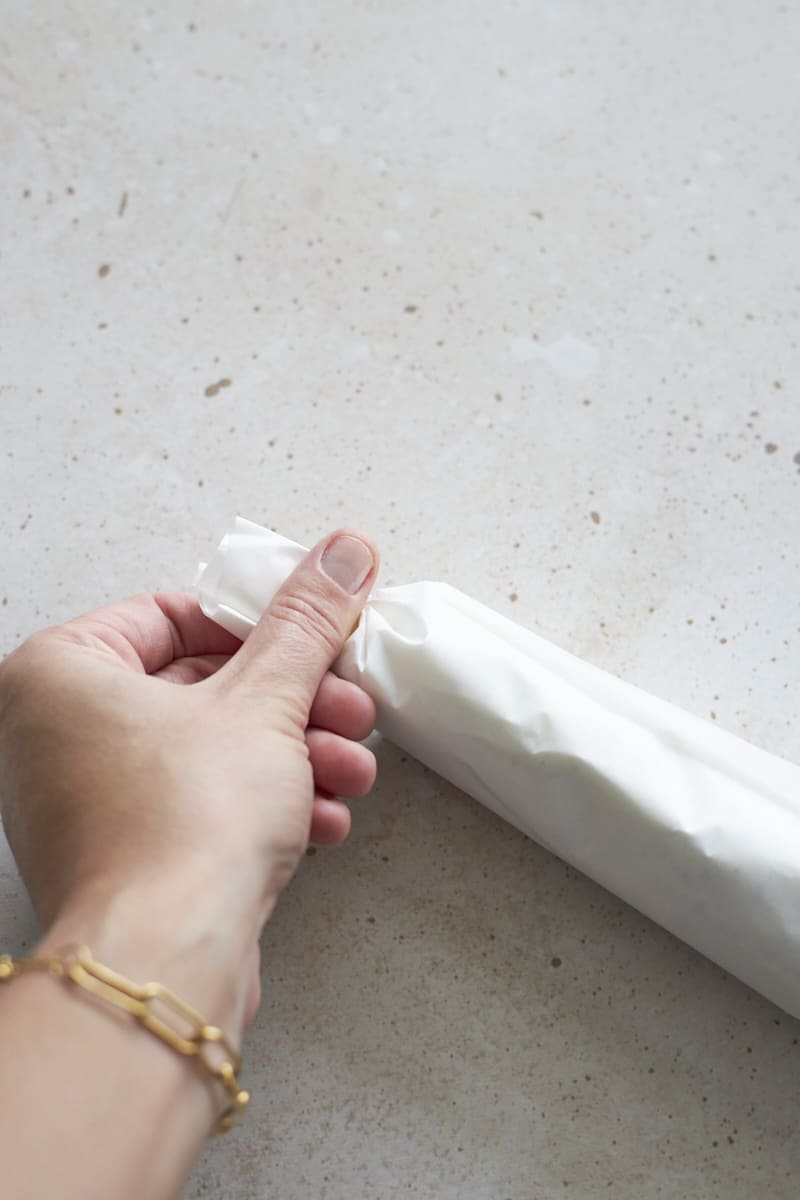 Pinch and twist the ends of the parchment paper. This will help push the butter together in the center to make a solid log of butter.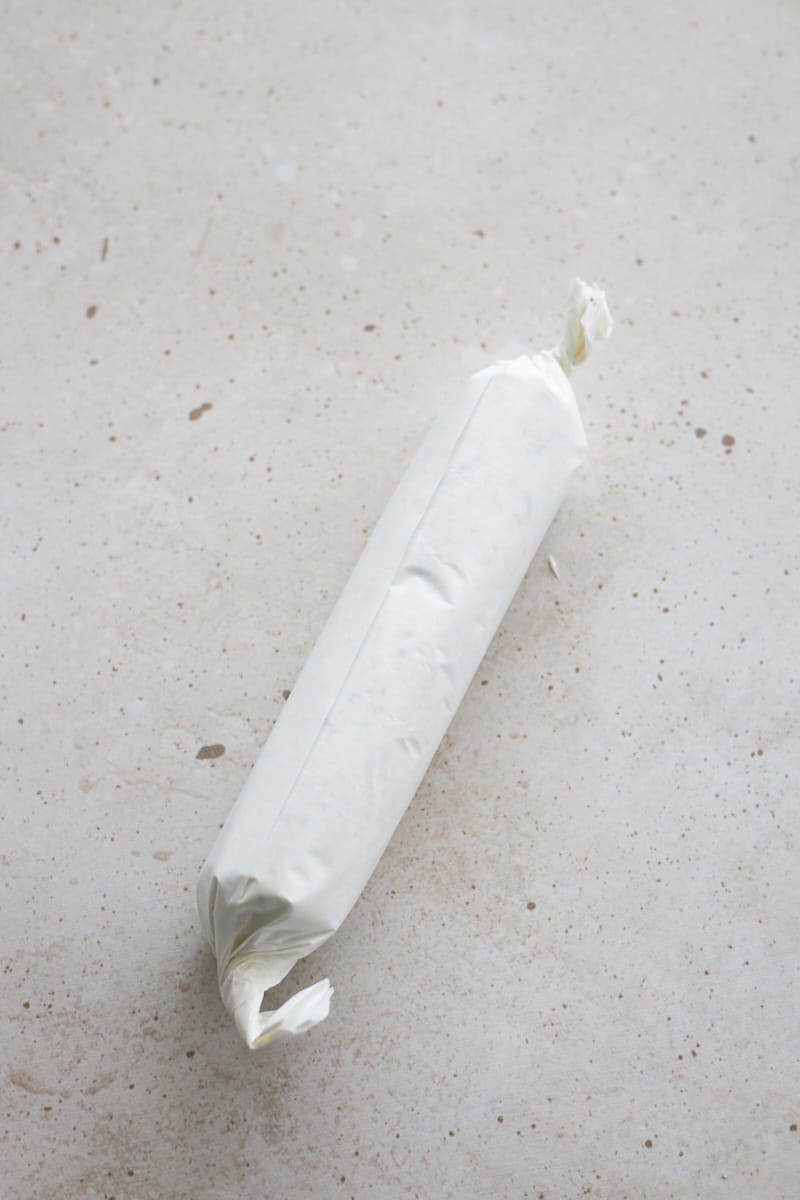 Freeze the butter log in the parchment paper overnight (or for at least 6-7 hours).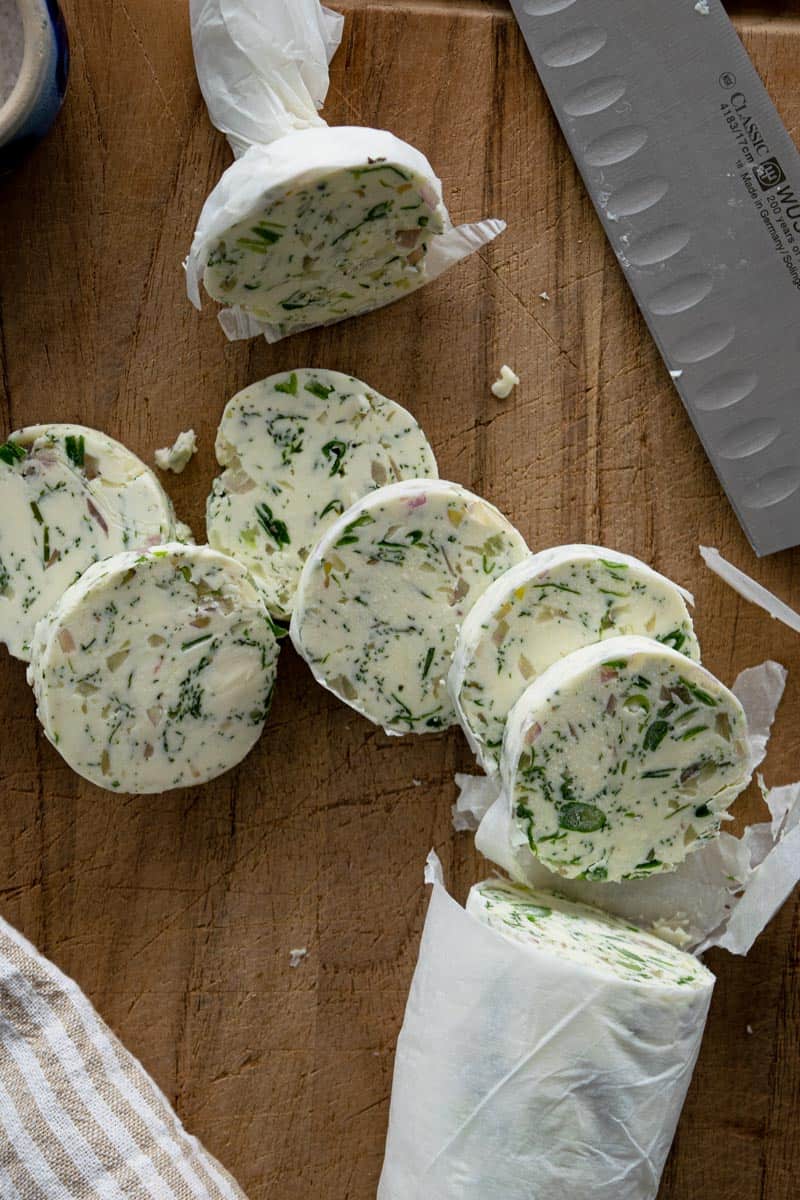 Slice the butter log into disks for easy single-serving use (you can slice right through the parchment paper). Transfer the disks to a freezer safe bag and freeze for up to 6 months.
Expert Cooking Tips
Make sure the butter is softened to room temperature before you combine the ingredients. If the butter is still hard, it will be very hard to mix.
Use a fork to mix the butter and ingredients together - it's easier to crush the butter and thoroughly mix.
Store compound butter in the freezer to make it last longer!
What is compound butter?
Compound butter is a mixture of butter and other ingredients that is used to enhance flavors in cooking and baking. You can make compound butter with almost any ingredients.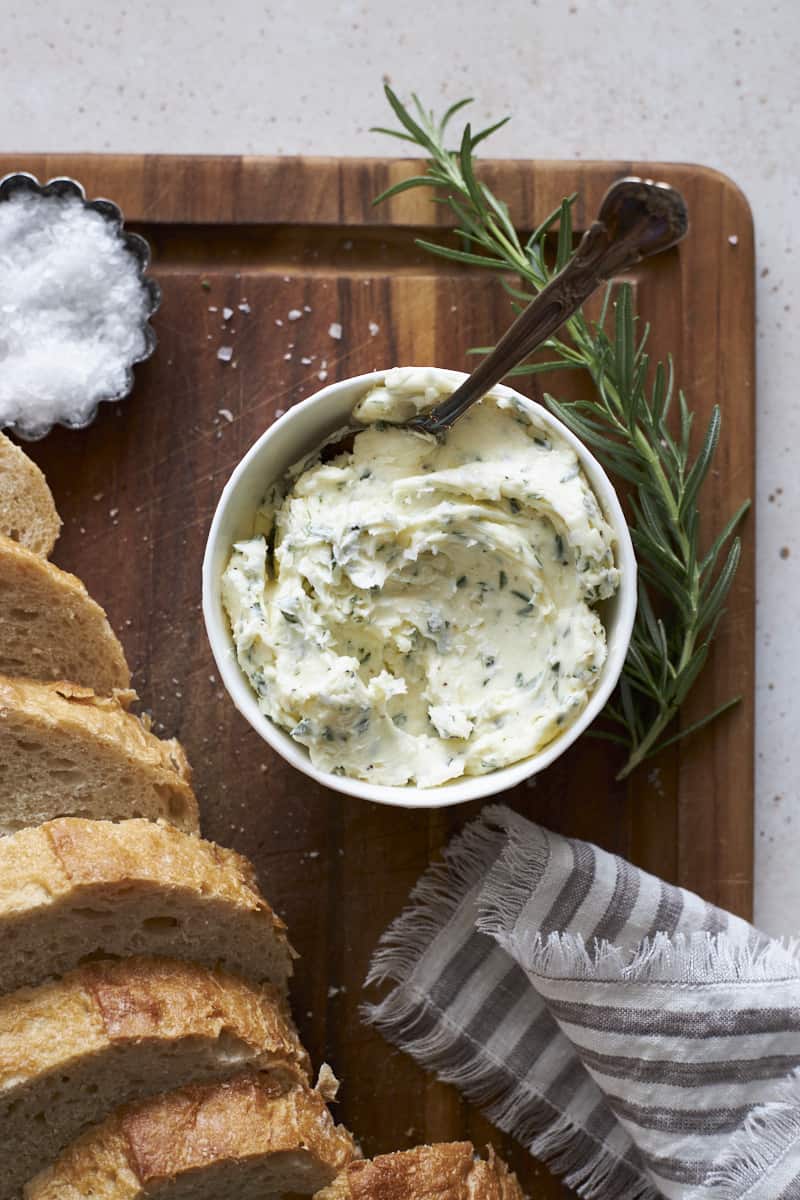 How to use compound butter
There are many ways that you use compound butter; I've included a few of my favorite options below:
With bread, rolls or biscuits: Fresh bread and rolls are delicious spread with compound butter, especially when the rolls are still warm and the butter melts!
With grilled corn or vegetables: Spread compound butter on grilled corn or other roasted vegetables. This also works great on smashed potatoes.
On meats (steak, chicken, pork) or fish: Serve a steak or piece of chicken with a dab of compound butter for additional flavor.
For sous vide cooking: Throw a disk of frozen compound butter in a bag of ingredients that you will cook sous vide. The butter will melt and add amazing flavor to whatever you're cooking.
Equipment
There is very little needed to bring this recipe together. As long as you have a mixing bowl and a fork or something to mix with, you're well on your way!
Storage
Refrigerator Storage: Store the compound butter in an airtight container or covered butter dish in the refrigerator for up to one week.
Freezer Storage: Roll the butter into a log in parchment paper, then slice into individual disks to make it easier for single-serve usage. Store the slices (or the full parchment butter roll) in an airtight container or freezer-safe bag for up to 6 months.
To use the frozen butter, you can either let the butter thaw to room temperature or add a frozen disk of butter to a dish you're making (or a bag for sous vide cooking).
Recipe FAQ
Can I use dried herbs for this recipe?
I highly recommend using fresh rosemary as it will add more flavor to the butter.
Can you freeze compound butter?
Yes, you can store compound butter either in the refrigerator (for up to one week) or in the freezer (for up to 6 months).
Can I use other herbs in this recipe?
Yes. There are a few great variations listed in the post above, but this is a very adaptable recipe. You can use any herb combination that sounds good to you!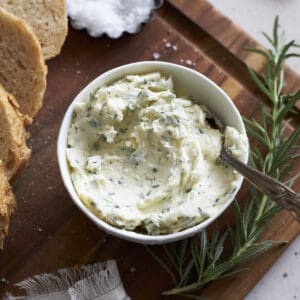 Rosemary Garlic Butter
A delicious recipe for Rosemary Garlic Butter, perfect for serving with fresh bread, savory dishes, or freezing to use when you need a flavor boost.
Ingredients
1

cup

unsalted butter

softened

2

Tablespoons

fresh rosemary

chopped

1

Tablespoon

garlic

about 1 large garlic clove, minced

1

teaspoon

lemon juice

pinch

salt and pepper

to taste
Instructions
Combine softened butter, chopped rosemary, minced garlic, lemon juice, and a pinch of salt and pepper in a small mixing bowl.

Mix with a fork until well incoporated. At this point, your butter is ready to eat!

If you'd like to freeze your butter, roll your butter into a log with parchment paper and freeze overnight. Then slice into disks and use or thaw as needed.
Tried this recipe?
Leave a comment below and tag @thisjess.cooks on social!