Molasses cookies are a holiday favorite, but stuffed with a melty marshmallow? Even better! These Molasses Marshmallow Stuffed Cookies take a classic crunchy ginger cookie, paired with a marshmallow that is melted to perfection. Together, they become slightly crunchy, still chewy cookie, and the marshmallow keeps it perfectly gooey for days. Personally, I think these cookies are even better the next day!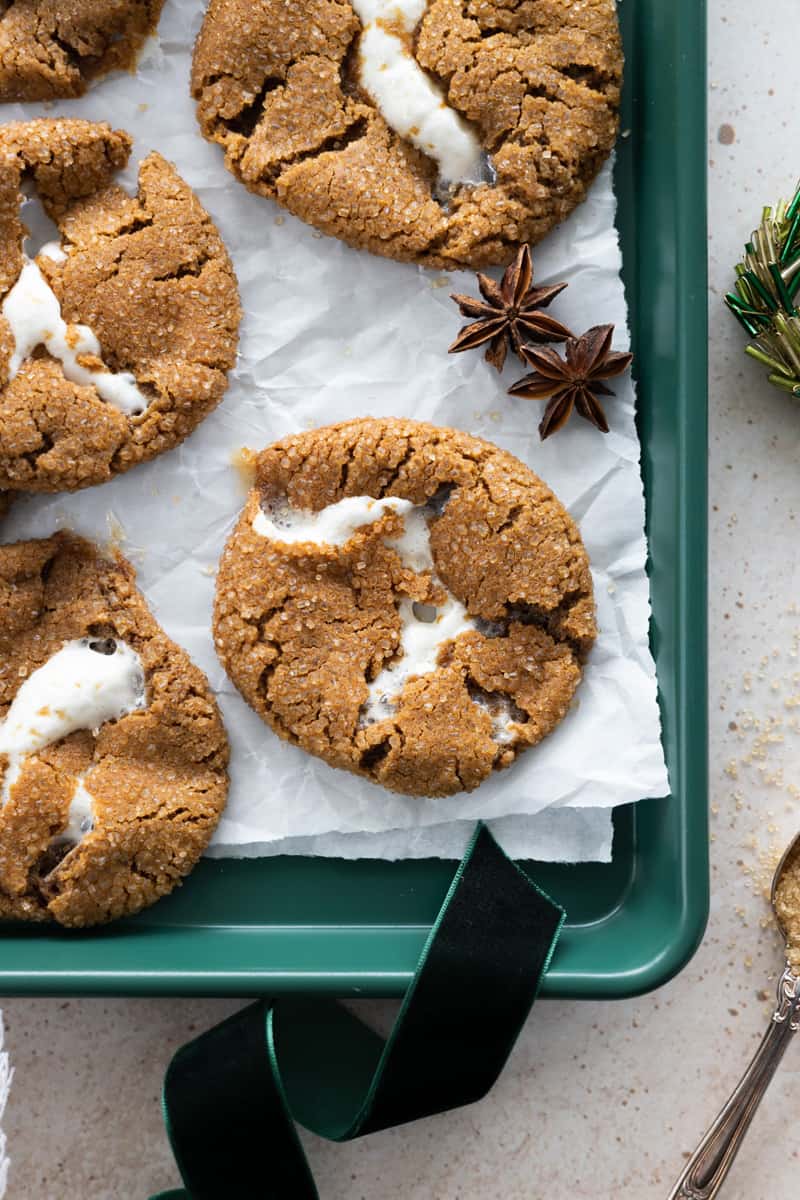 If you're looking for more holiday recipes, try these Candied Orange Slices. You can also try these Dried Sliced Oranges (perfect for holiday cocktails like a Blood Orange Old Fashioned, or for making a holiday garland).
Jump to:
As always, I do include a few affiliate links in this post for products I truly use and love. This just means that if you make a purchase after clicking one of those links, I'll earn a little money (at no cost to you) to keep the kitchen up and running, which I promise to use to create more fun content like this! One of those affiliates is with Amazon, which requires a very clear disclosure: as an Amazon Associate, I earn from qualifying purchases. If you have any questions about affiliates, please reach out!
Ingredients
There are just a few key ingredients you'll need to bring these Molasses Marshmallow Stuffed Cookies together.
Unsalted butter: softened at room temperature (not melted).
Granulated sugar: this helps make the cookies sweet, as well as helping to give them some of their signature crunch.
Brown sugar: I like to use dark brown sugar rather than regular brown sugar because it has more molasses in it. Regular brown sugar will work here as well!
Molasses: I use Grandma's Original Molasses, but any brand will work well!
Turbinado sugar: this sugar has a larger grain, which helps to give these cookies some of their signature crunch, and a little bit of sparkle. You can find turbinado sugar (also called cane sugar) at most grocery stores. As a backup, you could also use granulated sugar.
Marshmallows: I suggest using large marshmallows, rather than minis, as it will be easier to stuff the cookies.
See recipe below for detailed instructions.
Instructions
While these may sound a bit daunting, if you can make cookies, you can make these!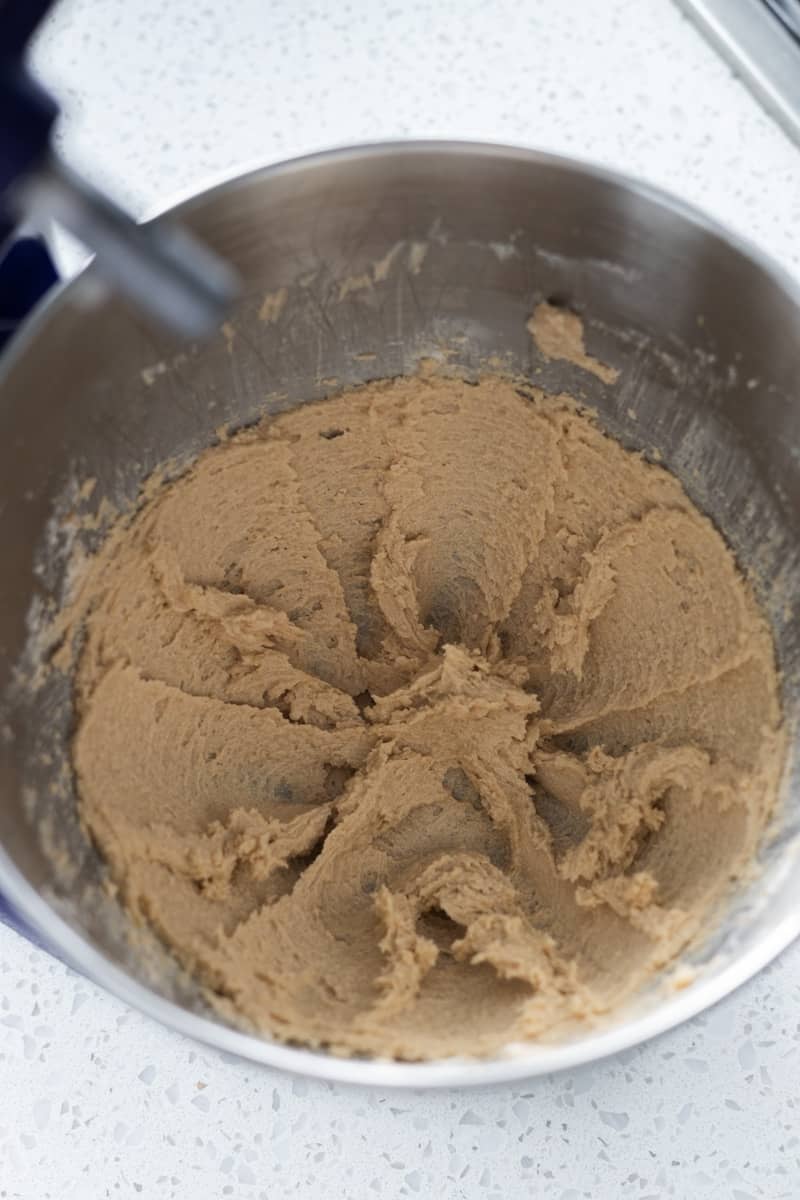 Cream the softened butter, granulated sugar and brown sugar until light and fluffy, about 2 minutes.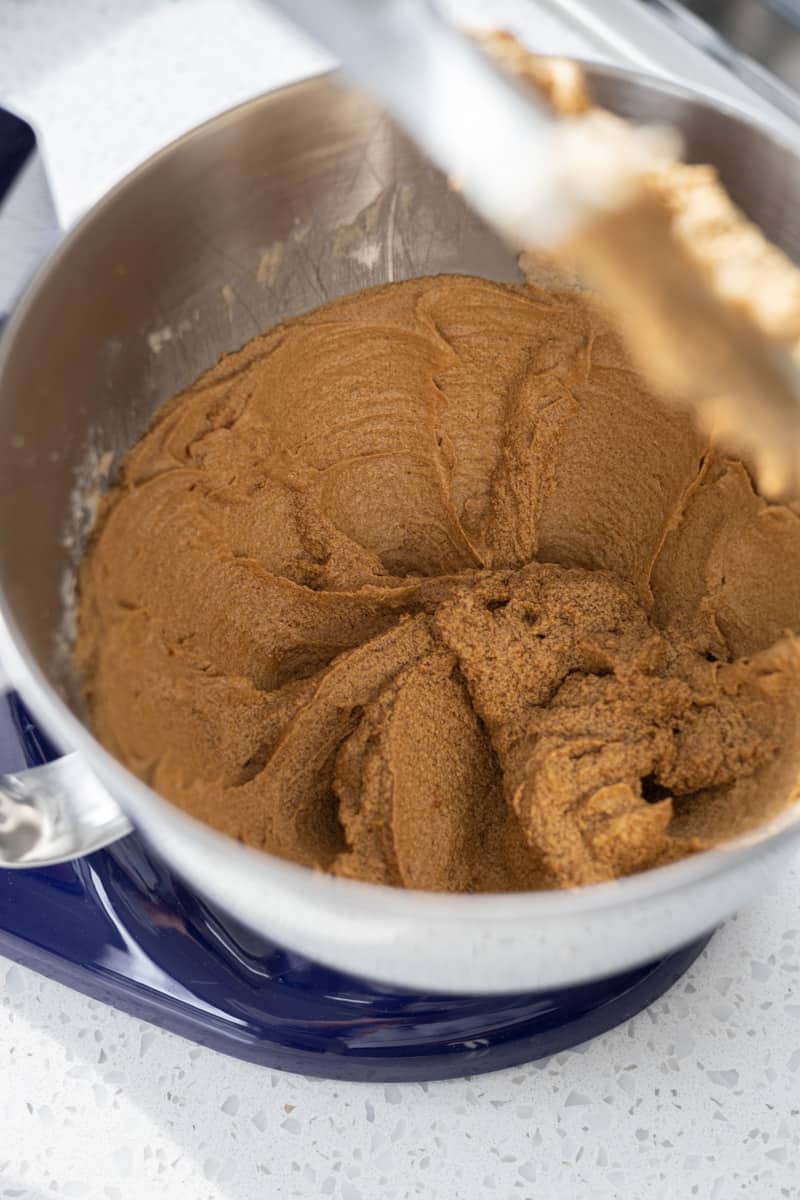 Add the molasses and egg and mix until combined.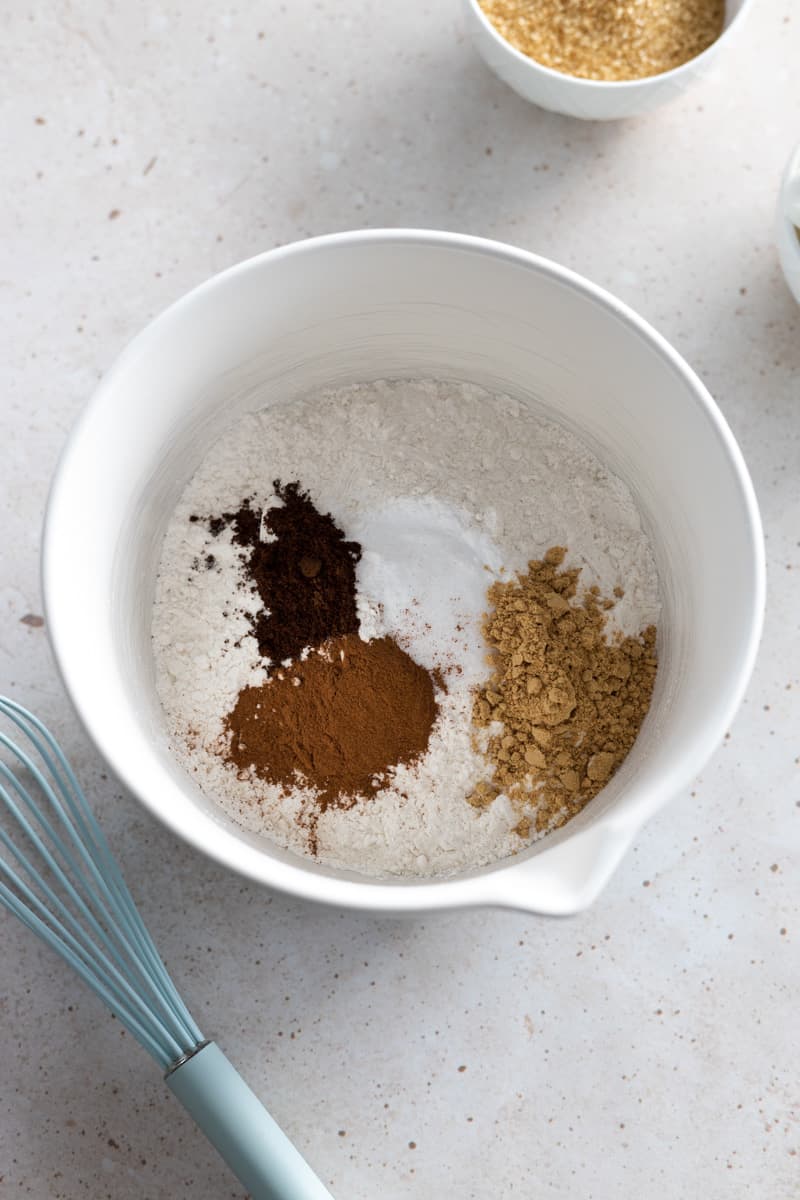 Whisk together the remaining dry ingredients: flour, baking soda, ginger, cinnamon, cloves and salt.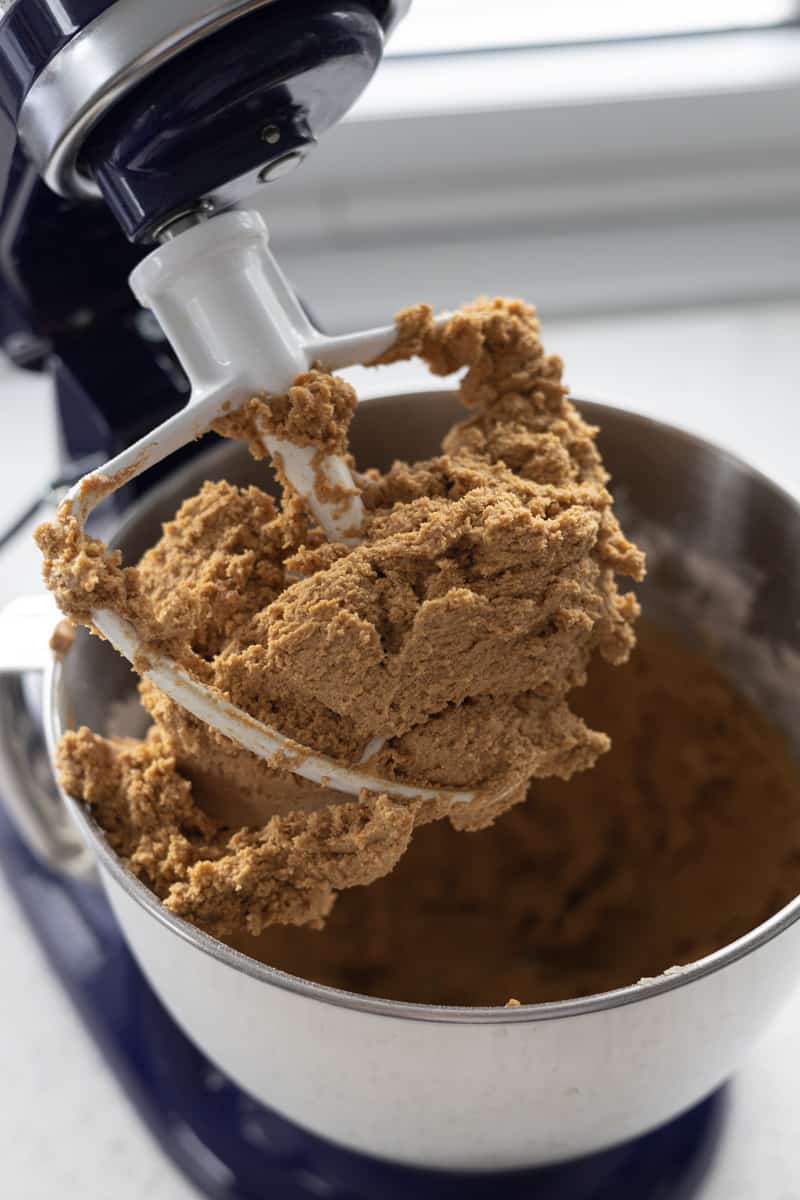 Add dry ingredients to the molasses and butter mixture and mix until combined.
Gather the dough together, wrap in plastic wrap, and refrigerate 1 ½ -2 hours.
Scoop out 2-3 Tablespoons of dough.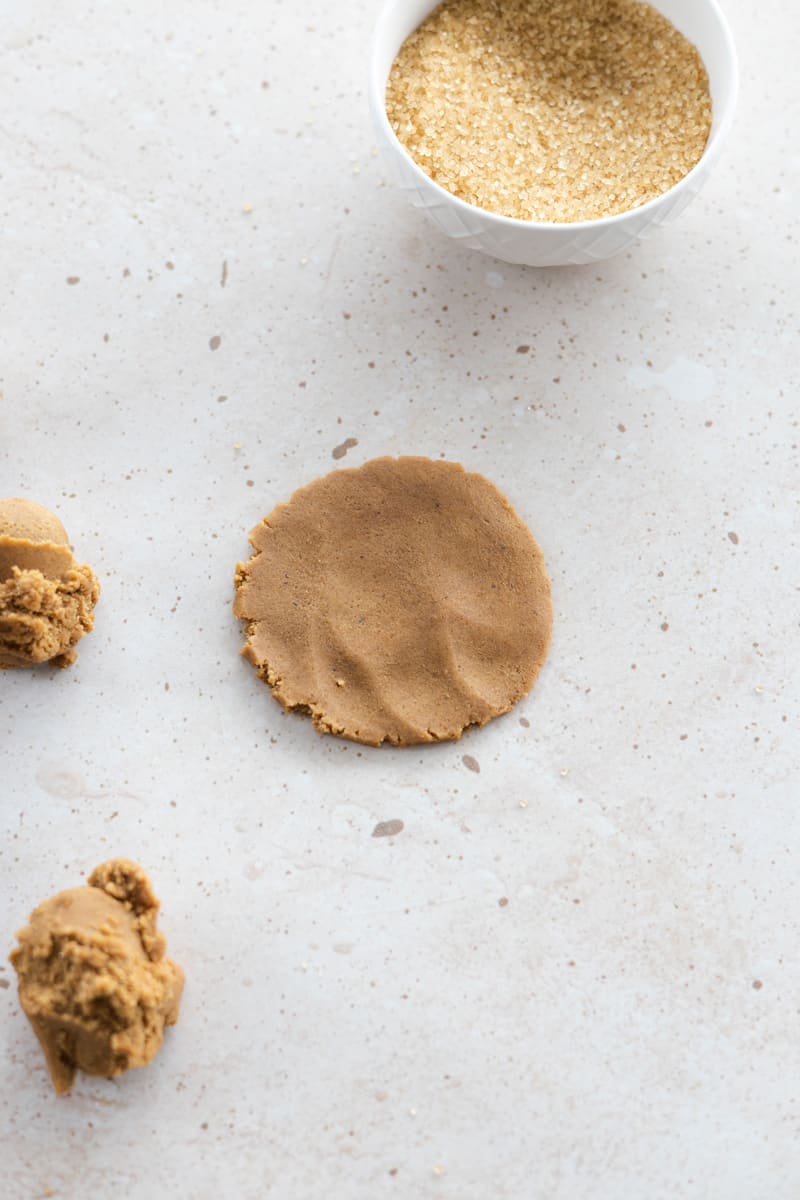 Use your palm to press the dough into a flat circle. Use a spatula to unstick the dough from your work surface, if needed.
Place the marshmallow in the center.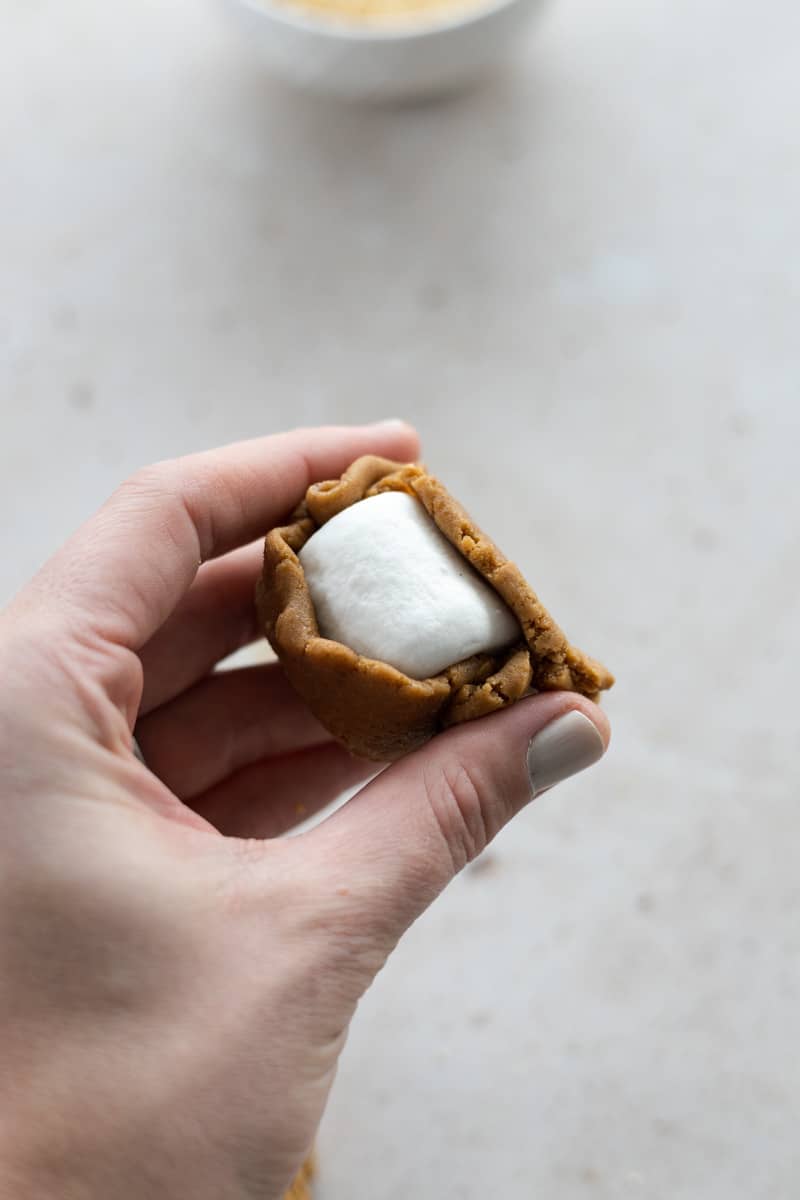 Wrap, mold, stretch and press the dough around the marshmallow until completely covered. Try to make the dough as even around the marshmallow as possible.
Roll in turbinado sugar to coat, then place on the baking sheet to bake.
While baking, the marshmallows will go very quickly from nicely melted, to completely disintegrated. They'll also continue melting a little once you take them out of the oven. The cookies may look a little under-baked, and still a bit puffed, when you remove them from the oven. As they chill, they will flatten and take their final shape. Trust the process!
Hint: We want the dough to crack and show the marshmallow in the center. It's important the dough is fully covering the marshmallow before baking, and also covering the marshmallow as evenly as possible. If there is an opening or hole (or even a low spot), the marshmallow will break through that area and melt too quickly.
How long should you bake these cookies?
The baking time will go quickly from "just right" to "too much." The cookies may seem a little under-cooked when they come out of the oven, but the marshmallow will continue to melt and the cookie will continue to take its shape as it cools.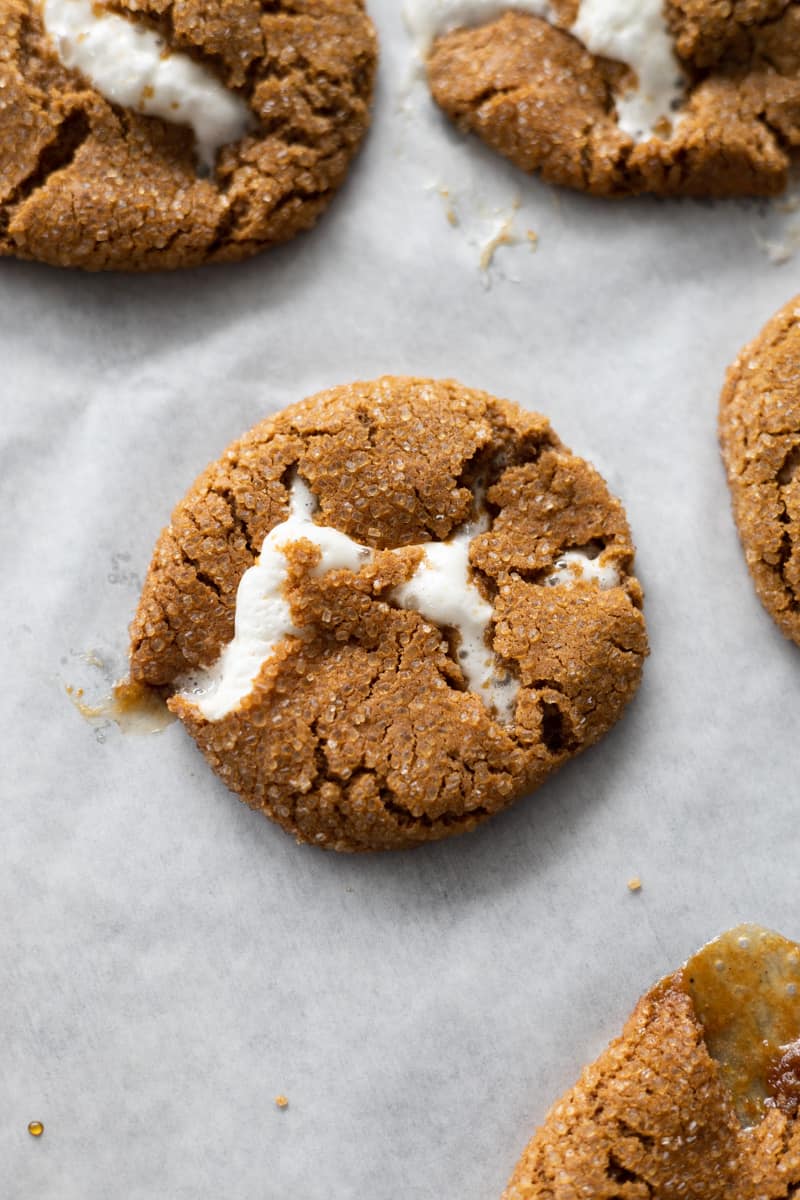 This cookie has baked the right amount of time and the marshmallow is white and showing nicely.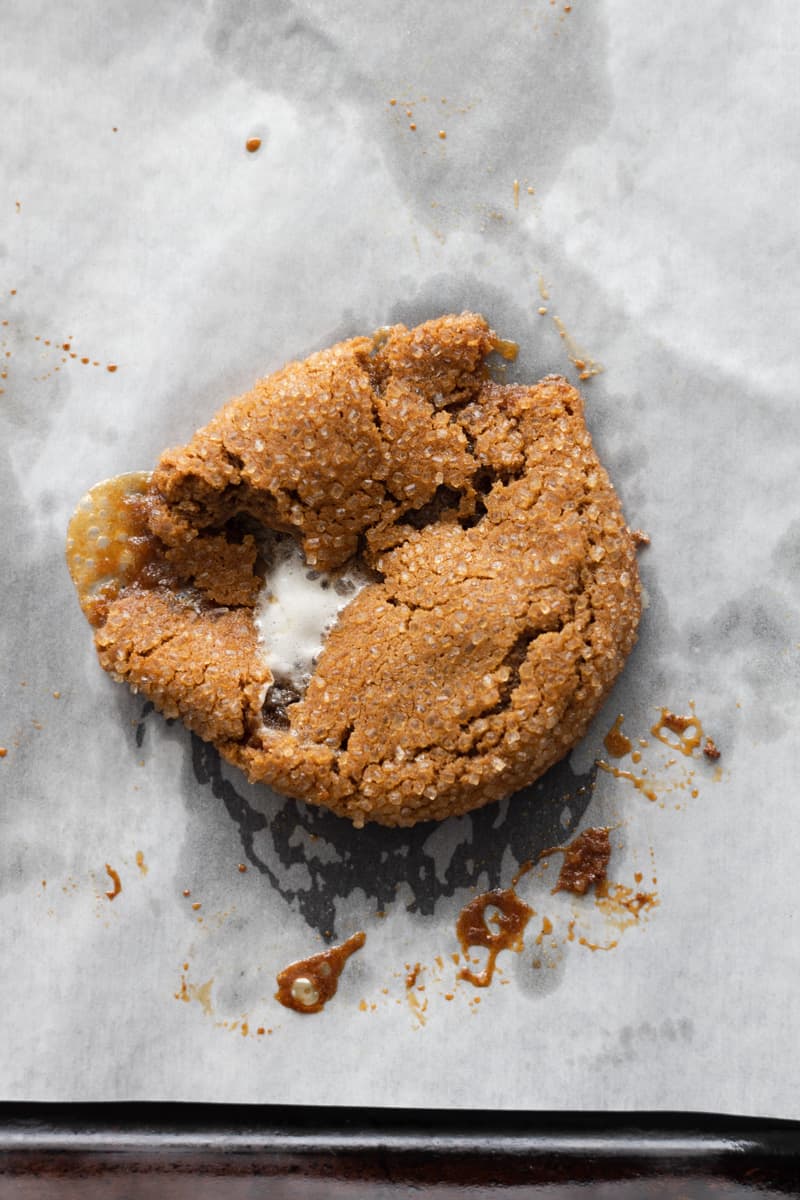 This cookie has baked too long and the marshmallow has almost completely melted and there is very little white left. It will still taste good, though!
Equipment
I like to use a KitchenAid 5-Quart Stand Mixer, but these cookies can also be made with a handheld mixer and a large bowl. You'll need a few baking sheets and parchment paper or non-stick Slipat mats for the final bake, but that's it!
Storage
I really love the texture of these cookies the next day. If you leave them sitting out at room temperature, they tend to get a bit more chewy (kind of like leaving Peeps out on the countertop). You can always store them in an airtight container at room temperature for up to 1 week.
Top tip
The chill time just needs to be long enough to easily be able to handle the dough. After 1 ½ hours of chilling, it should be ready. While you're making the cookies, scoop out enough dough for one sheet (I like to do 8 cookies on a sheet), and leave the rest of the dough in the fridge to stay cool.
If at any point your dough is feeling too sticky, and really sticking to your fingers, pop it back in the fridge for 15 minutes and try again!
Recipe FAQ
Can you make these with mini marshmallows?
You could, but I think it would be pretty challenging to wrap the dough around several mini marshmallows rather than one large marshmallow. That said, it should work, but I expect it would be harder.
How long does the dough have to chill?
The dough should chill for at least one hour, until it's easy to handle. If it becomes too sticky at any time while you're assembling the cookies, place it back in the refrigerator for a few minutes.
My marshmallows completely melted away - what happened?
If your marshmallows have disappeared, the cookies have baked for too long. There is a fine line between "just right" and "too much" with these cookies!
Why aren't my cookies round?
If your baked cookies come out and they look a bit like they've exploded / are lopsided, then there was a low spot in the dough where the marshmallow broke through quickly. These will still be delicious, but a bit irregularly shaped.

You can try to use the back of a spoon sprayed with cooking spray to shape the cookies once they come out of the oven, if needed.
Why did my cookies spread so much?
If your cookies spread out and did not hold their shape at all, they need to be chilled a bit longer before baking. If your dough seems to be spreading too much, place your baking sheet with the cookie dough in the fridge for 10 minutes before baking.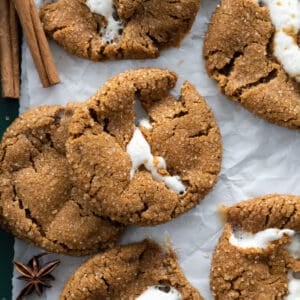 Molasses Marshmallow Stuffed Cookies
A holiday recipe for Molasses Marshmallow Stuffed Cookies, the perfect combination of crunchy molasses cookies with gooey marshmallow!
Ingredients
¾

cup

unsalted butter

softened

½

cup

granulated sugar

¼

cup

dark brown sugar

⅓

cup

molasses

1

egg

2 ¼

cups

all-purpose flour

2

teaspoons

baking soda

2

teaspoons

ground ginger

1

teaspoon

ground cinnamon

1

teaspoon

ground cloves

½

teaspoon

salt
Instructions
Cream the softened butter, dark brown sugar and granulated sugar until light and fluffy, about 2 minutes. Add the molasses and egg and mix until thoroughly combined.

In a medium bowl, whisk together the flour, baking soda, ginger, cinnamon, cloves and salt.

Add the dry ingredients to the wet ingredients and stir until combined. Gather the dough into a ball and cover with plastic wrap. Transfer the dough to the refrigerator and chill for at least 1 ½ hours.

Preheat the oven to 350°F. Line two baking sheets with parchment paper and set aside.

Scoop out 2-3 Tablespoons of dough, then roll into a ball with your palms. use your palm to flatten the dough ball into a circle (about 3-4 inches in diameter). If needed, use a spatula to remove the dough from your work surface.

Add a marshmallow to the center, then wrap the dough around the marshmallow. Press and pinch the dough to fully cover the marshmallow, then roll into a smooth ball again. Roll the ball in turbinado sugar to coat and transfer to the prepared baking sheet (if using a half-sheet pan, 6-8 cookies per sheet works best).

Bake for 9-10 minutes until the cookies are cracked and you can see melted marshmallow. The marshmallow will continue to melt and the cookies will flatten as they cool, so do not overbake them (overbaking will result in the marshmallow fully melting so it's no longer white).

Let cool on the pan for 10 minutes, then transfer to a cooling rack to cool fully.
Tried this recipe?
Leave a comment below and tag @thisjess.cooks on social!