Every year I make a holiday cookie box and if you're lucky enough to be a neighbor or close friend, you might even get your hands on one! Holiday cookie boxes (or plates) are a labor of love. While the cookie recipes themselves may not be complicated, there is a lot of baking that goes into making several batches of different kinds of cookies, all at the same time! If you or anyone you know is making a cookie box, my hat goes off to them, and whoever is receiving it is a lucky, lucky person!
The 2022 holiday cookie box includes five different recipes. I've rounded up this year's recipes below, as well as some tips and tricks for making your own cookie box.
I aim to keep these fairly simple (I know, I know, but what I mean is the recipes are not overly complicated), and they're very interchangeable. Want to leave one out or add something else? Go for it!
Jump to:
Candied Orange Slices
Candied Orange Slices are a wonderful addition to a holiday cookie box. They have a great color, and a bit of sparkle from the sugar coating. They're also a bit unexpected and not something you traditionally see in a cookie box.
These need to be stored in the refrigerator (they keep for up to one month). If you're preparing a cookie box well in advance, consider keeping these in the fridge until you're ready to serve.
Also, if you make a batch of Candied Orange Slices, you'll also end up with some Orange Simple Syrup. It's great for cocktails or mocktails, and a little jar can be a great addition to a holiday cookie box as well!
Click here for the recipe for Candied Orange Slices.
Chocolate Espresso Cookies
These have been a star of this year's holiday cookie box. The combination of dark chocolate, espresso powder, and a bit of flaky sea salt is a winning combination! And I love that shiny texture!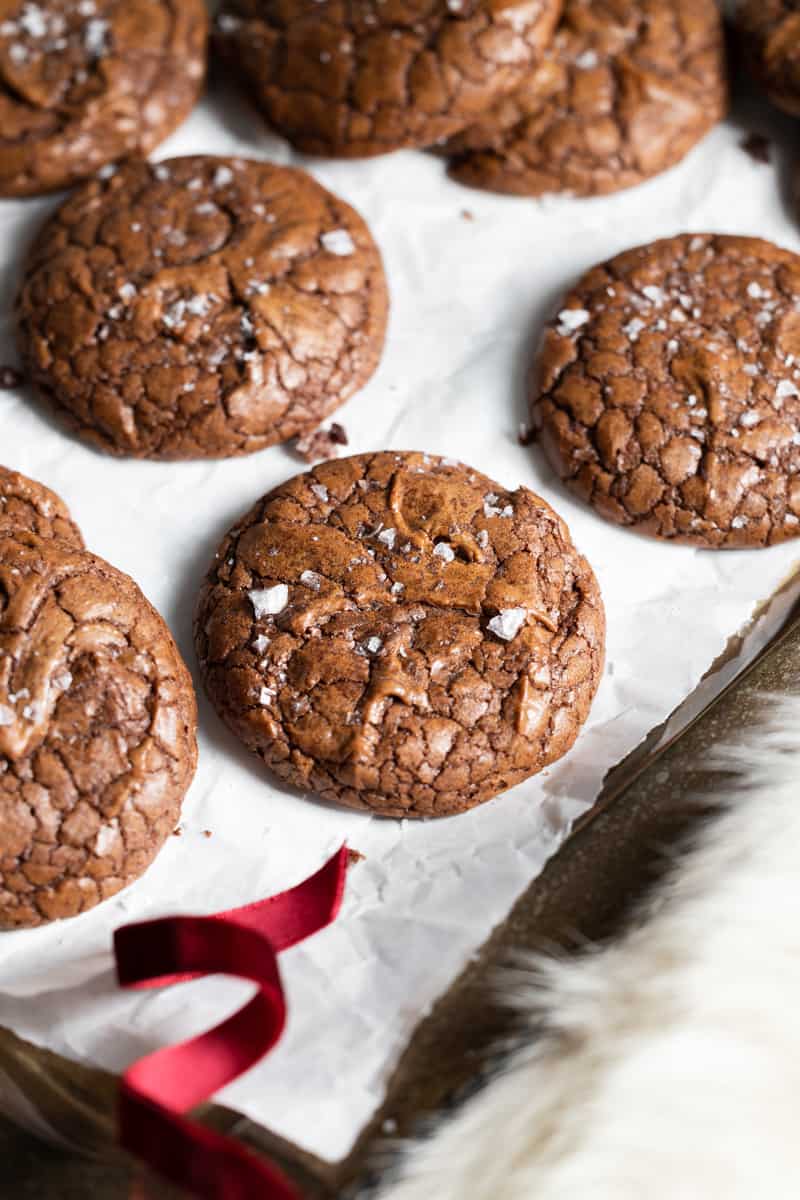 Make sure you're using espresso powder, not ground espresso beans - they're not the same thing! This really brings out the chocolate flavor in the cookies.
Click here for the recipe for Chocolate Espresso Cookies.
Chocolate Covered OREOs
This treat comes together in just a few minutes and requires no baking at all! Use whatever kind of OREO you like best - regular, double stuff, golden - they'll all be great! And holiday sprinkles are very versatile: use whatever you like!
These cookies are great to make with kids as they're not very complicated, take just a few minutes, and everyone loves to decorate with sprinkles!
Click here for the recipe for Chocolate Covered OREOs.
Dried Sliced Oranges
Dried Sliced Oranges are great for the holidays as they can be used for decoration (to make a garland or decorate a wreath), or garnish a holiday cocktail! This Blood Orange Old Fashioned is the perfect holiday drink to top with a dried orange slice!
You can also use this same recipe to make other dried citrus, like lemon or lime. Once dried, keep them in an airtight container in the pantry for up to one year! They're also great for shipping.
Click here for the recipe for Dried Sliced Oranges.
Peanut Butter Blossoms
An annual favorite, these Peanut Butter Blossoms always make an appearance in our holiday cookie box!
The turbinado sugar coating on the outside gives these cookies a little extra crunch and holiday sparkle.
Click here for the recipe for Peanut Butter Blossoms.
How to Make a Holiday Cookie Box
There are a few key things to consider as you're making your holiday cookie box:
Prep your recipes: Decide what recipes you're going to include and when you want to bake them. It's likely you'll do this over a few days (it's a lot of cookies!).
Think about colors: I'm a photographer, so of course, I'm going to think about the colors! A lot of cookies are brown. Try to break it up with some color, cookies with icing or sprinkles, or some items that aren't cookies at all (that's where those Candied Orange Slices come in!).
Choose a box: You can use almost anything for a cookie box. This year I used a bamboo organizing tray I bought at a thrift store a few years ago! You can use a small baking sheet (see an example here), a platter, a tray, or these bakery boxes with dividers.
Time for baking: It's baking time! Grab a few baking sheets and cooling racks and get started. This might take you a day or a week, either way, it'll be great!
Add a few props: I love to accessorize with a bit of velvet holiday ribbon and a few small decorations (like these beaded wreath napkin rings).
Think about shipping: Are you shipping these cookies? If yes, you'll want to make cookies that will hold up well during transit. And the sooner you can get them there, the better (they don't need to be sitting around in a post office going stale!). If you're not shipping, then you have more options as to what you can put in the box and how to display it.
Have fun with it and make it your own! Don't feel like making 5 different kinds of cookies? That's ok! Make two or three of your favorite holiday cookie recipes for your holiday cookie box and do a simplified version.
Top tip
Spend a few days making your cookie box - it doesn't need to all be done in one day! Generally speaking, you can store cookies in an airtight container at room temperature for 2-3 weeks. So that gives you 2-3 weeks to bake and accumulate enough cookies to make your holiday cookie box!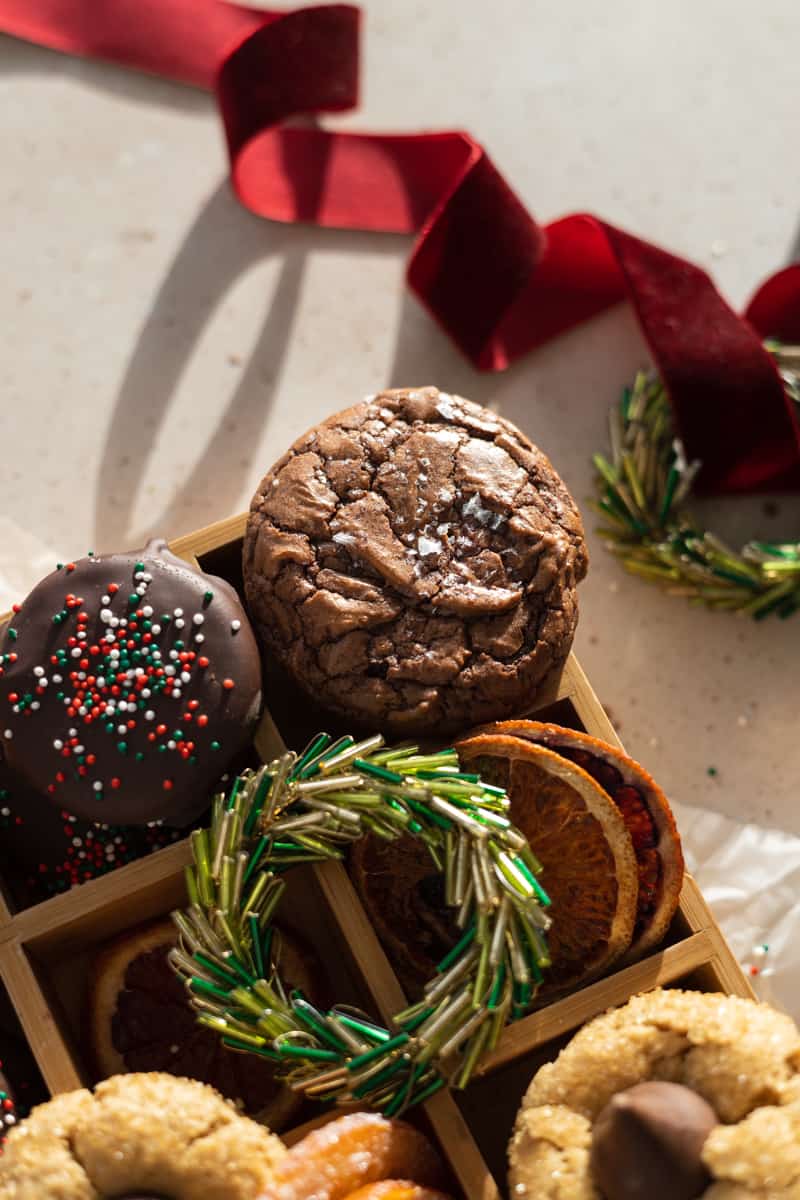 Holiday Cookie Box FAQ
What can I use if I don't have a box for this?
You can use a tray, platter, or even a small baking sheet and arrange the cookies in rows or clusters. Of course, this won't work for shipping, but will be great for serving the cookies in person.
How long does it take to make a holiday cookie box?
If you wanted, you could bake all the cookies in one day, but I recommend breaking it up over several days. Cookies can be stored in an airtight container at room temperature for 2-3 weeks, so you have that much time to bake all the cookies you want to include! You can also freeze cookies after they're baked until you have all of your cookies ready.
How do I make a cookie box look great?
Think about your colors when you're choosing your cookies. Layer the cookies in the box - we love to see texture and variety. And go for volume: the more cookies, the merrier! You can also add some decorative holiday accessories, like ribbon or a small ornament, for a bit of sparkle!