One of my favorite Halloween baking items (and arguably, one of the easiest Halloween baking things you can do!) is to make Edible Candy Eyeballs. They're little bits of icing that you can pop onto anything to make it instantly festive: a charcuterie board, cakes, cookies, marshmallows, Chocolate Rice Krispies, and more!
Yes, you can buy these - you don't have to make them yourself (but let's be serious, you're here because you like to bake!). If you make one batch, you'll have a lot of Edible Candy Eyeballs - plenty for your Halloween baking this year and even to give to some friends or neighbors.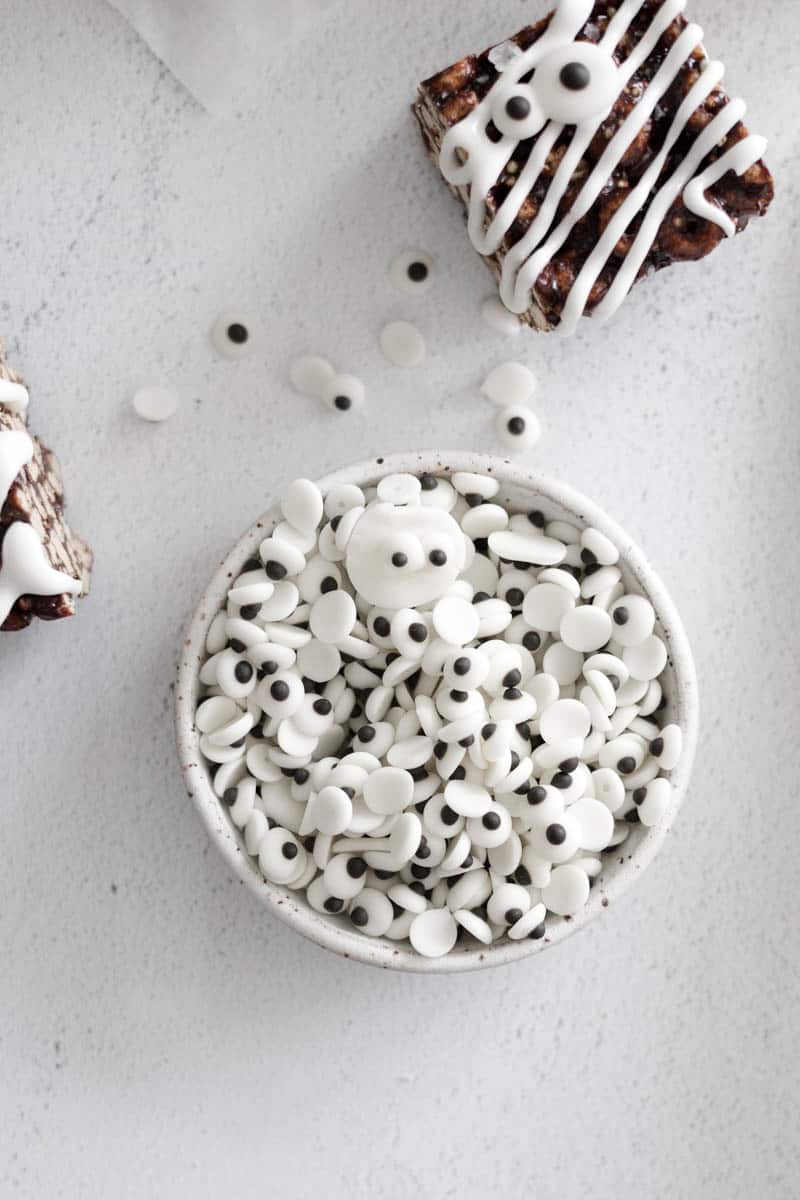 If you're looking for other candy recipes, check out these Classic Vanilla Marshmallows, these Candied Orange Slices, and these Chocolate Rice Krispies.
Jump to:
Why you'll love this recipe
The irregularity is part of the charm - make some eyes bigger than others, a little off-center, or even stuck together. They're great for making Halloween "monsters" out of any treat!
These Edible Candy Eyeballs and incredibly easy to make and a fun project to make with kids!
This recipe makes A LOT of eyeballs - you'll have plenty for all of your Halloween baking, and even some to give to friends or neighbors if you like!
Ingredients
This is an incredibly simple recipe and you only need a few ingredients to get started.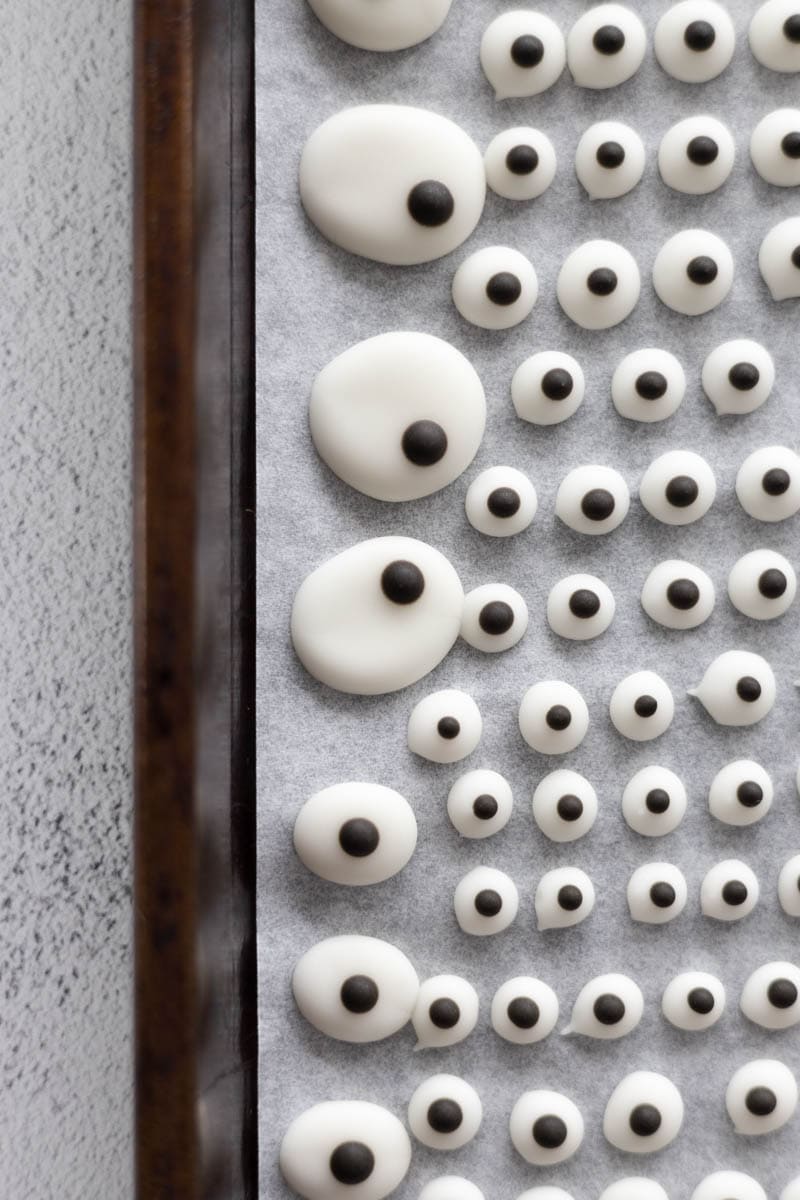 Powdered sugar: You will need a good bit of it (2 cups).
Meringue powder: This is an ingredient you may not have unless you work with a lot of icing. You can find this in the baking aisle, or you can order online. I like this Wilton Meringue Powder. And a little goes a long way, so you don't need to get a ton.
Food coloring: You'll need black food coloring to make the pupils of the eyes, but you can also use any other colors you prefer!
See full recipe below for detailed directions.
Substitutions & Variations
These Edible Candy Eyeballs are very adaptable! Here are a few ideas to make them your own:
Change the size and shape: Make smaller, or larger, or irregularly shaped eyes. They'll all have a completely different feel.
Pair a few together: Make a few eye sets that are clumped together. Putting 2 or 3 eyes touching together can give a great "monster" feel for Halloween treats.
Add some color: Change up the color of the eyeball whites, or the pupils! These can be a bit spooky, after all!
I have not tried this recipe with other variations, but if you do, let us know how it turns out in the comments! I always love to hear how you're adapting these recipes and use those as ideas for future recipes as well!
How to Make Edible Candy Eyeballs
Line a large baking sheet (or two) with parchment paper and set aside.
Combine powdered sugar and meringue powder in a medium bowl. Add water and stir until smooth and you've reached your desired consistency. You want the icing to hold its shape, but also not be too thick so that it doesn't create a smooth eye.
Transfer ⅓ of the icing to a smaller bowl. Add 5-6 drops of black food coloring (or another color of your choice) and stir until you reach your desired color. This is to make the pupils of the eyes.
Transfer the icing to two separate piping bags (one for white icing, one for black icing). With the white icing, create small dots for the eyes in your desired size. Making different sizes and irregular sizes makes for very fun final edible googly eyes!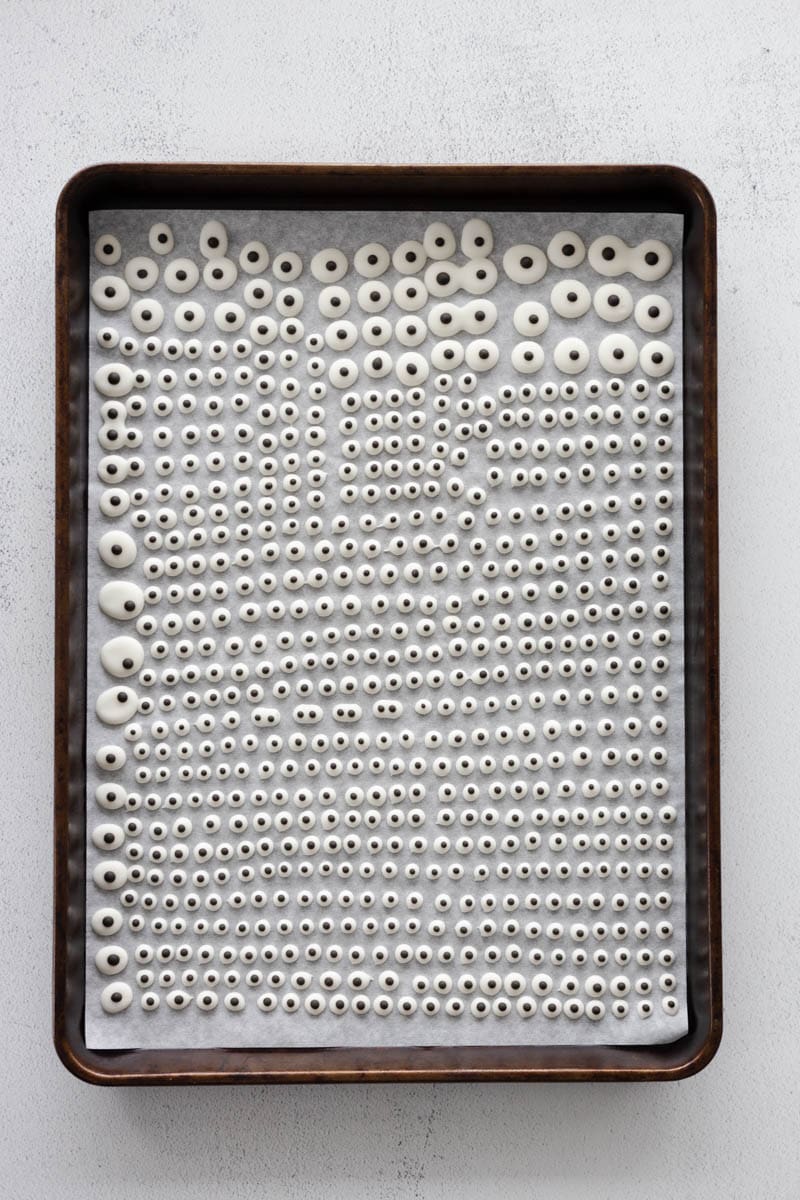 Let the icing set for a few minutes until it feels firm enough to add the pupils. To each white eyeball, add a small black pupil. Again, the irregularity is fun here! Play with different sizes and placement.
Let the completed eyes sit at room temperature for 12-24 hours until completely firm. They're then ready to use!
Expert Baking Tips
Make one batch of these at the beginning of the Halloween season, and you'll be covered for any festive bakes! You'll even have extras to give to neighbors and friends, if you like.
Add the water slowly. You don't want the icing to be too thin, or it won't hold it's shape. You can always add more water; it's much harder to recover an icing that has too much liquid.
Embrace the irregularity - the odd shapes and off-center pupils are part of the charm!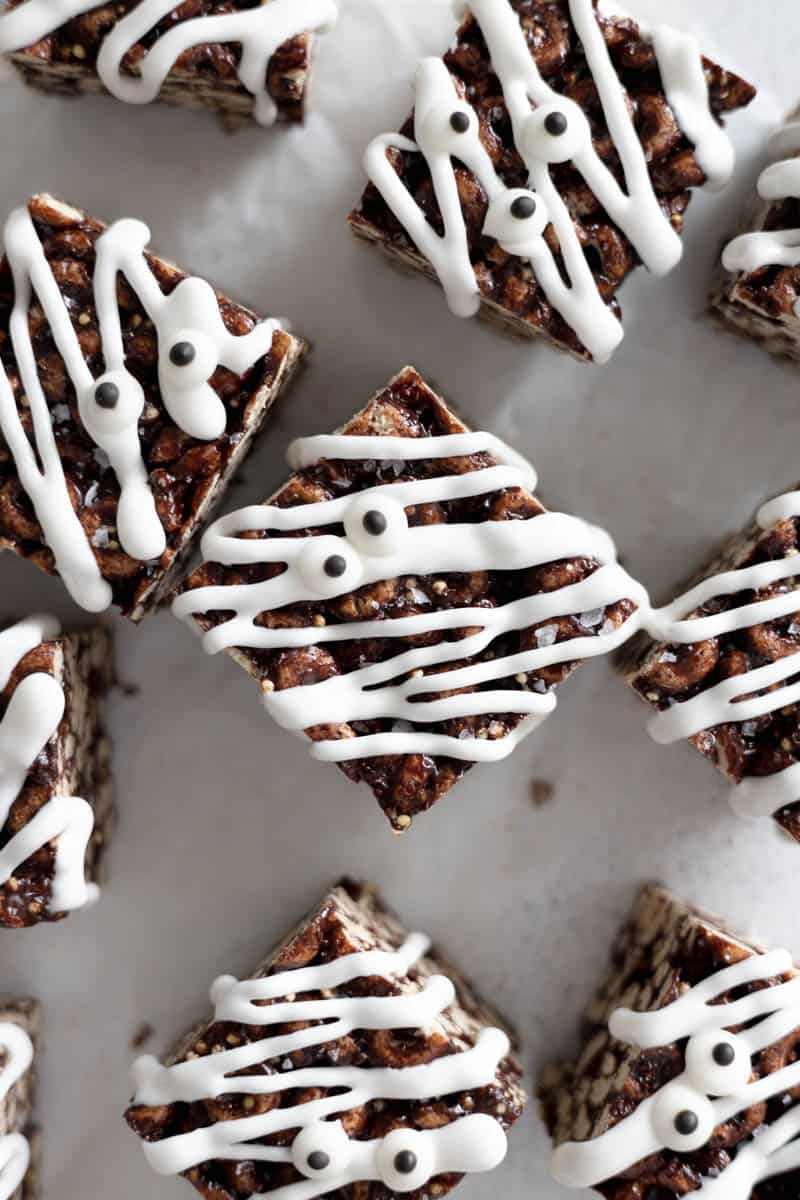 Equipment
You'll need a mixing bowl and whisk (I love the GIR Mini Whisk for this) to make the icing. Use piping bags with a small piping tip to create the eyeballs. If you don't have piping bags, you can also place the icing in a small plastic bag and cut off the corner to use as your bag.
Storage
If you get to the point where you need to store these, congrats! Somehow I always end up eating them straight out of the bowl... But in all seriousness, if you want to store these Edible Candy Eyeballs, keep them in an airtight container at room temperature. If stored properly, they will last several weeks.
Recipe FAQ
Do I need to make this whole recipe?
This recipe makes a small bowl full of eyeballs (of course, it depends on the size of eyeballs you make!). It's a lot: remember, you're probably putting two eyeballs on each cookie / brownie, etc. So a little goes a long way! When you're making the icing, you may be thinking that it doesn't look like a lot of icing, but just remember, you're not trying to coat a whole cake here!
Can I make them in any color?
Yes, definitely! Have fun with it! White eyes with black pupils is the traditional combination, but it could also be fun to try red pupils, or any other color combination!
What is meringue powder, and do I need to use it?
Meringue powder is made up of dried egg whites and is typically used in frosting. Meringue powder helps frosting and icing keep their shape so it doesn't fall flat. Yes, you do need it for this recipe!
Edible Candy Eyeballs
A quick and easy recipe to make Edible Candy Eyeballs to decorate cakes, cupcakes, or other Halloween treats.
Ingredients
2

cups

powdered sugar

2

Tablespoons

meringue powder

¼

cup

water

black food coloring

or color of your choice
Instructions
Line a baking sheet with parchment paper and set aside.

Combine powdered sugar and meringue powder in a medium bowl. Add ¼ cup water, 1 Tablespoon at a time. You may not need the full ¼ cup: keep in mind you want your eyeballs to retain their shape; they will naturally flatten as they rest, so you don't want to add too much water to make the icing runny. Stir until the icing is smooth and fully combined.

Transfer ⅓ of the icing to a small bowl. Add 5-6 drops of black food coloring (or color of your choice) to create your pupils. Stir until combined.

Transfer both bowls of icing into separate piping bags.

Starting with the white icing, create small dots for eyes on the prepared parchment paper. Make them as big or small as you like, and remember that irregular shapes and sizes work well here!

Once the whites have set a little bit, repeat with the black icing, adding pupils to each eyeball. Vary sizes and placement as you like!

Let sit at room temperature for 12-24 hours until the eyeballs are firmed. Larger eyeballs may take more time to set. Remove from the parchment paper and use to decorate your favorite treats!
Tried this recipe?
Leave a comment below and tag @thisjess.cooks on social!