Jump to Recipe
Let me start by saying I think baked donuts are seriously underrated. They're shockingly easy to make (literally, it's about the same as making muffins) and inherently fun (come on, donuts!). Plus, if you bake them, you're not using the oil to fry, and you can control how much sugar or other ingredients are going into a recipe. Point being, homemade donuts are incredible! These Baked Cinnamon Sugar Donuts are sure to satisfy your tasty donut craving!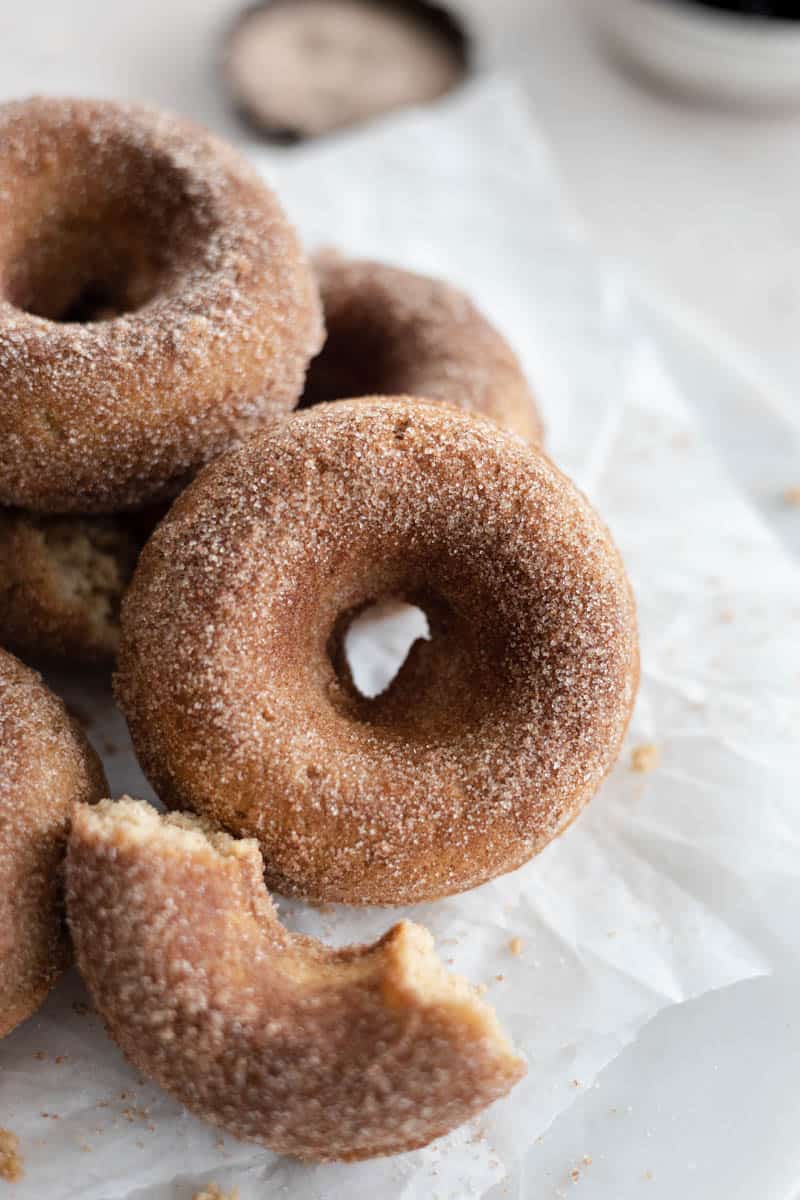 As always, I do include a few affiliate links in this post for products I truly use and love. This just means that if you make a purchase after clicking one of those links, I'll earn a little money (at no cost to you) to keep the kitchen up and running, which I promise to use to create more fun content like this! One of those affiliates is with Amazon, which requires a very clear disclosure: as an Amazon Associate, I earn from qualifying purchases. If you have any questions about affiliates, please reach out!
Ingredients you'll need
Brown sugar

: this adds sweetness with the warm and slightly molasses flavor of brown sugar (rather than using granulated sugar)
Cinnamon and nutmeg: use great spices here -- a really high-quality cinnamon and nutmeg make a big difference!
Egg: lightly beat the egg before mixing it in with the other ingredients. This helps the donuts to be more light and fluffy
Granulated sugar: you'll use this for the cinnamon sugar coating on the outside of the donuts
Dairy-free yogurt: I like to use either plain or vanilla dairy-free yogurt for this recipe
Almond milk: you can also substitute for another type of milk
Butter: this helps add fat to the recipe, which is needed for rising. You'll also use butter to brush the donuts before tossing them in the cinnamon sugar coating. You can use a dairy-free butter alternative in this recipe as well.
Vanilla extract: you always need a little vanilla when baking! You can also make your own homemade vanilla extract
A few pantry staples including all-purpose flour, baking soda, baking powder, kosher salt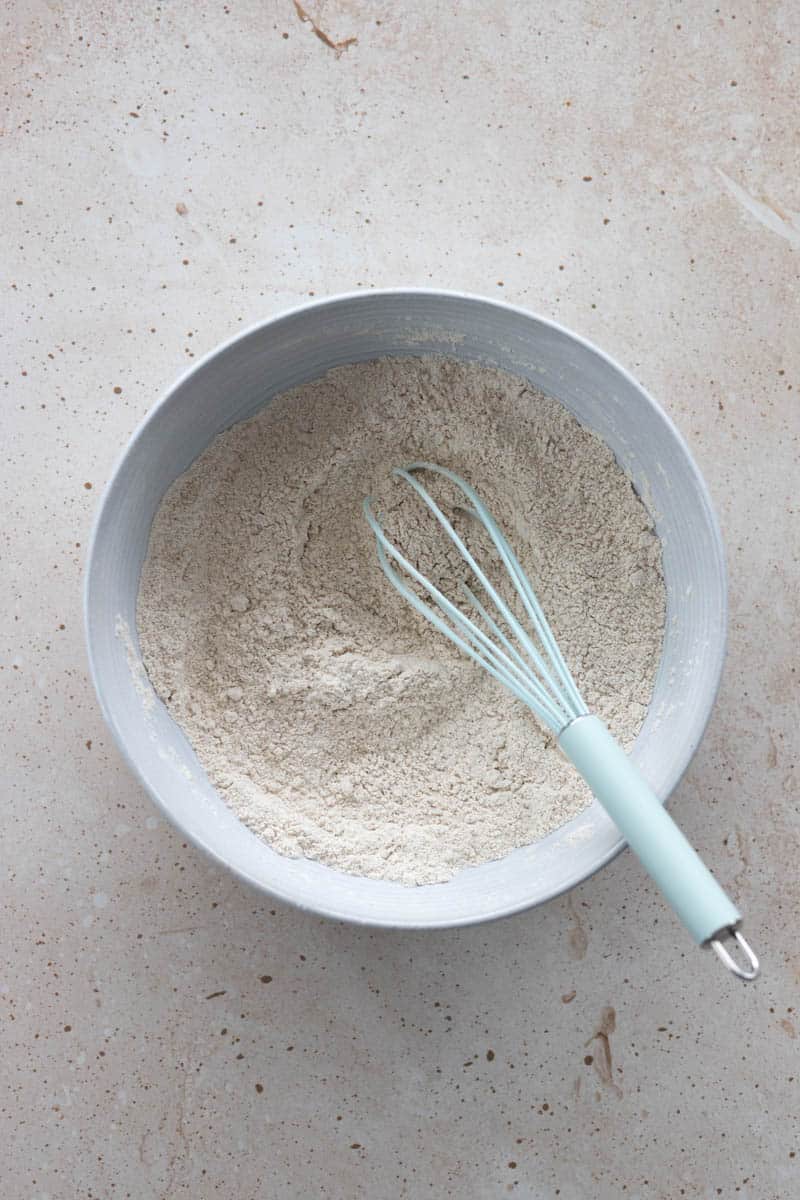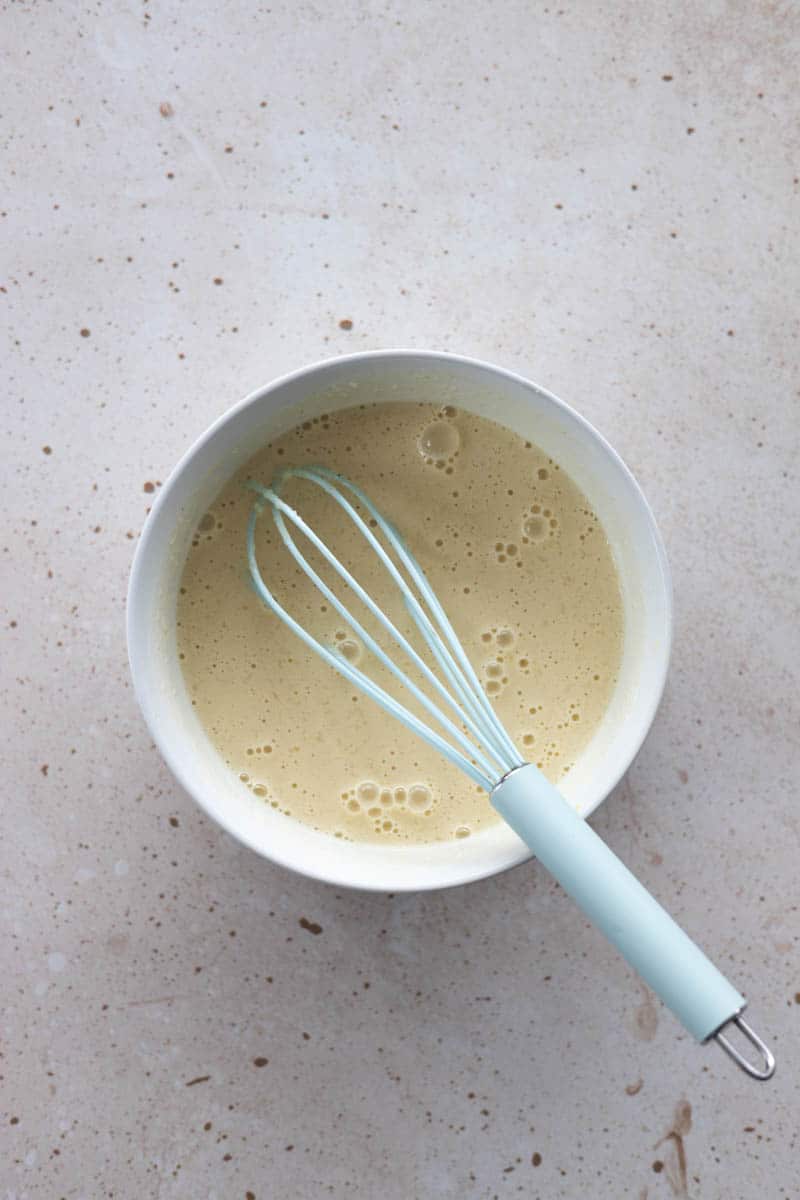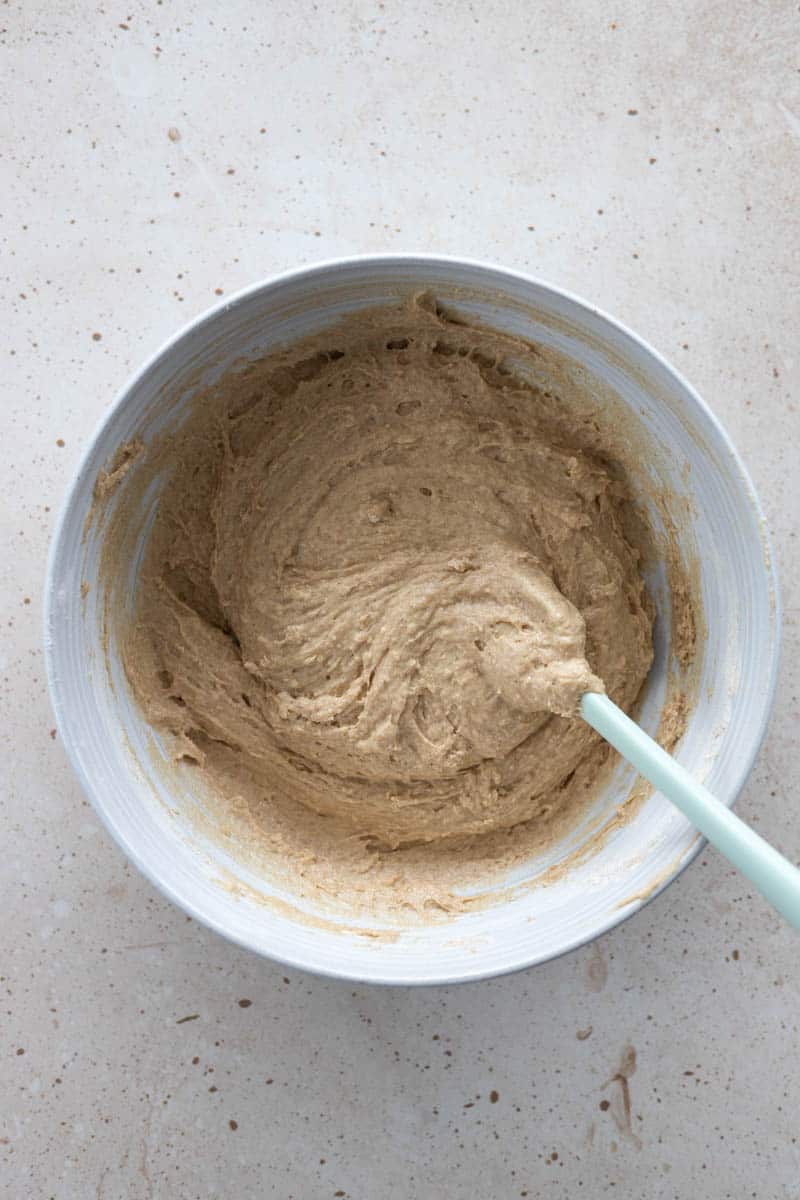 Equipment you'll need
Donuts are incredibly easy to make, but there are a few things that you will need:
Filling the Pans
Filling the pans is most challenging part about making donuts. You want to fill each donut cavity about ¾ full with batter. If you over-fill the cavity, your donuts will not have holes in them (they'll still be delicious!).
You can use a spoon to move batter into the donut pan, but I prefer to use a piping bag. Fill the piping bag as you would if you were working with icing. Cut off the end of the bag (a fairly big cut so the hole is about the size of a dime or nickel - we don't need to be very precise here). Then you can squeeze the batter in circle into the pan. If you don't have piping bags, you can do this same thing with a plastic ziplock bag, filling the bag with dough and then cutting off the corner tip.
If needed, use your finger to help spread the dough evenly around each ring so they'll bake evenly.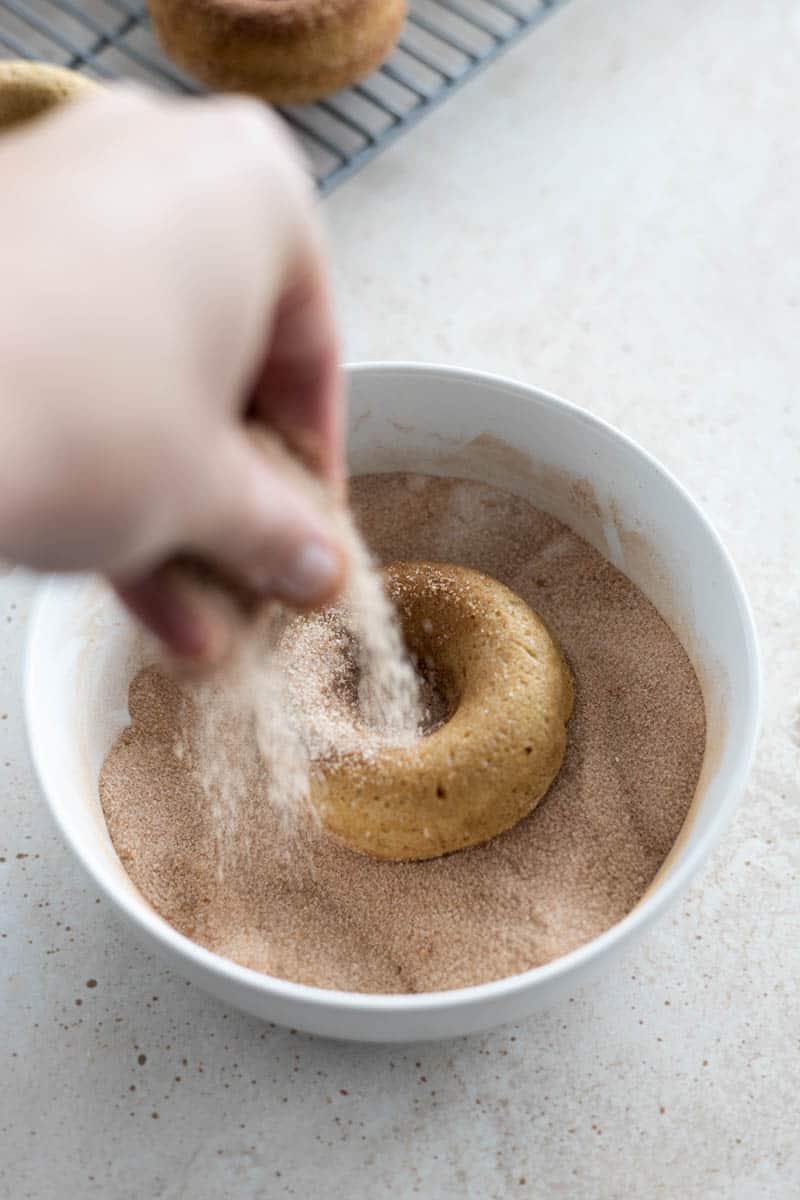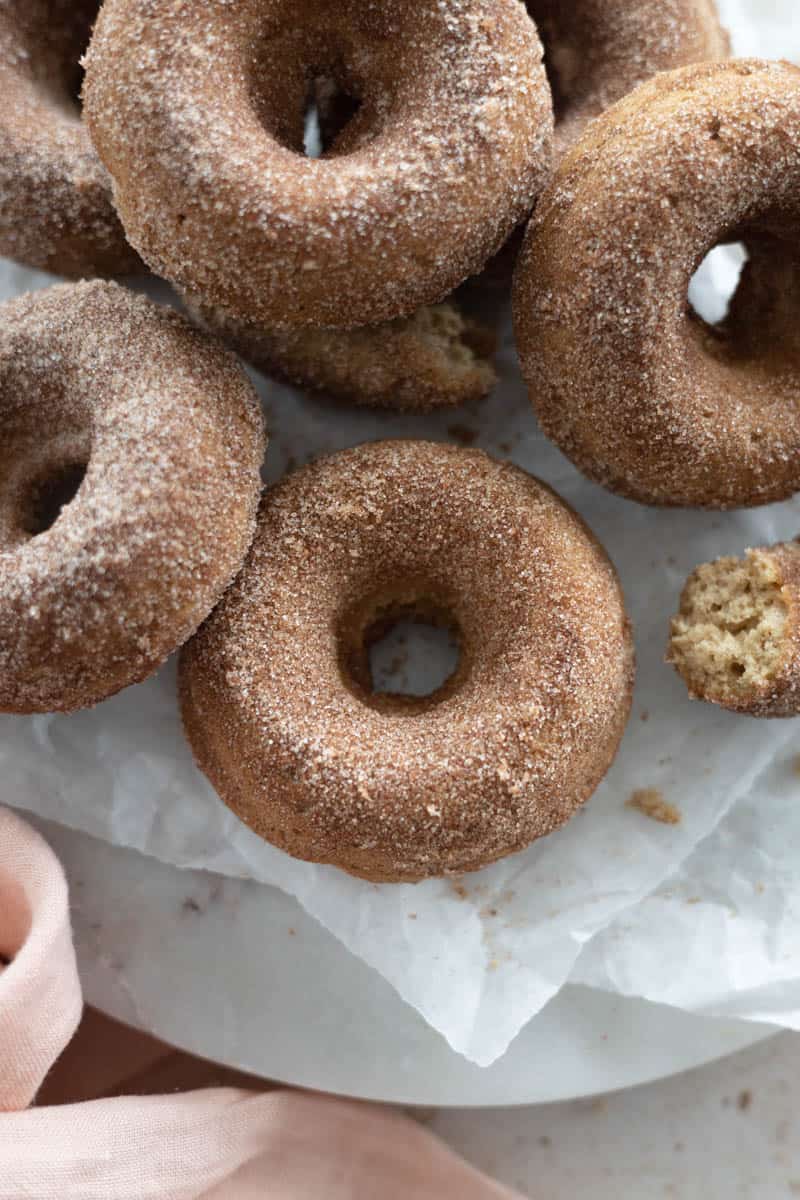 The cinnamon sugar layer
After your donuts are baked, allow them to cool in the pan for a few minutes, then turn them out onto a cooling rack. Combine your cinnamon and sugar in a low bowl. Brush each donut generously with melted butter, then toss in the bowl with cinnamon sugar. You can go back and toss each donut in the sugar for a second time for a very thorough coating.
Frequently Asked Questions
Can I use a different kind of milk or yogurt here?
Yes, this recipe would work with any kind of non-dairy or dairy milk and yogurt. For non-dairy options, I recommend either plain or vanilla-flavored non-dairy yogurt. I also prefer to bake with almond milk, but other milks will work as well.
Why is there butter in this recipe if it's dairy-free?
I make my recipes dairy-free because I am lactose intolerant. Lactose intolerance is different for everyone, and I find that I can still very easily eat butter (which is the case for many), so I choose to use that in my cooking and baking. If you'd like, you can use a non-dairy butter alternative in this recipe.
How should I store Baked Cinnamon Sugar Donuts?
You can keep baked donuts at room temperature in a brown paper bag or an unsealed plastic bag for up to 2 days. They will naturally harden, but you can always heat in them in the microwave for a few seconds to make them warm and soft again.
You can also freeze homemade donuts in a sealed, freezer-safe plastic bag for up to 3 months. Reheat the donuts in the microwave for about 1 minute so they're soft and warm again before eating. The cinnamon sugar layer will dissolve a little bit into the dough, so it won't quite have that same sugary outer layer, but it will still be delicious!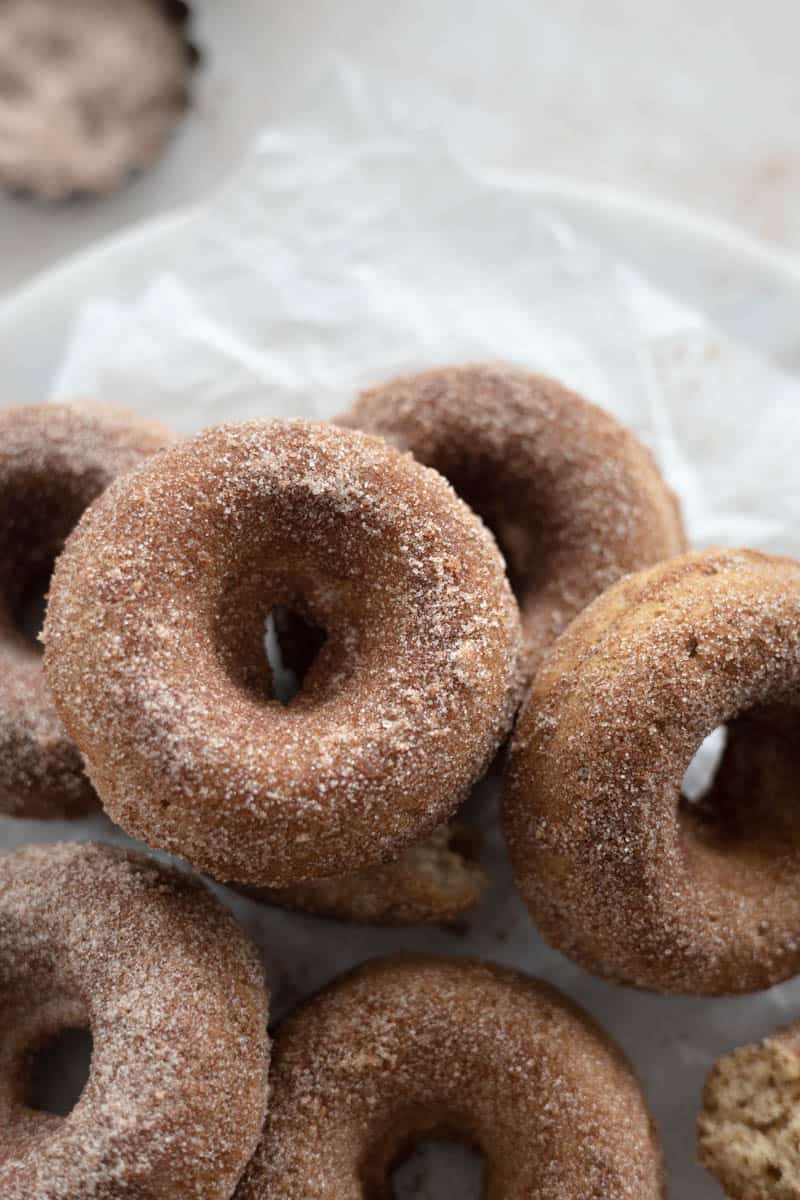 Below is my recipe for Baked Cinnamon Sugar Donuts. I hope you love them! Leave a comment and let me know what you think!
Baked Cinnamon Sugar Donuts
A tasty recipe for light, fluffy, baked cinnamon sugar donuts. Plus, they're dairy-free!
Ingredients
2

cups

all-purpose flour

1 ½

teaspoons

baking powder

1 ½

teaspoons

ground cinnamon

1

teaspoon

ground nutmeg

¾

teaspoon

baking soda

¾

teaspoon

kosher salt

½

cup

light brown sugar

1

egg

lightly beaten

½

cup

dairy-free yogurt

plain or vanilla-flavored

½

cup plus 2 Tablespoons

almond milk

or other non-dairy milk

2

Tablespoons

unsalted butter

melted, or non-dairy butter alternative

2

teaspoons

vanilla extract
For topping
4

Tablespoons

unsalted butter

melted, or non-dairy butter alternative

¾

cup

granulated sugar

2

teaspoons

ground cinnamon
Instructions
Preheat oven to 350°F. Spray two 6-cavity donut pans generously with cooking spray.

In a large bowl, sift together flour, baking powder, baking soda, cinnamon, nutmeg and salt. Stir in brown sugar. In a small bowl, whisk together the egg, yogurt, milk, butter and vanilla extract. Stir the wet mixture into the dry mixture just until combined.

Transfer the batter to a piping bag (or a large plastic Ziplock bag) and cut off the corner so the hole is the size of a dime. Pipe the batter into the pan, filling each mold ¾ full.

Bake the donuts for 10-12 minutes, or until a toothpick inserted in center comes out clean. All the donuts to cool in the pan for a few minutes, then trasnfer to a cooling rack.

Combine the cinnamon and sugar for the topping in a small, low bowl. Brush the donuts generously with melted butter, then toss in the cinnamon sugar mixture to coat. You can repeat with a second toss in the sugar for extra coating.
Tried this recipe?
Leave a comment below and tag @thisjess.cooks on social!