I'm always ready for brunch, and these Strawberry Rhubarb Muffins combine some of the best summer ingredients for the perfect brunch recipe. They're slightly tangy from the rhubarb, and sweet from the strawberries, and wonderful served warm with a little melty butter!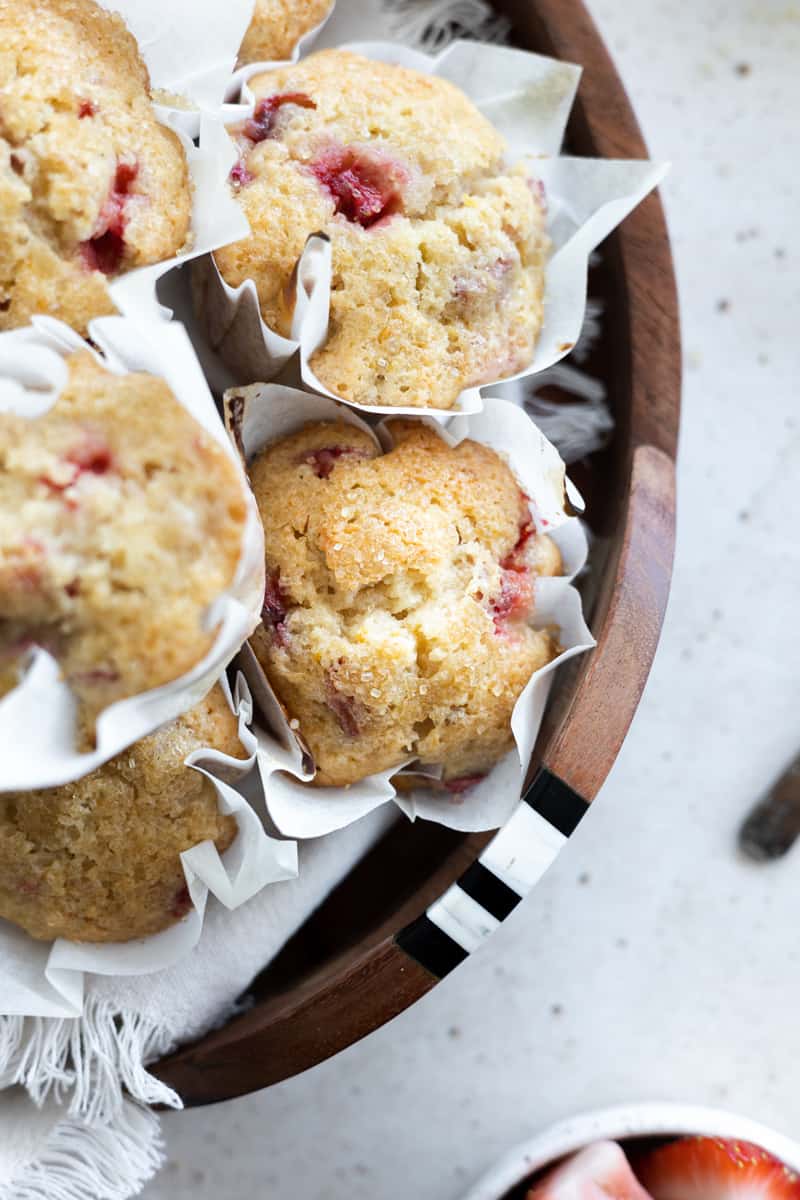 Looking for some more brunch inspiration? Check out these Sourdough Discard Cinnamon Rolls and these Strawberry Waffles for a few different options.
Ingredients
These muffins are great in the summer while the strawberries and rhubarb are fresh, but they also work well with frozen ingredients! Just make sure to thaw the frozen fruit before adding them to the mixture.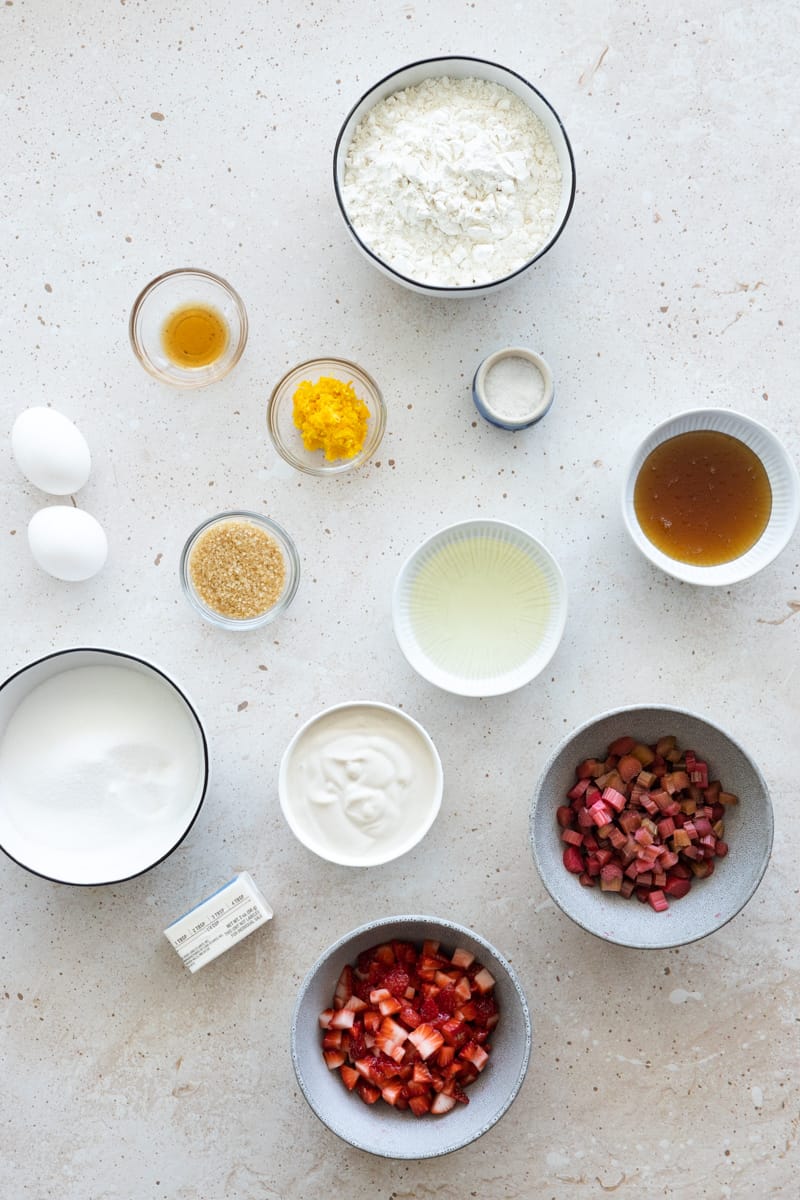 Dairy-free yogurt: I love to use plain, dairy-free yogurt (or sour cream) while baking. If you don't have any on hand, you can use a dairy-free milk instead, but keep in mind you may need to allow the muffins to bake a little longer.
Vegetable oil: this helps keep the muffins light and fluffy.
Honey: the honey adds sweetness as well as moisture to the muffins.
Orange zest: fresh orange zest adds a nice flavor to round out the sweetness of the strawberries and the tartness of the rhubarb.
Vanilla extract: always! You can also make your own vanilla extract.
Strawberries: fresh is best, but you can also use frozen. Just make sure to thaw them before adding to the batter, and discard any excess juices / liquid that separate from the berries. A small dice is best for the berries to mix into the batter.
Rhubarb: again, fresh is best but frozen also works! Discard any excess juices / liquid that separates from the fruit. Make sure these are cut into small, ½ inch pieces (or smaller, if you prefer), so they mix into the muffin well.
Turbinado sugar: this gives a nice crunch to the top of the muffin, and I always recommend doing this! I like to use Sugar in the Raw, but you might have another type already in your pantry!
See full recipe below for detailed directions.
Instructions
These muffins come together in just a few easy steps, so you're well on your way to a delicious brunch!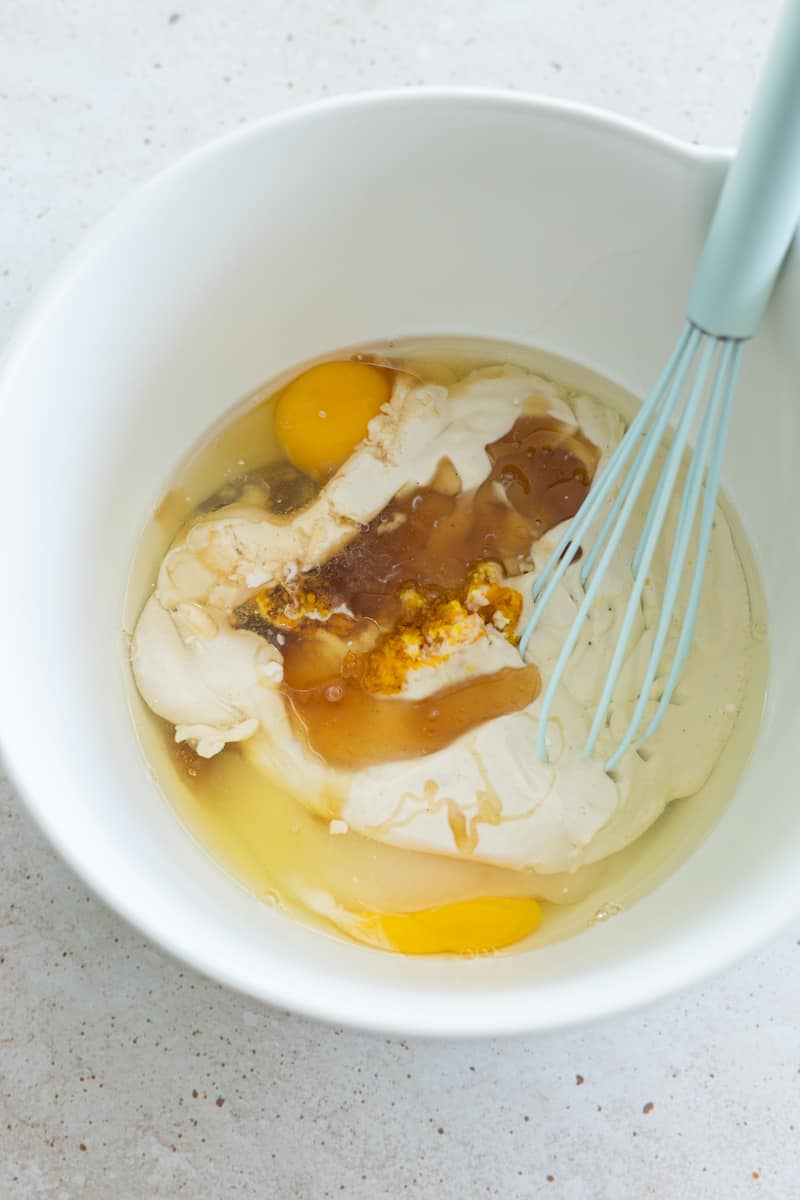 Combine granulated sugar and liquid ingredients in a large bowl. Whisk to combine.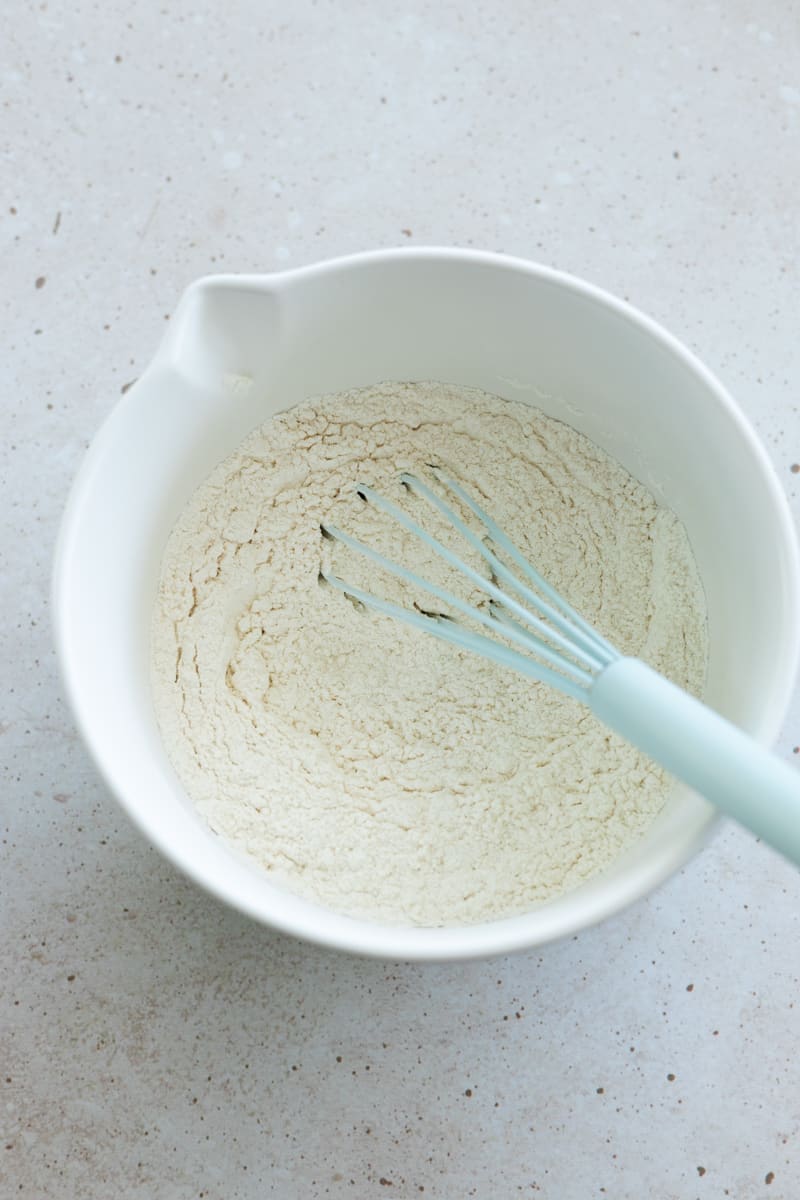 Whisk together dry ingredients in a medium bowl.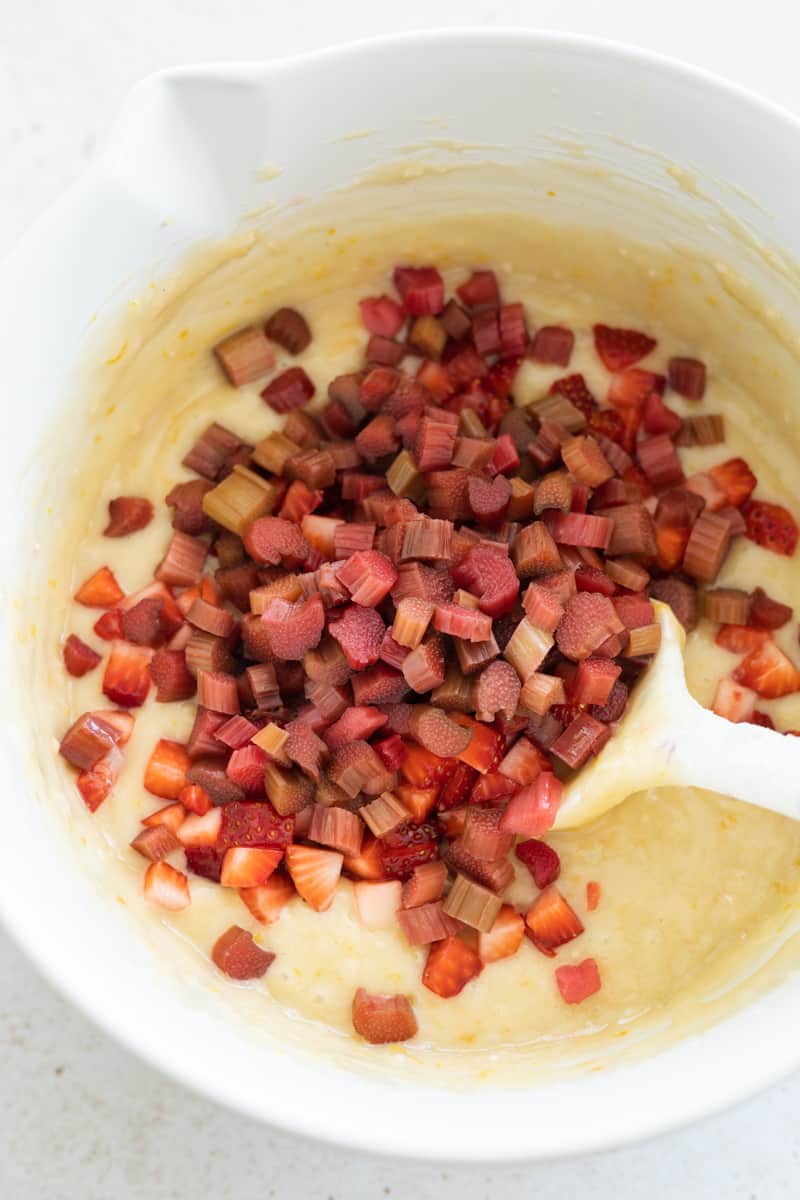 Gently fold in strawberries and rhubarb. You want to avoid streaking or crushing the fruit, if possible.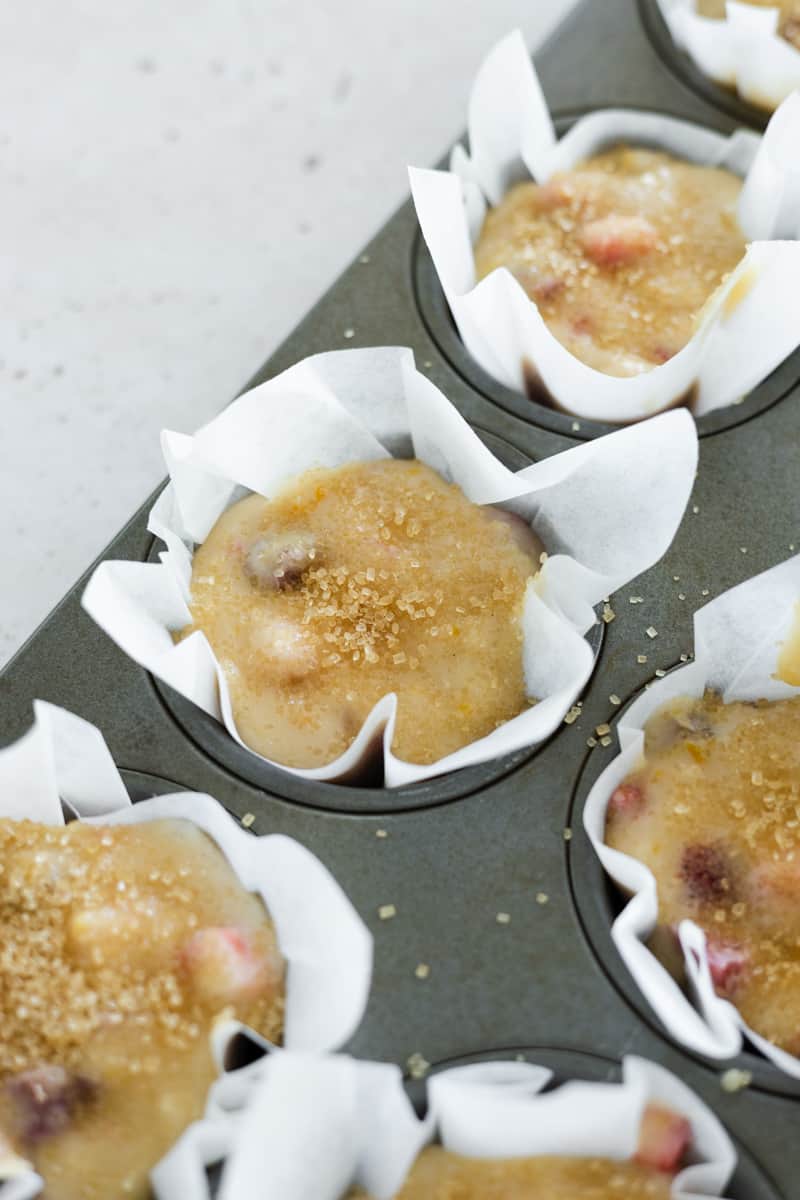 Fill lined muffin cups ¾ full with batter and sprinkle with turbinado sugar.
Once your muffin cups are full, they're ready to bake! These muffins are best served warm, right from the oven with a little melty butter or fresh jam.
Hint: If you have too much muffin batter, it's better to make one or two extra muffins in another pan than to overfill the muffins. If they're overly full, they may spill over the actual muffin cup and start to get seriously messy.
Storage
Room Temperature Storage: Store muffins in an unsealed ziplock bag or a paper bag at room temperature for up to 3 days. They will start to get harder as they sit longer, but you can always put them in the microwave for about 30 seconds to soften them again.
Freezer Storage: Muffins also freeze very well. Once fully cooled, transfer the muffins to a freezer-safe ziplock bag and freeze. To reheat, just pop them in the microwave for 30-60 seconds and they'll be warm and soft again.
Top tip
Cutting your fruit to the right size is key for this recipe. Keep in mind that you want your muffins to hold together, and in one bit of muffin, you want to get a bit of the batter, a bit of strawberry, a bit of rhubarb. If your fruit pieces are too big, your muffins will fall apart easily, and you won't be able to get all the flavors together in one bite.
Cut your strawberries to a small dice and your rhubarb to ½ inch pieces.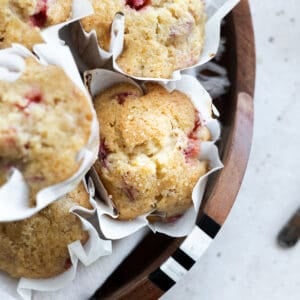 Strawberry Rhubarb Muffins
A delicious way to use your summer strawberries and rhubarb for breakfast or brunch!
Ingredients
¾

cup

granulated sugar

2

eggs

½

cup

dairy-free plain yogurt

3

Tablespoons

vegetable oil

3

Tablespoons

honey

1

Tablespoon

orange zest

1

teaspoon

vanilla extract

1 ½

cups

all-purpose flour

1 ½

teaspoons

baking powder

½

teaspoon

kosher salt

3

Tablespoons

butter

melted

1

cup

fresh strawberries

small diced

1

cup

fresh rhubarb

cut into ½ inch pieces

2

Tablespoons

turbinado sugar
Instructions
Preheat oven to 375°F. Line a 12-cup muffin tin with liners and set aside.

In a large bowl, combine granulated sugar, eggs, yogurt, vegetable oil, honey, orange zest and vanilla extract. Whisk until combined and smooth. In a separate bowl, combine flour, baking powder and salt. Whisk to combien.

Add flour mixture to the liquid mixture, alternating with the melted butter and stir until just combined. Gently fold in the strawberries and rhubarb. If using frozen fruit, make sure to thaw it first and discard any excess juices or liquid that separate from the fruit.

Fill the prepared muffin cups ¾ full with batter and sprinkle with turbinado sugar. Bake for 25-30 minutes, or until a toothpick inserted in the center of the muffin comes out clean.

Let cool in the muffin tin for 10 minutes, then transfer to a plate for serving, or a cooling rack to cool fully.
Tried this recipe?
Leave a comment below and tag @thisjess.cooks on social!