Jump to Recipe
Once spring starts to turn the corner, all I want to eat are light and bright dishes that I've been missing all winter. This Spring Pasta with Lemon, Peas & Prosciutto combines all those delicious flavors and makes you ready for warm weather!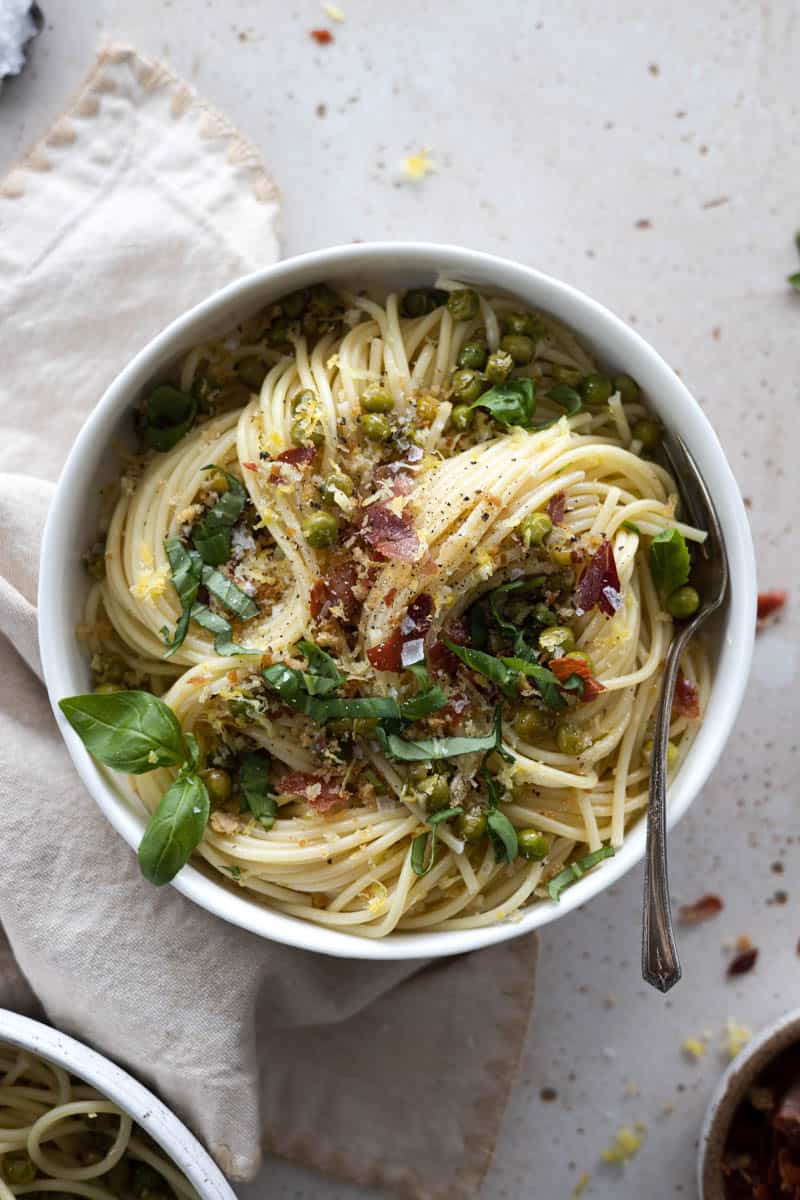 As always, I do include a few affiliate links in this post for products I truly use and love. This just means that if you make a purchase after clicking one of those links, I'll earn a little money (at no cost to you) to keep the kitchen up and running, which I promise to use to create more fun content like this! One of those affiliates is with Amazon, which requires a very clear disclosure: as an Amazon Associate, I earn from qualifying purchases. If you have any questions about affiliates, please reach out!
Ingredients you'll need
I know the name is very misleading (it's not... sarcasm), so here is what you'll need:
Spaghetti: or another pasta of your choice, but a spaghetti noodle works really well for this
Lemon: you'll use both the juice (fresh is best!) and the zest
Peas: frozen or fresh will work well! This recipe is written with frozen peas in mind. If you're using fresh peas, you won't need to cook them as long.
Prosciutto: don't skip this! The prosciutto gives such an incredible flavor
Garlic: every good pasta dish needs garlic
Olive oil: this is the base of the "sauce" for this recipe, so make sure you're using a good olive oil
Crusty bread: you'll want some crusty bread (preferrably some that is a little past its prime) to make the crispy breadcrumbs
Fresh herbs: I like to use basil or parsley here
Pantry staples including salt, pepper and paprika
Equipment you'll need
You really only need a few kitchen basics, but these are a few things I like to use: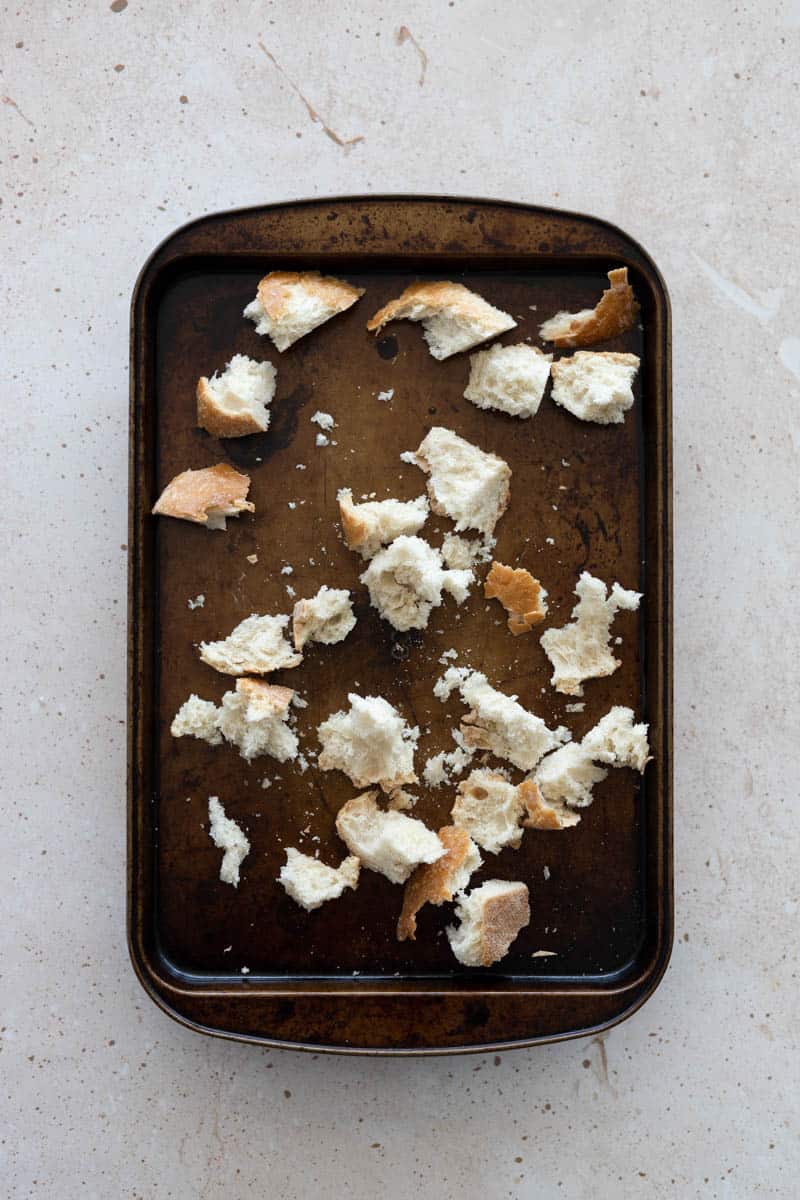 Making your flavored breadcrumbs
I love to put crispy breadcrumbs on pretty much anything - they give such great crunch and texture! I prefer to use bread that is a bit past its prime here. If it's a few days old and starting to go hard, even better.
Tear 2 slices into chunks and add them to the bowl of a food processor or small blender (I like to use my KitchenAid Spice Grinder) and pulse until roughly ground. Remember, you want texture here, so don't grind too much.
Transfer the crumbs to a baking sheet and drizzle with olive oil, salt and pepper. Toss to combine and spread evenly on the baking sheet. You'll bake these at the same time as the prosciutto and then set aside until you're ready to serve.
Making your crispy prosciutto
The crispy prosciutto adds such a wonderful flavor to the dish. Plus, it smells absolutely amazing while it's cooking! Line a baking sheet with parchment paper and lay out the prosciutto on the sheet, leaving space between each. You'll bake this in the oven at the same time as your breadcrumbs, then set aside to cool. Once cooled, you can crumble them in your hands to top your pasta.
Frequently Asked Questions
How should I store leftovers?
Store leftover pasta in an airtight container in the fridge for 3-4 days. Store the prosciutto in a separate container (or ziplock) bag in the fridge as well. The crispy breadcrumbs can be stored in an airtight container in the pantry or at room temperature.
Can I use bacon instead of prosciutto?
You can. It will not taste the same (but I'm not hating on bacon!), but if you wanted to make that switch, you could. You would just need to cook the bacon according to package directions.
Why do I need to bake the prosciutto?
Proscuitto is amazing on its own, but once it's baked and made crispy, it heightens the flavor even more and adds such an amazing crunch.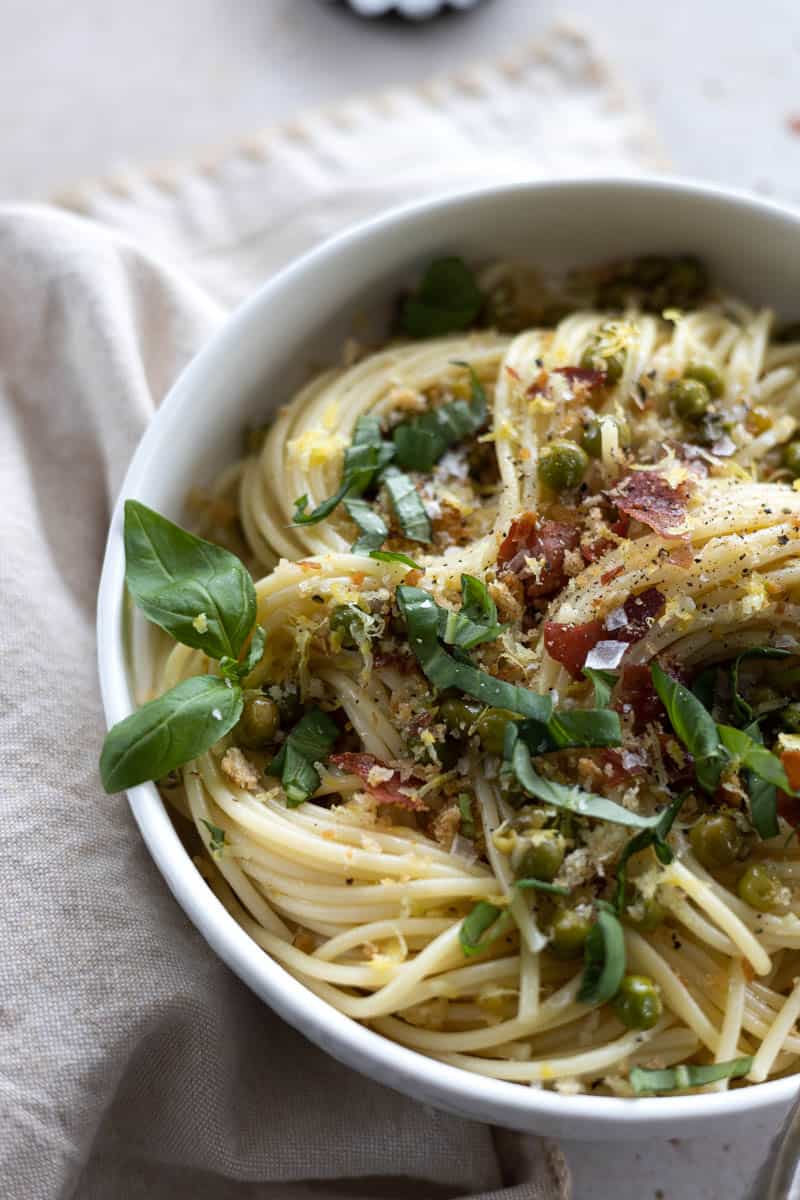 Below is my recipe for Spring Pasta with Lemon, Peas and Prosciutto. Leave a comment and let me know what you think!
Spring Pasta with Lemon, Peas & Prosciutto
A light and refreshing pasta combining the best spring flavors with an incredible crunch from crispy prosciutto and falvored breadcrumbs!
Ingredients
For the breadcrumbs
2

slices

crusty bread

2

teaspoons

olive oil

¼

teaspoon

kosher salt

¼

teaspoon

ground black pepper
For the pasta
3

ounces

prosciutto

¼

cup

olive oil

2

garlic cloves

minced

2

Tablespoons

lemon juice

1

cup

frozen peas

thawed

1

lb.

spaghetti

2

Tablespoons

lemon zest

divided

¼

teaspoon

paprika

Fresh herbs (basil, parsley)

to garnish

Salt and pepper

to taste
Instructions
Heat oven to 400°F. Tear your bread slices into chunks and place in a small food processor or spice grinder. Pulse until coarsely ground. Transfer to a small baking sheet, drizzle with olive oil, salt and pepper. Toss to coat evenly and spread on baking sheet.

On a separate baking sheet lined with parchment paper, lay prosciutto without overlapping.

Bake breadcrumbs 8-10 minutes, or until slightly browned. Bake prosciutto 10-12 minutes (they will crisp up as they cool). Watch carefully - both will burn quickly if left too long. Set both aside to cool.

Heat olive oil in a skillet over medium heat. Add garlic and sautée for one minute. Add peas and lemon juice, stir to combine. Season with salt and pepper. Cover and cook until peas are tender, about 4 minutes.

Cook spaghetti until al dente, according to package directions. Drain the spaghetti and toss with the oil and peas mixture, 1 Tablespoon lemon zest and paprika. Serve in individual bowls, topped with crumbled crispy prosciutto, toasted breadcrumbs, fresh herbs and additional lemon zest. Salt and pepper to taste.
Tried this recipe?
Leave a comment below and tag @thisjess.cooks on social!