This simple white sangria recipe is packed with summer fruit and very versatile. The peaches and blackberries are full of flavor and not only soak up the flavor of the wine, but also lend their own fruity juices to the mixture as a whole. It's quick to put together and a complete showstopper!
At its core, sangria is a punch made with wine, a spirit (typically a brandy), and fruit. With that in mind, hold this simple white sangria recipe as a guideline and feel free to modify as you see fit!
Looking for other summer cocktail recipes? Try this Strawberry Basil Vodka Cocktail or this Aperol Soda.
Jump to:
Ingredients
There are just a few things that you need to make this simple white sangria recipe.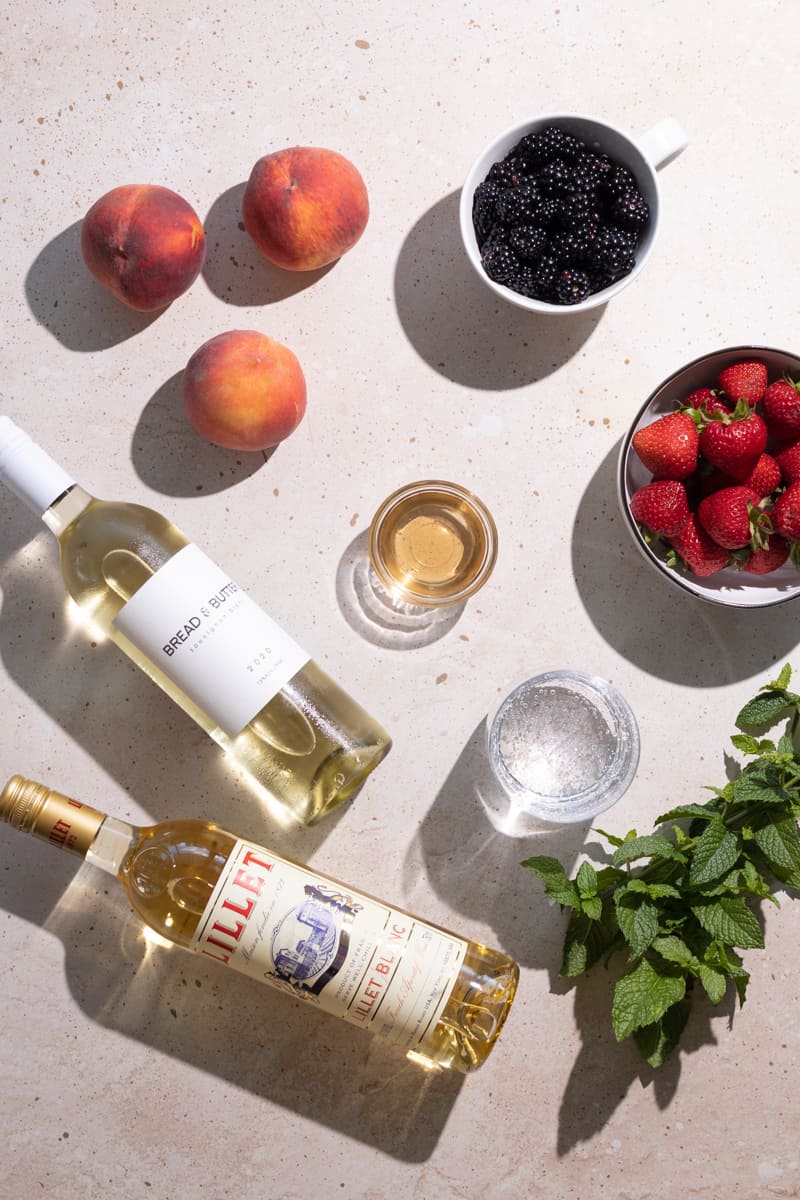 Fresh peaches: these are the star of the show. Yellow or white peaches both work well!

Fresh strawberries:

1 cup chopped strawberries is all you'll need for this recipe. I typically quarter them, but if you'd like to cut them differently, you certainly can.
Fresh blackberries: 1 cup blackberries will get added to the mix.
Simple syrup: this is optional but if you want to add a bit of sweetness to the sangria, simple syrup will do that. You could also use Blackberry Simple Syrup with this recipe for an extra hint of blackberry!
White wine: Use a dry or fruity white wine. A good rule of thumb: if you like to drink it, it will be good for sangria. If it's not a wine that you would enjoy drinking plain, you won't enjoy it in sangria either.
Lillet blanc: for this white sangria recipe, we'll use Lillet blanc, which is a French aromatized wine that adds a beautiful flavor to your final sangria.
Sparkling water: to top off your glasses!
A note on the fruit: frozen fruit will work, too! Fresh will be best, and the most beautiful, but if you're in a pinch, frozen will do the job!
See full recipe below for detailed directions.
Instructions
This sangria comes together in just a few steps, so let's get started!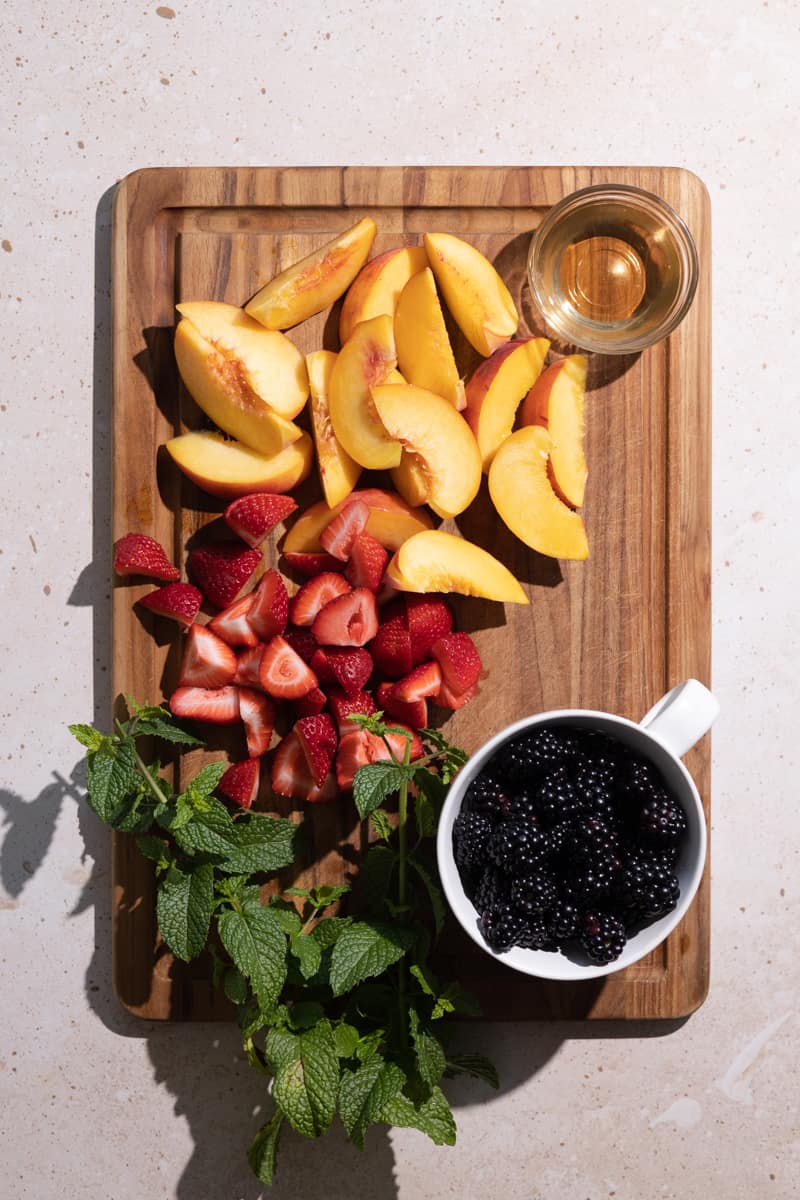 Chop and slice your fruits. Remember, you'll be eating them at some point, so make sure they're an easy-to-eat size.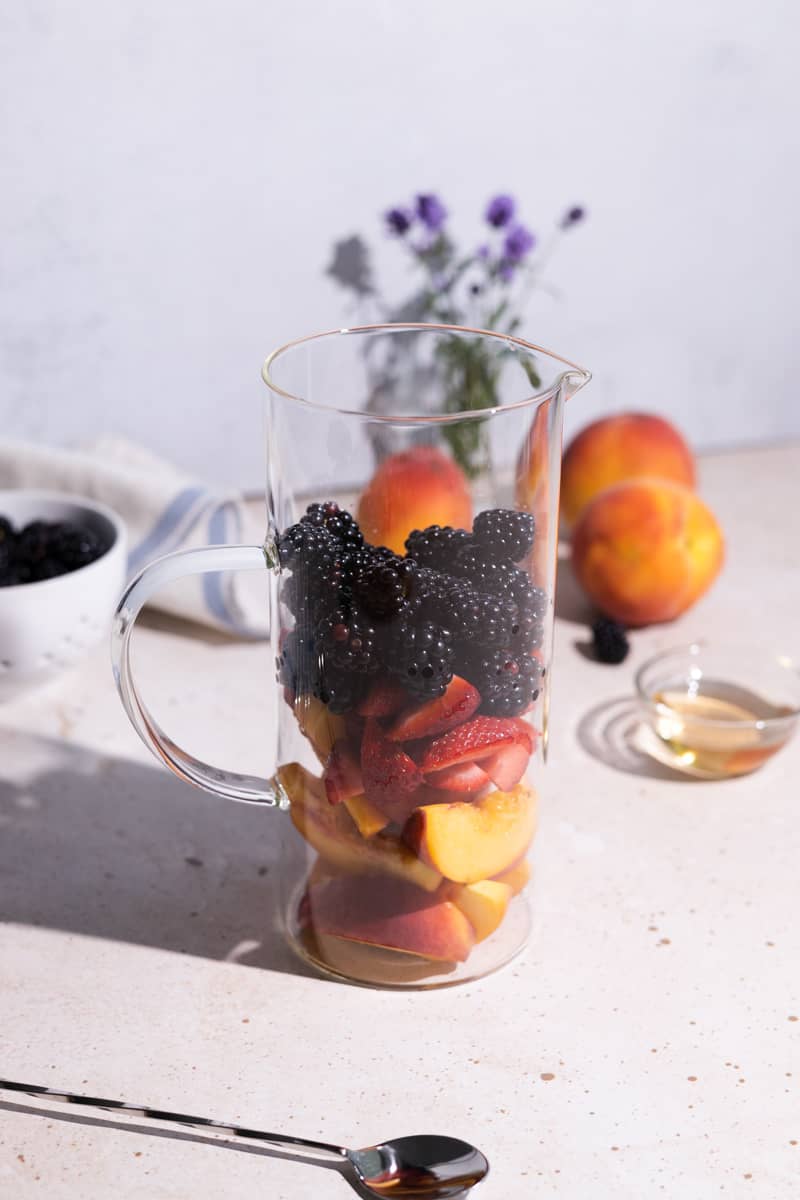 Add fruits to a large pitcher (big enough to hold the fruit plus a bottle of wine).
Pour in simple syrup and Lillet blanc.
Pour in the entire bottle of white wine and gently stir the contents.
When you're ready to serve the sangria, make sure to get some of the fruit into the glass along with the sangria, and top with sparkling water.
Hint: Let the sangria sit for at least 30 minutes before drinking. This gives the fruit time to soak in some of the wine flavors, and also to lend some of its fruity flavor to the mixture overall.
Variations
This recipe is very easy to modify; below are a few easy changes that will give a completely different result.
Change up the fruits - have other fruits on hand? Try strawberries, blueberries and white peaches, or go more towards citrus with apples and oranges!
Change up the spirits - if you don't want to use Lillet blanc, you can use brandy, schnapps or even vodka instead! Just keep an eye on the alcohol content and how powerful your drink is!
Change the sweetness - omit the simple syrup for a slightly less sweet option (you'll still have sweetness from the wine and the fruit!). You could also use Blackberry Simple Syrup here to pull out more of the blackberry flavors!
Equipment
This is one the of simplest recipes and you need only a few basics to get started:
A good knife and cutting board
A pitcher (it doesn't have to be glass, but sangria is always beautiful to see!)
A cocktail stirrer or even a big wooden spoon to stir the mixture
Storage
Sangria has a finite window where it's really great. Ideally, you want to let it sit for at least 30 minutes before drinking. Sangria doesn't keep well for very long as the fruits start to get mushy and the wine will get more and more cloudy. I recommend finishing the sangria within 24 hours of making it.
Top tip
Think about the size of your fruits as you're cutting them. You'll likely use a small spoon or fork to eat them from the glass, so keep in mind that they should be bite-size pieces or slices. Cutting them in different shapes also makes the sangria even more beautiful in the glass pitcher!
Simple White Sangria with Peaches and Blackberries
A simple white sangria recipe packed with summer fruits - perfect for a late afternoon cocktail!
Ingredients
2-3

peaches

sliced

1

cup

blackberries

1

cup

strawberries

sliced

2

Tablespoons

simple syrup

1

bottle

white wine

½

cup

Lillet blanc

sparkling water

fresh mint

for garnish
Instructions
Wash and slice your fruits. Add them to a large glass pitcher (large enough to hold the fruit plus a full bottle of wine).

Pour in the simple syrup, then the Lillet blanc, then the white wine. Gently stir to combine and chill in the refrigerator for at least 30 minutes before serving.

When serving, add fruit to the bottom of a glass, then pour in the sangria and top with a splash of sparkling water. Garnish with fresh mint.
Tried this recipe?
Leave a comment below and tag @thisjess.cooks on social!