It's almost summer and it's the perfect time for super simple sides that you can pair with an easy salad and some goodies from the grill. These Garlic Potato Wedges are a delicious twist on a traditional french fry. The wedge shape allows the fries to be crispy and crunchy on the outside, but still soft on the inside. And let's be serious - more surface area for sauce! They're prepped in under 10 minutes, and perfect for the summer recipe rotation!
These potato wedges are perfect to serve with Tomato and Roasted Red Pepper Soup or with hamburgers on Sourdough Discard Hamburger Buns! You could also enjoy these as an appetizer with an Aperol Soda!
Jump to:
Why you'll love this recipe
These oven-baked potato wedges are easy to make and easy to eat with your hands!
This is a very adaptable recipe that you can easily modify to make cheesy potato wedges, loaded potato wedges, or spicy potato wedges!
These wedges are perfectly crispy for that ultimate crunch!
They're great to serve with your favorite dipping sauces.
Ingredients
There are only a few key ingredients you'll need to make these potato wedges!
Russet potatoes: Also called baking potatoes, these are the best for making fries as well as wedges. They are high in starch and lower in water content compared to other types of potatoes, which helps them to become crispier when baked. And make sure to leave the skin!
Garlic cloves: I recommend using minced garlic cloves rather than powdered garlic, but both would work!
Fresh parsley: This is optional, but a little fresh parsley is a great garnish for these potato wedges.
Flaky sea salt: A little flaky sea salt (I like to use Maldon Sea Salt) is a great way to finish this recipe!
See below recipe for full directions.
Substitutions & Variations
This is a very adaptable recipe that you can easily make your own. Below are a few variations to try!
Loaded potato wedges: Use these Crispy Garlic Potato Wedges as the base, and load them up with your favorite toppings! After the wedges are baked, add cheese and crispy bacon. Bake just until the cheese is melted, then top with sliced green onions.
Cheese potato wedges: You can make a cheesy version of these potato wedges by sprinkling with your favorite shredded cheese (Parmesan, Cheddar or Colby Jack work well) for the last 5 minutes of baking.
Sweet potato wedges: Try this recipe with sweet potatoes! You can prepare and bake them in the same way, but keep in mind that sweet potatoes are softer than Russet potatoes. The final wedges will also be softer (still delicious!).
Spicy potato wedges: Pump up the spice level by increasing to ½ teaspoon paprika or adding ¼ teaspoon red pepper flakes while you're tossing the wedges on the baking sheet!
I have not tested this recipe with other variations, but if you do, let us know how it turns out in the comments! I always love to hear how you're adapting these recipes and use those as ideas for future recipes as well!
How to make Crispy Garlic Potato Wedges
The most important thing is how you cut your potato wedges, which we'll dig into, so let's get started!
Cut your potatoes into wedge slices (see section below).
On a baking sheet, drizzle the wedges with olive oil, salt, black pepper, paprika and minced garlic.
Toss to combine and coat evenly.
Spread the wedges on the baking sheet, avoiding overlapping. This will help the potatoes become crispy.
Bake for 40-45 minutes, flipping the wedges halfway, then enjoy!
How to cut potato wedges
If you are leaving the skin on (I recommend it), thoroughly wash the potatoes.
Think about this like cutting an apple. You're working by cutting each piece in half at the point, so each final piece is triangle-shaped, rather than flat on any side.
Cut the potato in half length-wise. Cut each half in half from the center point, then repeat again. If your wedges seem too large / too thick, keep slicing until they are your desired thickness. Keep in mind that we want these to be crispy; smaller wedges will crisp up better than very thick wedges.
Expert Cooking Tips
Try to make your potato wedges all approximately the same size. This will help ensure they will bake at the same rate.
If you feel like a few of your wedges are significantly larger than the others, cut in half again! There is no wrong way to cut these wedges.
Make sure to spread the potato wedges in an even layer and avoid overlapping. Where the potatoes sit on the baking sheet is where they will become crispy.
Flipping the wedges halfway through baking can be challenging. Do this carefully - it's an important step!
Dips for potato wedges
These Crispy Garlic Potato Wedges are great on their own, but also delicious served with a variety of dips. Serve with ketchup, mustard, mayonnaise or this Sriracha Aioli.
Storage
Room Temperature Storage: Let the potato wedges cool fully, then store in an airtight container in the refrigerator for 3-4 days.
To Reheat: Reheat the potato wedges in the microwave for 30-60 seconds. The wedges will be soft but will lose some of their crunch. You can also reheat them on a baking sheet in the oven at 350 degrees (F) for 10-15 minutes. This will help retain the crunch, but they may start to dry out, so keep an eye out while they're heating!
Recipe FAQ
Can I use a different kind of potato?
Yes, you can, but keep in mind that different potatoes will produce different results. Russet potatoes are ideal for making fries and wedges as they are high in starch and lower in water content (which leads to a crispier fry that holds its shape).
What dips should I serve with potato wedges?
These potato wedges are delicious served with a variety of dips. Try them with ketchup, mustard, mayonnaise or this Sriracha Aioli.
Why are my potato wedges sticking to the baking sheet?
Make sure you're using enough olive oil so the wedges don't stick too much. They will stick some and this is why it's important to carefully flip them halfway through. This also helps them brown and get crispy on all sides.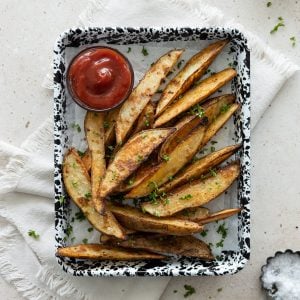 Crispy Garlic Potato Wedges
A delicious recipe for Crispy Garlic Potato Wedges - a tasty summer side dish or snack!
Ingredients
4

russet potatoes (about 2 lbs.)

cut into wedges

2-3

Tablespoons

olive oil

2

garlic cloves

peeled and minced

1

teaspoon

kosher salt

½

teaspoon

fresh ground black pepper

¼

teaspoon

paprika

Flaky sea salt and fresh parsley

for topping
Instructions
Wash your potatoes and cut into wedges (no need to peel!). First, cut the potato in half length-wise, then cut each half into 4 wedges (similar to how you might cut an apple). You want the wedges to all be a similar size; if any feel too large, cut them again. Transfer to a large baking sheet.

Drizzle the potatoes with olive oil, salt, black pepper, paprika and minced garlic. Toss to coat evenly. Spread the potatoes evenly on the baking sheet without overlapping. If needed, transfer some to a second baking sheet.

Bake for 40-45 minutes, carefully flipping halfway. The finished potato wedges will be browned and crispy. Serve warm with your favorite dipping sauce.
Tried this recipe?
Leave a comment below and tag @thisjess.cooks on social!