So you made a sourdough starter, bought a sourdough starter, or perhaps you got one from a neighbor or friend (lucky you!). Now what? To keep your sourdough starter alive and active, you have to feed it on a regular basis. That way, you can bake with it any time you want! In this post, we'll break down how to feed your sourdough starter, what to do with the discard, and a few things to watch for.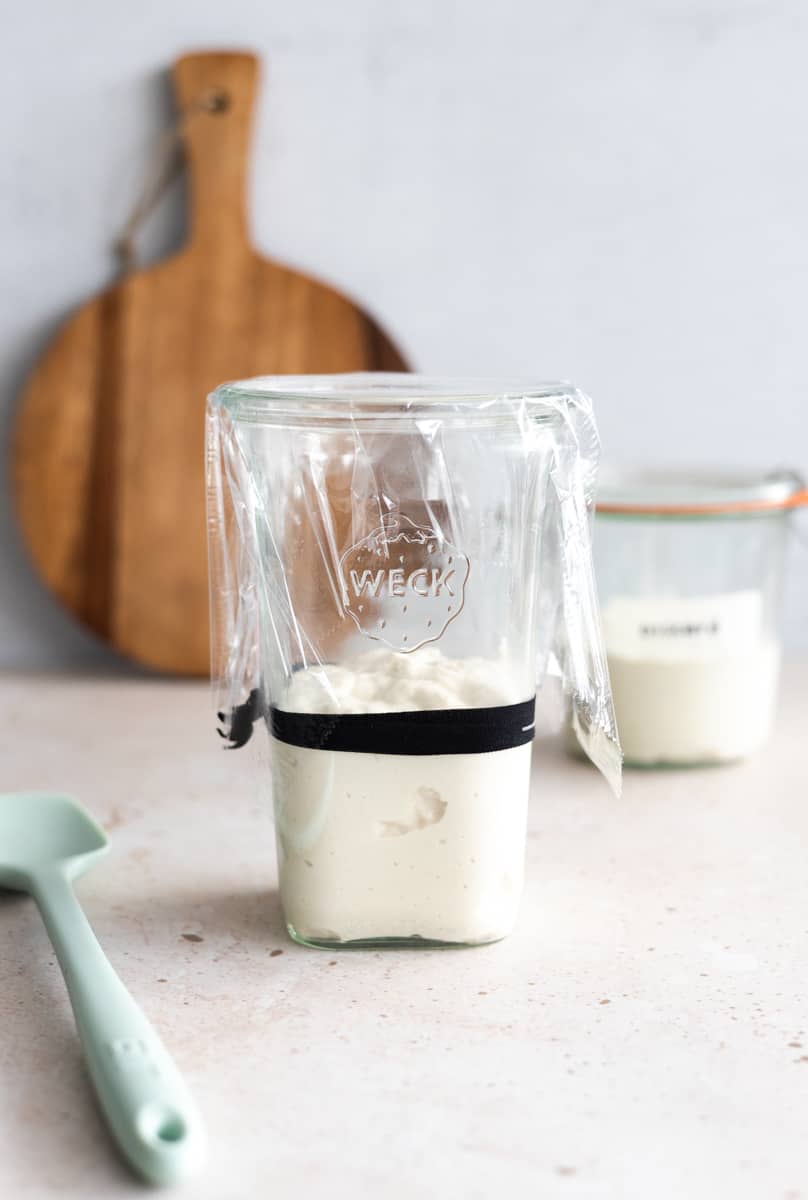 If you have questions that aren't covered, feel free to leave them in the comments! We'll update this post regularly to make sure we're helping you with your sourdough experience.
Jump to:
As always, I do include a few affiliate links in this post for products I truly use and love. This just means that if you make a purchase after clicking one of those links, I'll earn a little money (at no cost to you) to keep the kitchen up and running, which I promise to use to create more fun content like this! One of those affiliates is with Amazon, which requires a very clear disclosure: as an Amazon Associate, I earn from qualifying purchases. If you have any questions about affiliates, please reach out!
What is sourdough starter?
Sourdough starter is a live fermentation of flour and water, which creates natural yeast and good bacteria. Sourdough starter is used to create many artisan breads and baked goods. You likely know it for its signature "sour" flavor that it lends to sourdough bread.
Making sourdough starter
Before you go further in this post, you need to have a sourdough starter. If you already have one, you're all set. If you would like to make one or get one, there are a few options:
Make your own sourdough starter: There are great sourdough starter recipes available online. I highly recommend this King Arthur Sourdough Starter recipe; it is the one I used to make my starter. Be prepared: making a sourdough starter from scratch can take anywhere from 1-3 weeks. Settle in and enjoy the process!
Buy a sourdough starter: You can buy a sourdough starter at certain grocery stores or order it online. This is definitely easier than making it (it always is, right?). If you need to use the starter quickly, this might be your best bet.
Get a starter from a friend: If you have a friend or neighbor that has a sourdough starter, they might be willing to give you some of their discard. You can then feed the discard to make your own sourdough starter. If you're doing this, make sure to ask for the recipe they used to make it so you can feed it in the same way.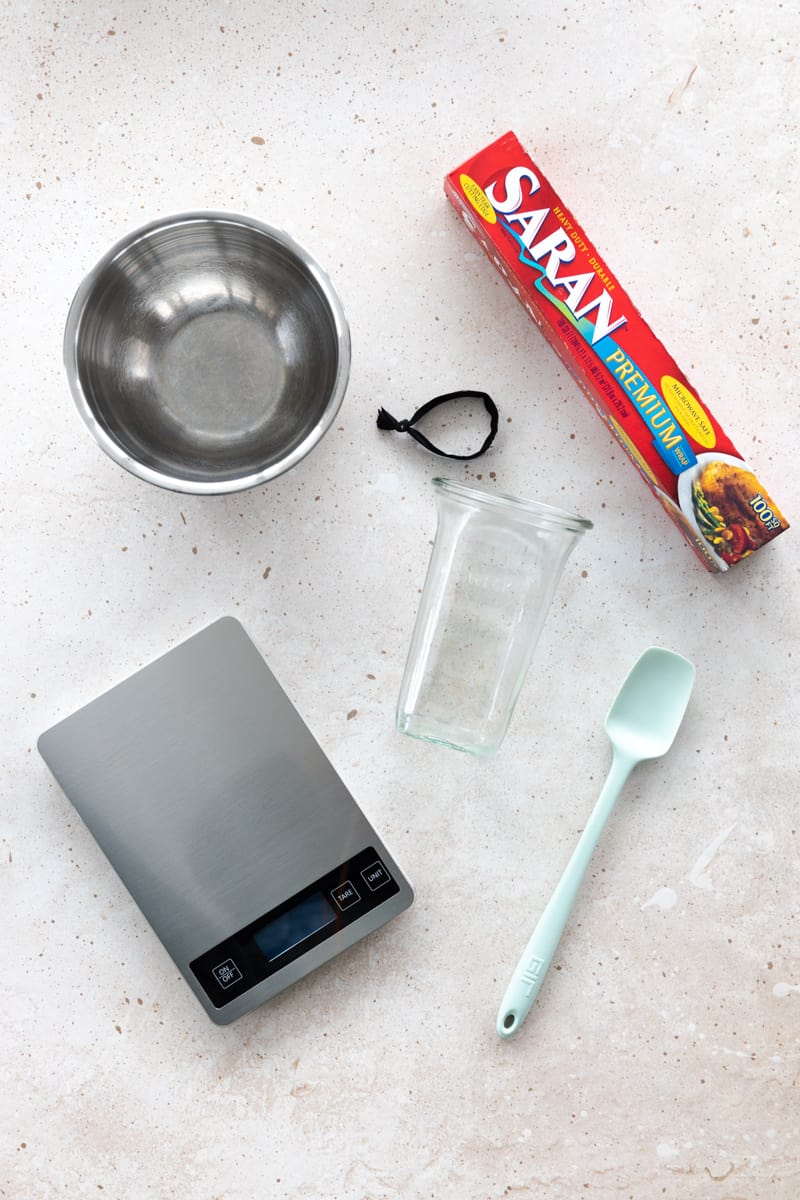 Equipment for feeding sourdough starter
Sourdough starter can seem really fickle (or really sciencey), but rest assured, it's really hard to kill a starter. Whether you're making your sourdough starter or maintaining one you already have, you will need a few key items:
A sourdough jar: I like to use a Weck Tulip Jar (1-liter size) or a Weck Canning Jar (¾-liter size). The important thing is that there is room for the starter to expand to double, or even triple its size. A small jar or container will not work as it will overflow.
A rubberband: Simple, I know, but you will use the rubberband to mark where your sourdough starter is (the height in the jar) after you feed it. This allows you to see how much it grows, which tells you how active it is and when it's ready to use.
Plastic wrap: I like to cover my jar loosely with plastic wrap. When I say loosely, I mean very loose - as if you're doing a very bad job covering something in plastic wrap. This keeps the moisture in the jar and helps to keep the starter warmer, but also lets air into the jar and lets some of the gas escape, which is very important. Do not use the lid of the jar to cover the starter - this will not let enough air in or out of the jar.
A kitchen scale: You will need a kitchen scale to accurately measure your starter and the flour and water you will add during feeding. I do not recommend trying to maintain a sourdough starter without a kitchen scale. If you're new to using a kitchen scale, it is easy and honestly can be easier than using measuring cups!
A few utensils: A good spatula will be your best friend to mix your ingredients and move your starter from a mixing bowl to the jar during feedings. I highly recommend a GIR Skinny Spoonula as a great tool for reaching into tall jars and mixing ingredients, but use whatever feels best to you!
When to feed your starter
Once your sourdough starter is up and running and you're in "maintenance mode," you will need to feed it regularly. How often you feed the starter is up to you, based on how often you want to use it:
If you are going to use the starter frequently (daily): If you are using your starter to bake something daily (this is not most people), you can store your starter at room temperature and feed it each day.
If you are going to use the starter less frequently (1 x week or less): If you are going to use your starter to bake something once per week, or even less (this is probably most people), then you should store your starter in the refrigerator, loosely covered with plastic wrap. I recommend feeding your starter once per week, but you can go up to two weeks without feeding the starter without having any issues.
The feeding process is the same regardless of how frequently you are feeding the starter.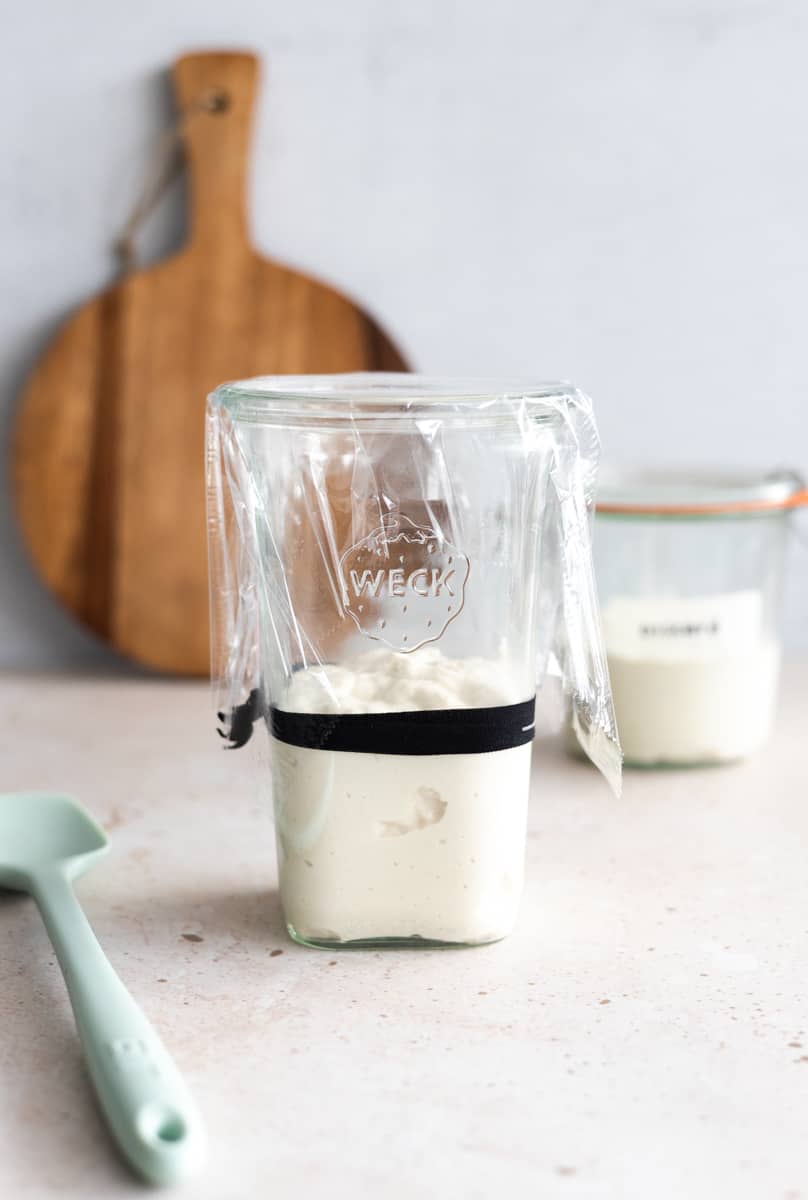 Sourdough starter immediately after feeding.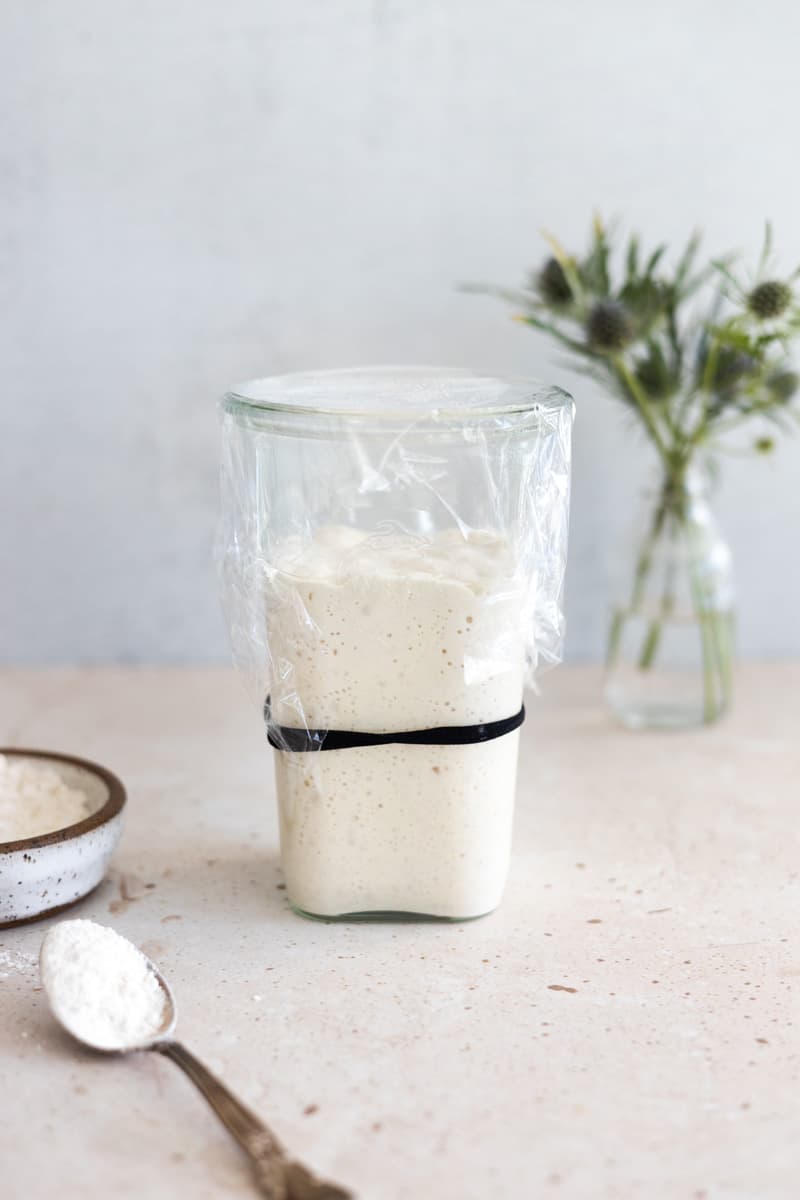 Sourdough starter after sitting at room temperature for about two hours after feeding. At this point, transfer the starter to store in the refrigerator.
How to feed the starter
When you are ready to feed the starter, remove it from the refrigerator and let it come to room temperature (I allow mine to sit on the counter for about 2 hours before feeding). As the starter warms up, you'll see it expand and rise in the jar.
The amount that you feed will be determined by the recipe you used to make the starter. For this example, I'll use my own starter. I made my starter with this King Arthur Sourdough Starter recipe and follow those measurements (this is a 1:1 starter, using 1 part flour, 1 part water).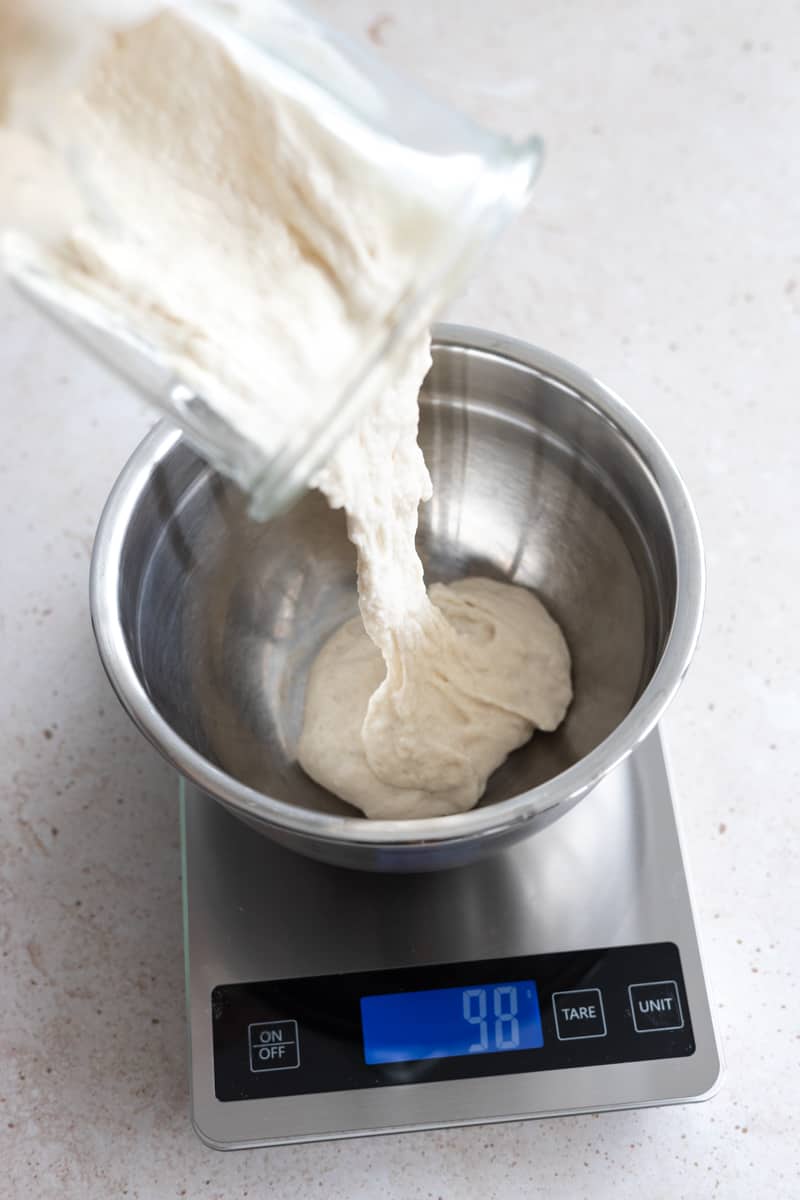 Measure out the determined amount of starter. For my starter with the recipe linked above, this means I measure out 113g of starter.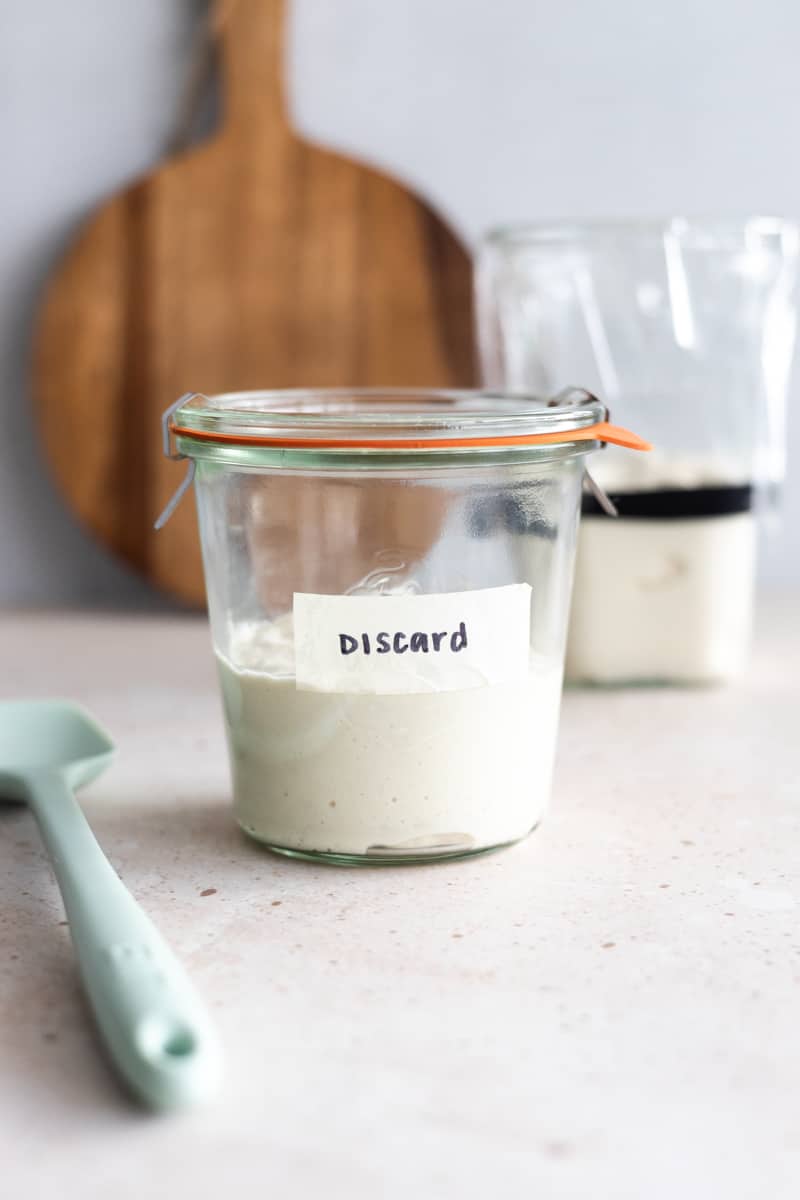 Discard the remaining starter. You can either literally discard this (compost or trash) or you can use it to make sourdough discard recipes. If you are literally discarding, DO NOT put this down your sink drain. It will harden into something close to cement and clog your pipes.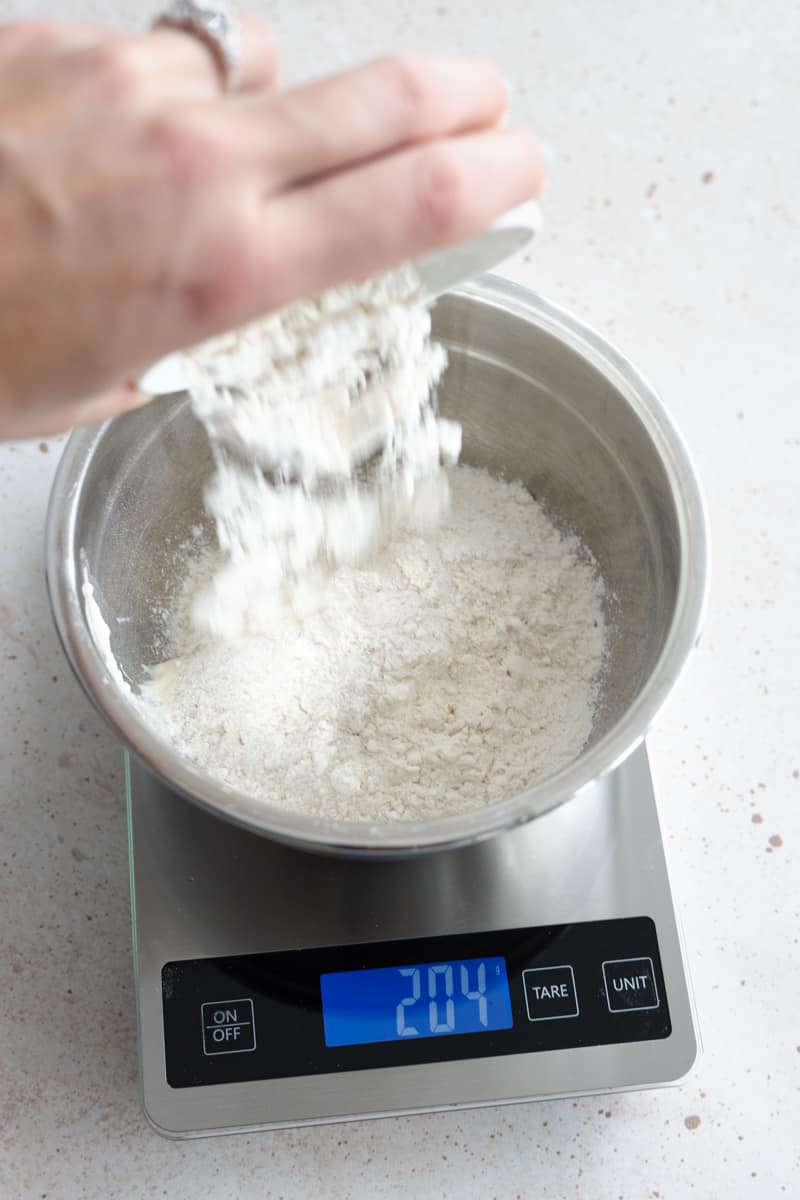 Add the determined amount of flour. For my starter, this is 113g of all-purpose flour.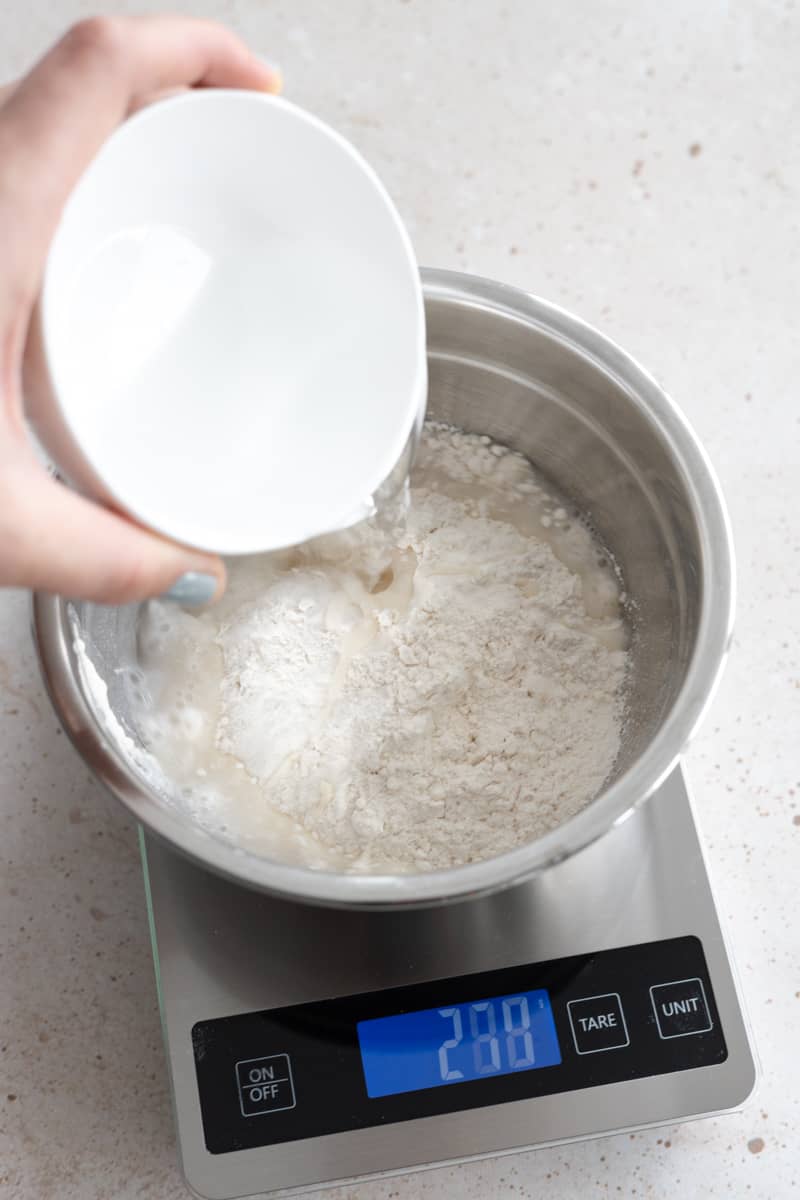 Add the determined amount of warm water. This should be quite warm. Not hot enough to burn your hand, but quite warm. For my starter, this is 113g warm water.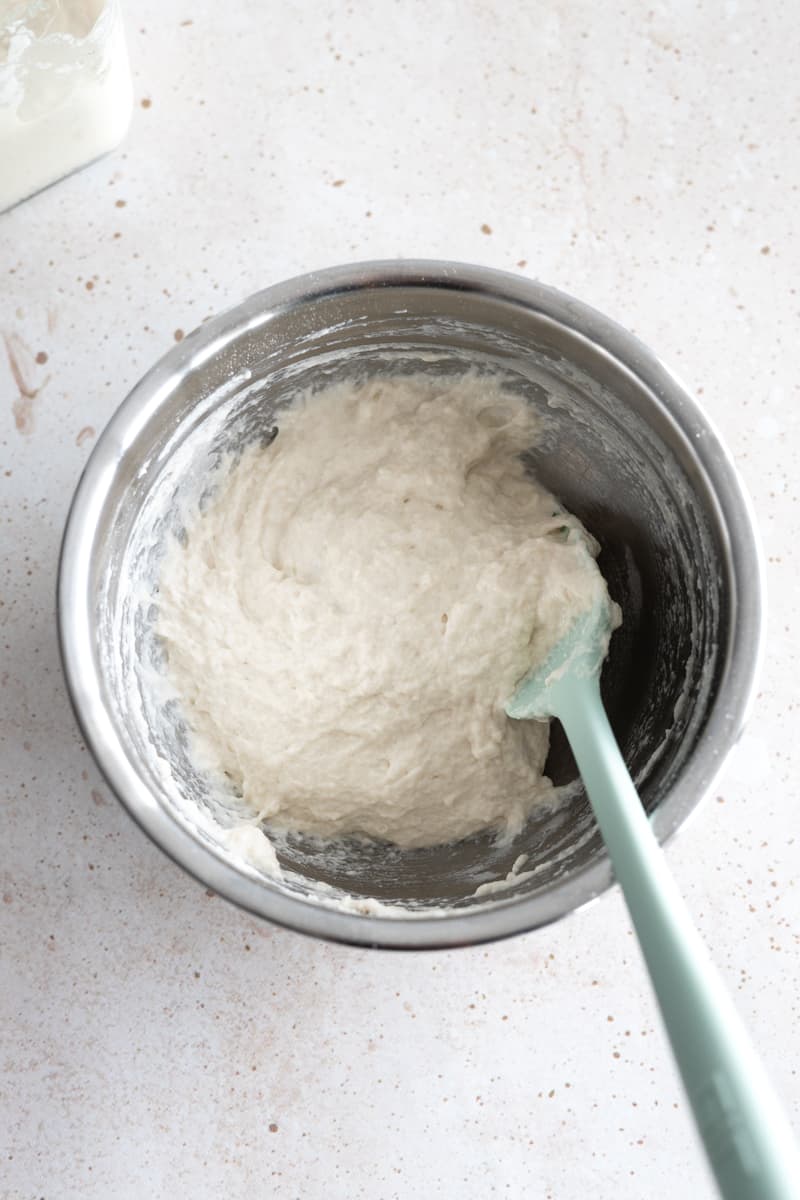 Mix everything together and wash out your starter jar. You don't have to wash the jar every time, but know that once the starter hardens, it's like cement and much harder to clean (you can always soak it).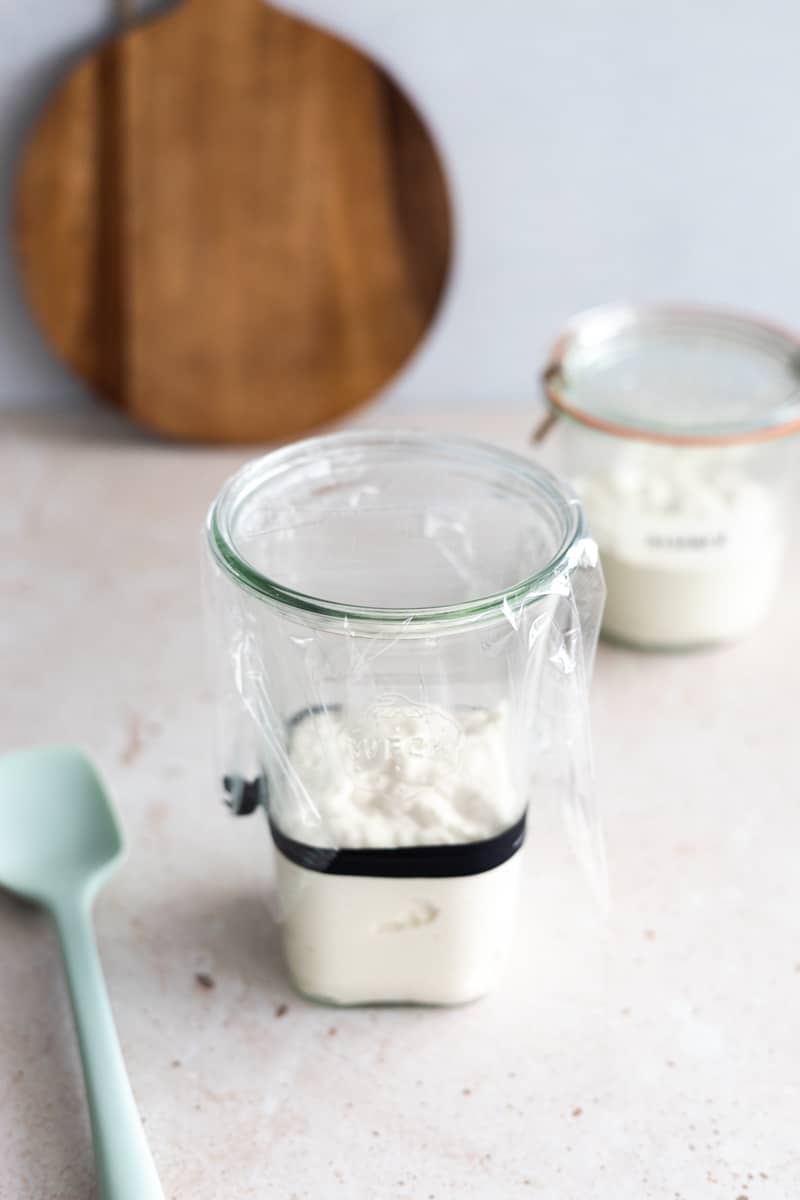 Transfer the mixed starter mixture to the clean jar, place the rubberband at the level of the starter, and loosely cover with plastic wrap.
Once the starter is back in the jar, I like to let the jar sit at room temperature for about 2 hours to let the feeding kick in. This is not essential. You can then return the jar to the refrigerator until your next feeding.
Top Tip: It's hard to kill a sourdough starter. You don't have to be super precise with the feeding measurements. If you add a little more or a little less, it will be ok! The most important thing is to remember to use warm water, but even if you don't, the starter will be ok!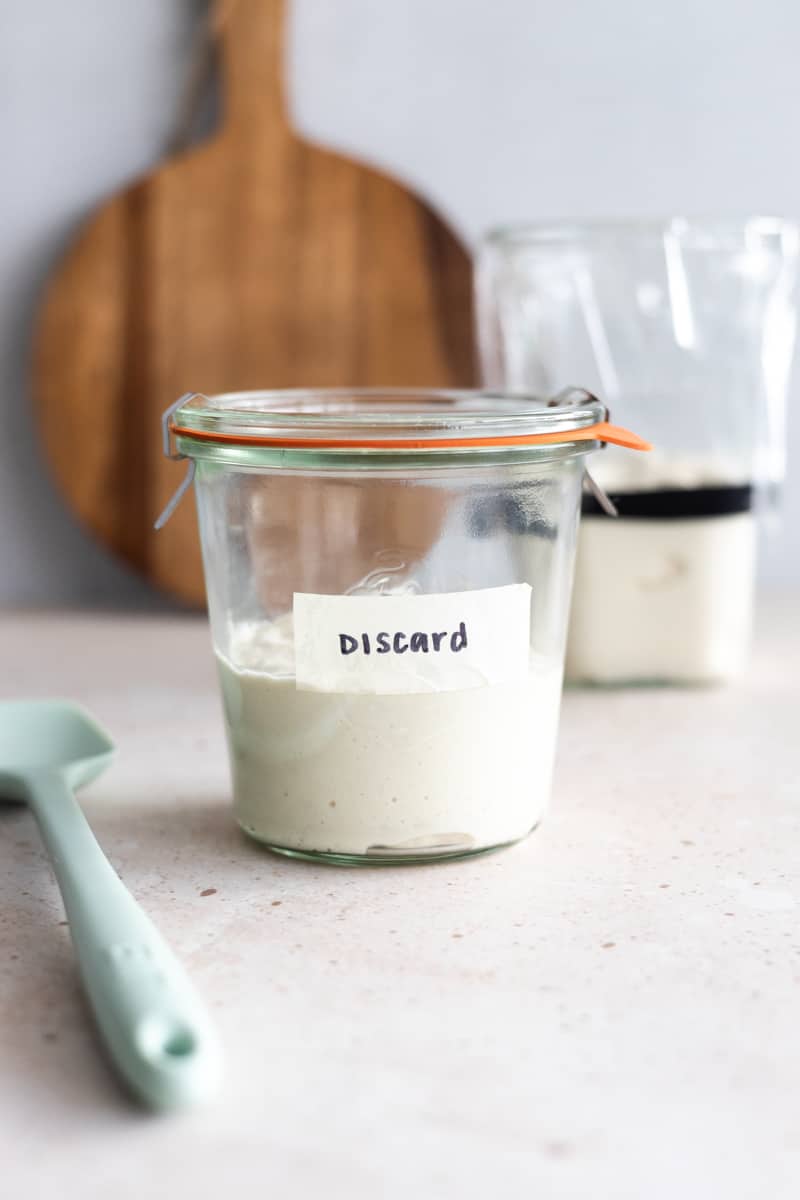 What to do with sourdough discard
There are three things you can do with your sourdough discard:
Discard it: As the name suggests, you can literally discard it. DO NOT put this down your sink drain as it will harden into something close to cement and will clog your pipes. Either compost or throw the discard in the trash.
Use it immediately for baking: If you are going to bake something right away (same day), you can keep the discard at room temperature until you're ready to bake. Check out a few of my favorite sourdough discard recipes here.
Store it for future baking: You can keep sourdough discard for up to one week. After the one-week mark, there is a chance of bad bacteria growing in the discard, so it should be literally discarded. After feeding your starter, store the discard in an airtight container (marked with the date, if you need the reminder), and use it sometime in the next week. When you're ready to use it, let the discard come to room temperature before using it to bake.
One last option: if you want to give someone some of your sourdough starter, you can give them discard! Feed your sourdough starter as normal, then give away the discard to a lucky friend or neighbor. Make sure to leave them with instructions on how to feed it (based on the recipe you used to make it).
See more sourdough discard recipes→
Things to watch for
Murky water: If there is murky water on the top of your sourdough starter (or your discard), pour the liquid off into the sink drain. This is sourdough hooch and indicates that your starter is hungry and needs to be fed (this is normal and harmless). You do not need to mix this liquid back into your starter.
Mold: If your starter or discard starts to develop mold or bad bacteria, this may show up as a traditional-looking mold (fuzzy and grey / green), or as a pink or orange streak or pocket within the starter. If that happens, it's time to throw out the starter and completely start over. This can be harmful and should not be eaten.
Things to remember
It's hard to kill a sourdough starter! Did you add a little too much water, or a little less? Head out of town and go two weeks without a feeding? Forget to put it back in the refrigerator overnight? It'll be ok!
Temperature is important. Sourdough starter really thrives when its kept around 70 degrees F. If you're storing it at a lower temperature (i.e. in the refrigerator, or if your house is cooler than 70 degrees), the starter will not be as active. On the other hand, yeast dies at around 140 degrees F, so if you somehow overheat your starter (perhaps by leaving it in your oven....), it will die and you'll need to start over.
Sourdough Starter FAQ
How long does it take to make sourdough starter?
Depending on your environment, weather and season, making a sourdough starter can take anywhere from 1-3 weeks. The first time I tried to make a starter, I failed. It was wintertime in Chicago, our house was fairly cool (sourdough starter likes to be kept warm), and I gave up before the starter really "got there." The second time I tried, it was a success, but I was also more prepared!
How long does sourdough starter last?
Your sourdough starter can last forever, honestly! There are stories of sourdough starters being passed down for generations. As long as you continue feeding it, your sourdough starter will keep living.
How long can you keep sourdough discard?
You can keep sourdough discard for up to one week. After that point, it may start growing bad bacteria and should be discarded. DO NOT put sourdough discard down your sink drain - it will harden and clog your pipes. To discard, you can either compost or dispose of in the trash.
How often do you need to feed sourdough starter?
This depends on how often you want to use it. If you are baking with the starter daily (not necessarily typical), then you'll want to feed the starter daily. If you're baking with the starter once per week (more common), then you'll want to feed the starter weekly.

I recommend feeding the starter weekly, or at least once every two weeks to keep a healthy, active starter.
What do I do with my starter when I go on vacation?
You should aim to feed your sourdough starter at least every two weeks if it is stored in the refrigerator. If you're going on vacation for longer than that by a few days, you'll likely be ok. If you're pushing it to three weeks or more, consider leaving your starter with a friend who will feed it (like taking care of a house plant!). You can also freeze your sourdough starter in a freezer-safe bag or container.
Can you freeze sourdough starter?
Yes. If you need a break from your sourdough starter (or maybe you're heading on vacation), you can freeze it in a freezer-safe bag or container. When you're ready to use it again, let it thaw for 2-3 days in the refrigerator, then feed it as you would normally. You may need to feed it a few times before it's as bubbly and active as it was before freezing.