Jump to Recipe
I love a good soup any time of year. It's easy, is a good way to use up odds and ends in the kitchen, and it keeps well. And when I'm looking for a springtime soup, this Spinach Cauliflower Soup topped with crispy breadcrumbs and fresh herbs always catches my eye. It's light, healthy, and can be vegan (as long as you use vegetable stock!).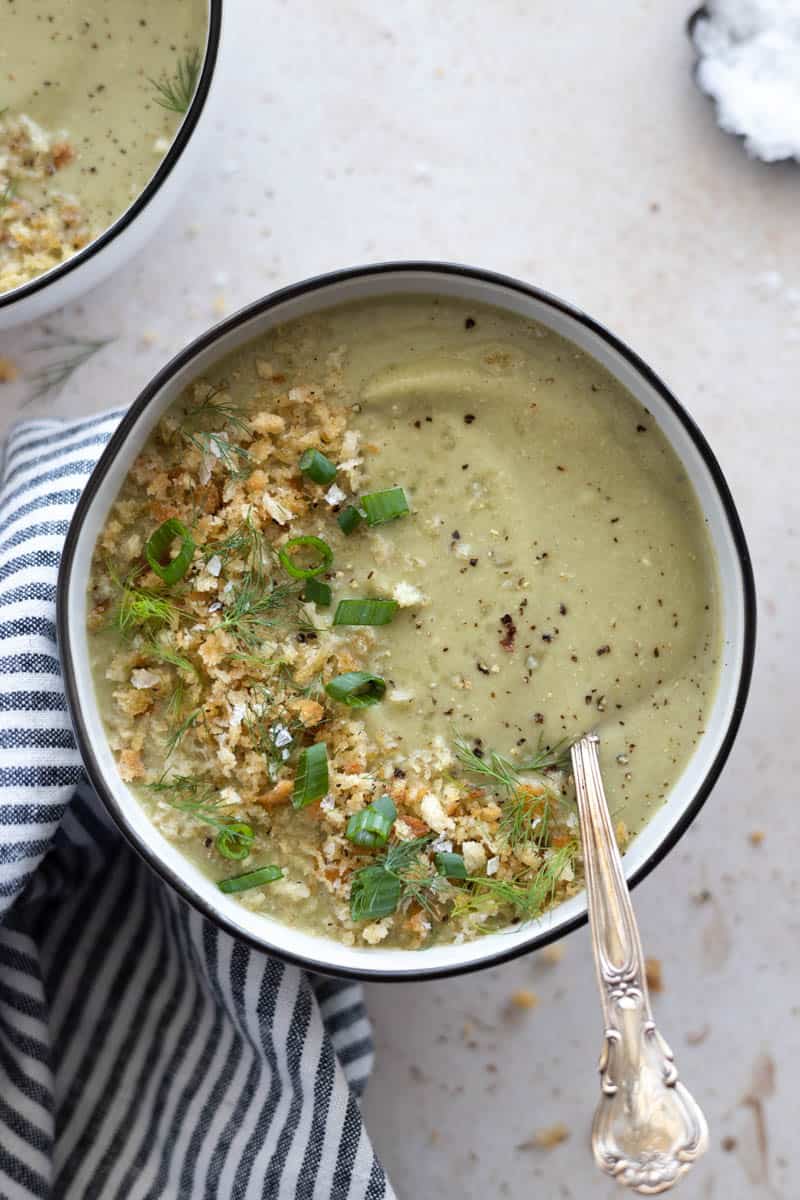 As always, I do include a few affiliate links in this post for products I truly use and love. This just means that if you make a purchase after clicking one of those links, I'll earn a little money (at no cost to you) to keep the kitchen up and running, which I promise to use to create more fun content like this! One of those affiliates is with Amazon, which requires a very clear disclosure: as an Amazon Associate, I earn from qualifying purchases. If you have any questions about affiliates, please reach out!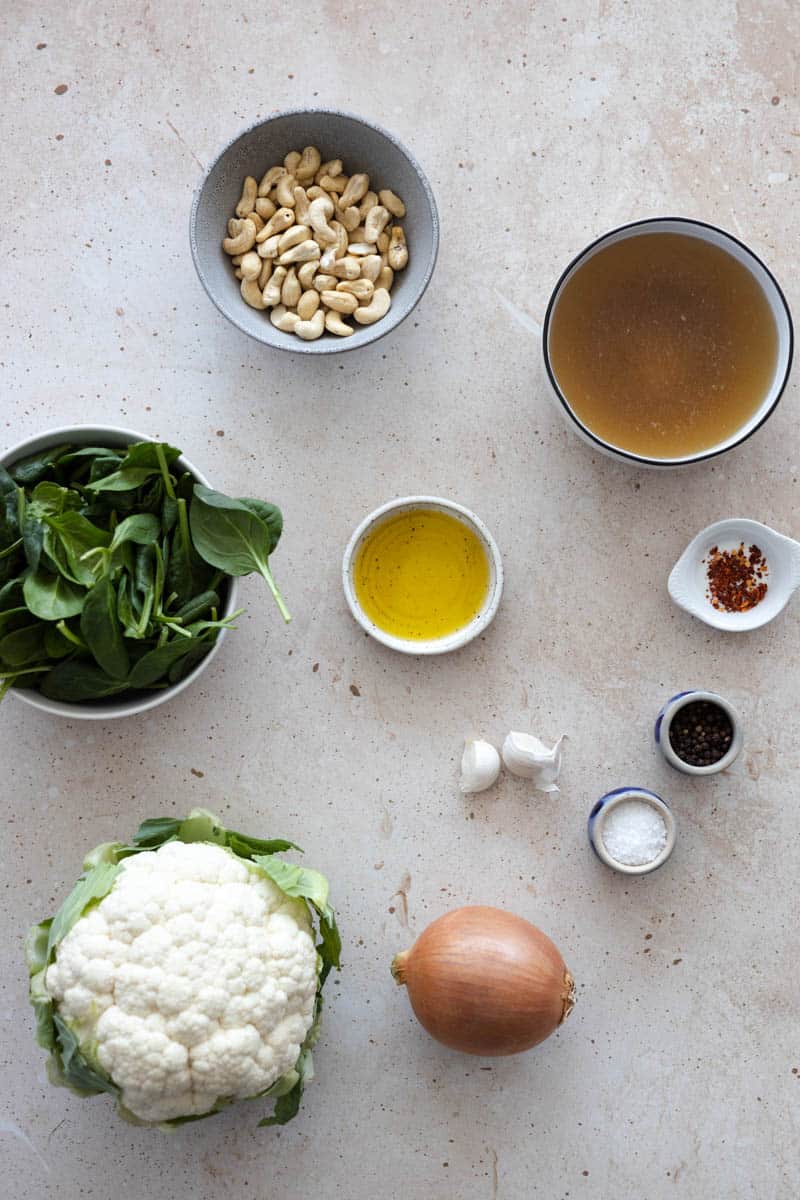 Ingredients you'll need
Here's what you'll need to get started:
Spinach: use at least 2 large handfuls of spinach. If you have more, feel free to add it!
Cauliflower:

of course, you will need 1 head of cauliflower, chopped

. I tend to use a larger cauliflower, but any size is fine.
Cashews: the cashews help give this soup a bit of texture, as well as more protein. If you'd like to make a nut-free version, you can leave the nuts out or swap for a white bean (such as cannellini beans).
Vegetable or chicken stock: either kind will work well! And don't forget, you can make your own homemade chicken stock.
Crusty bread: this can be a fresh loaf, or one that is starting to get hard. It's a great way to use up bread that is past its prime.
Fresh herbs such as green onions and dill
You'll need a few other staples including onion, garlic, cayenne pepper, salt and pepper
Equipment you'll need
It's a very simple recipe, but these are a few things I like to use:
The Dutchess from Great Jones: I like to use a Dutch oven, but you can also make this in a big soup pot.
Cuisinart Blender from Amazon: you can use a blender or an immersion blender, but this one is my preference!
KitchenAid Spice Grinder from Amazon: this is to grind the breadcrumbs. You can also use a food processor.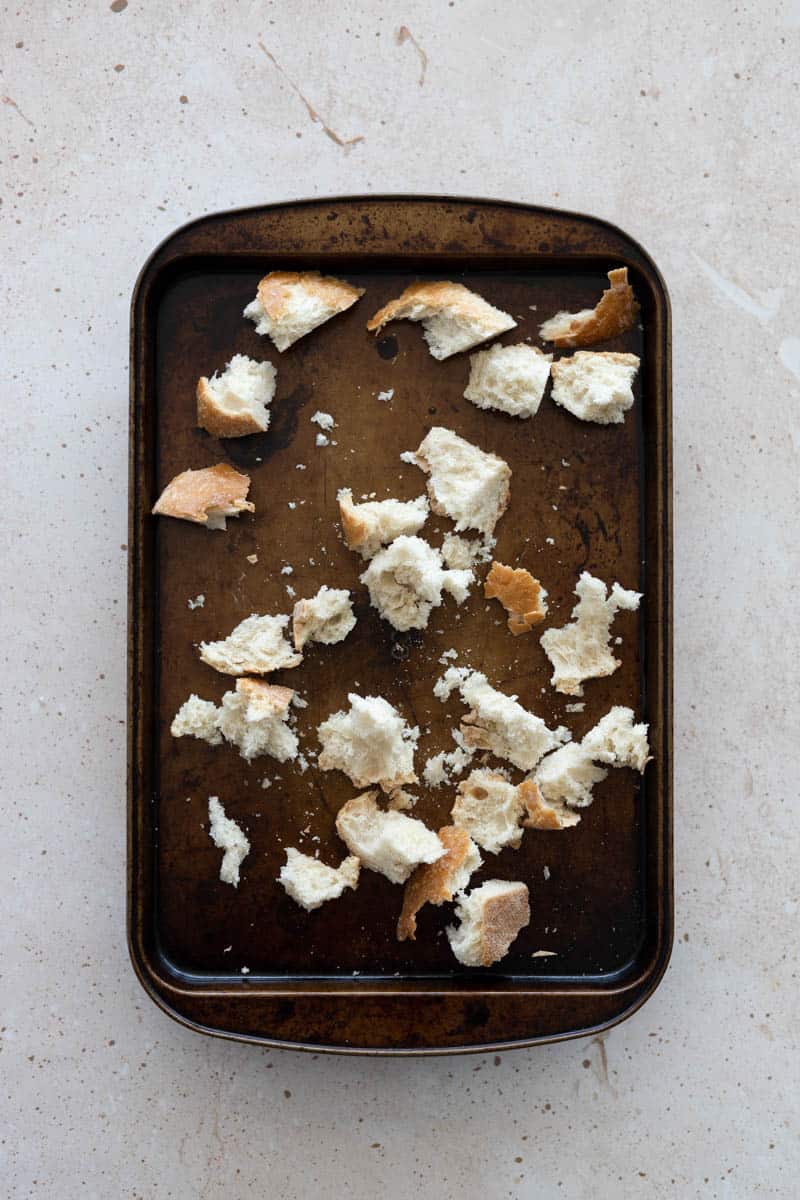 Making the crispy breadcrumbs
I like to use bread that is starting to go hard and is a bit past its prime for this. You can also use a fresh loaf. Tear off a few chunks (the equivalent to approximately 2 slices of bread). Add the bread to chunks to the bowl of a food processor or a small blender (I like to use my KitchenAid Spice Grinder) and pulse until roughly ground. Remember, you want texture here, so no need to grind until completely smooth.
Spread the crumbs on a baking sheet and drizzle with olive oil, salt, pepper and garlic powder. Bake for 10-12 minutes in the oven and then set aside.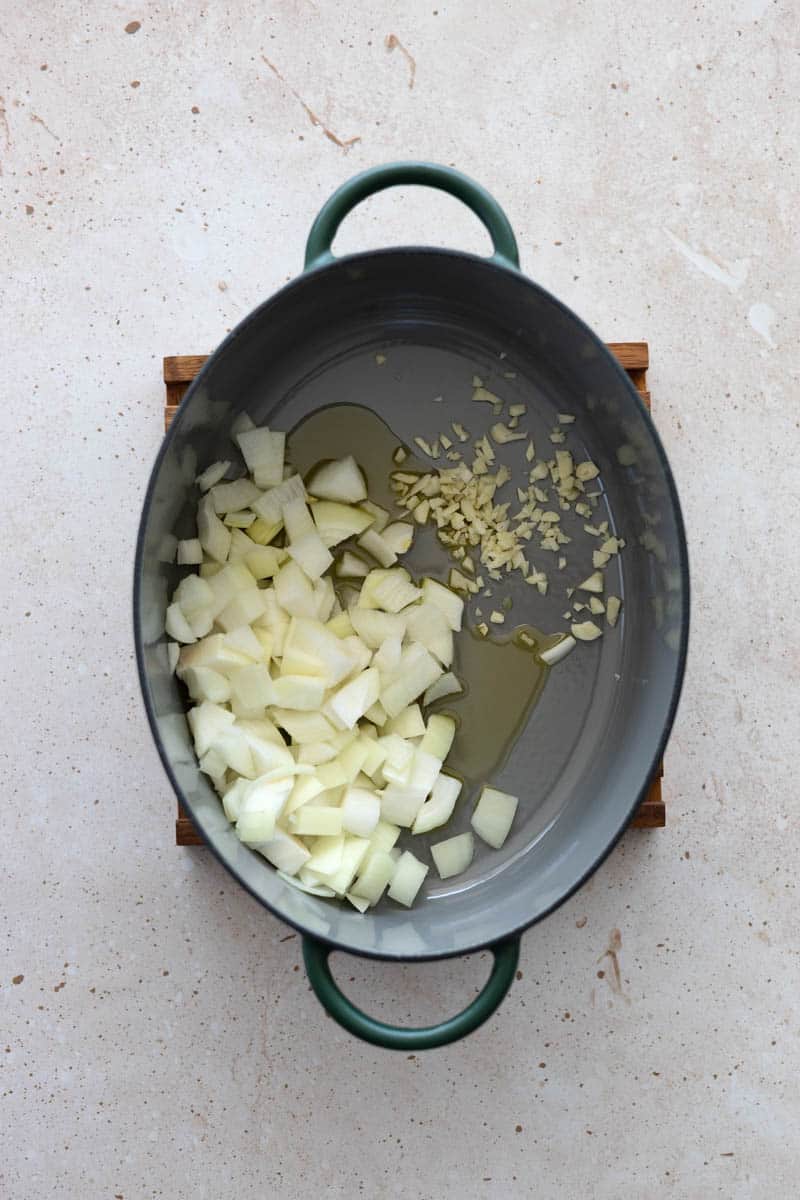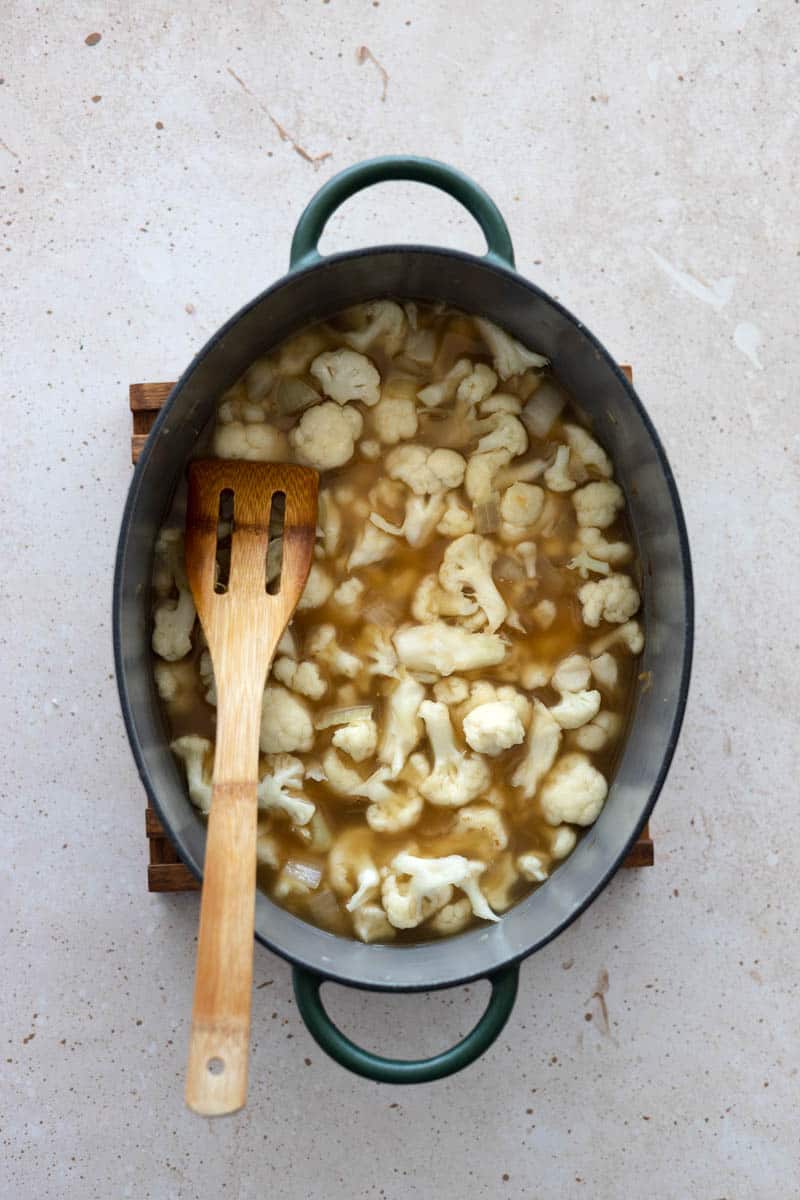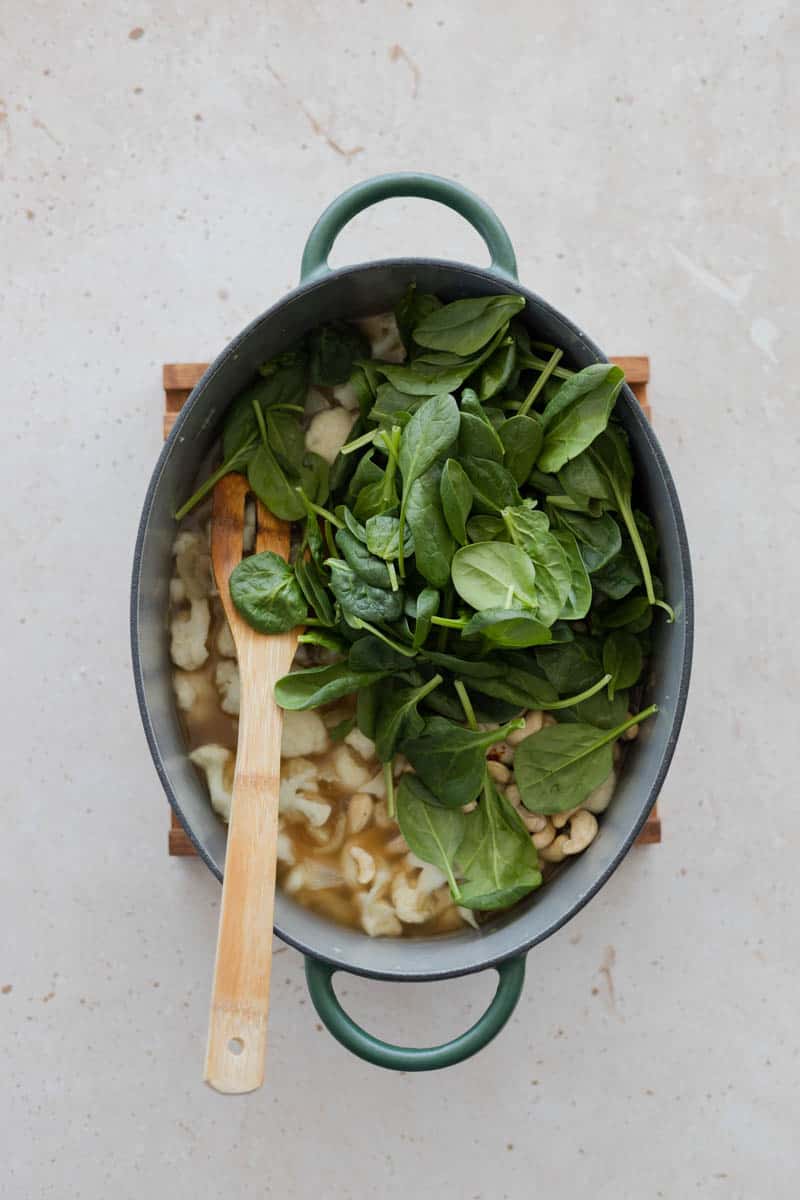 Frequently Asked Questions
What is the best way to store this soup?
Store soup in an airtight container in the fridge for up to 3-4 days. Be sure to let it cool to room temperature, first, so the appliances don't have to work so hard to cool it down.
Can you freeze Spinach Cauliflower Soup?
Yes, you can also freeze your soup. Let it cool at room temperature, then transfer to a container (these deli storage containers are great) or a freezer bag and place in the freezer. Soup can be stored in the freezer for up to 3 months.
When you're ready to thaw, ideally you can place it in the fridge and let it thaw over 1-2 days. If you need to speed up the process, you can place the soup in the container in a warm water bath and transfer to a pan or microwave-safe dish to continue the reheating process.
Do you need to make the breadcrumbs?
You can always skip this! I love toppings on my soup, so I definitely recommend it, but it's optional.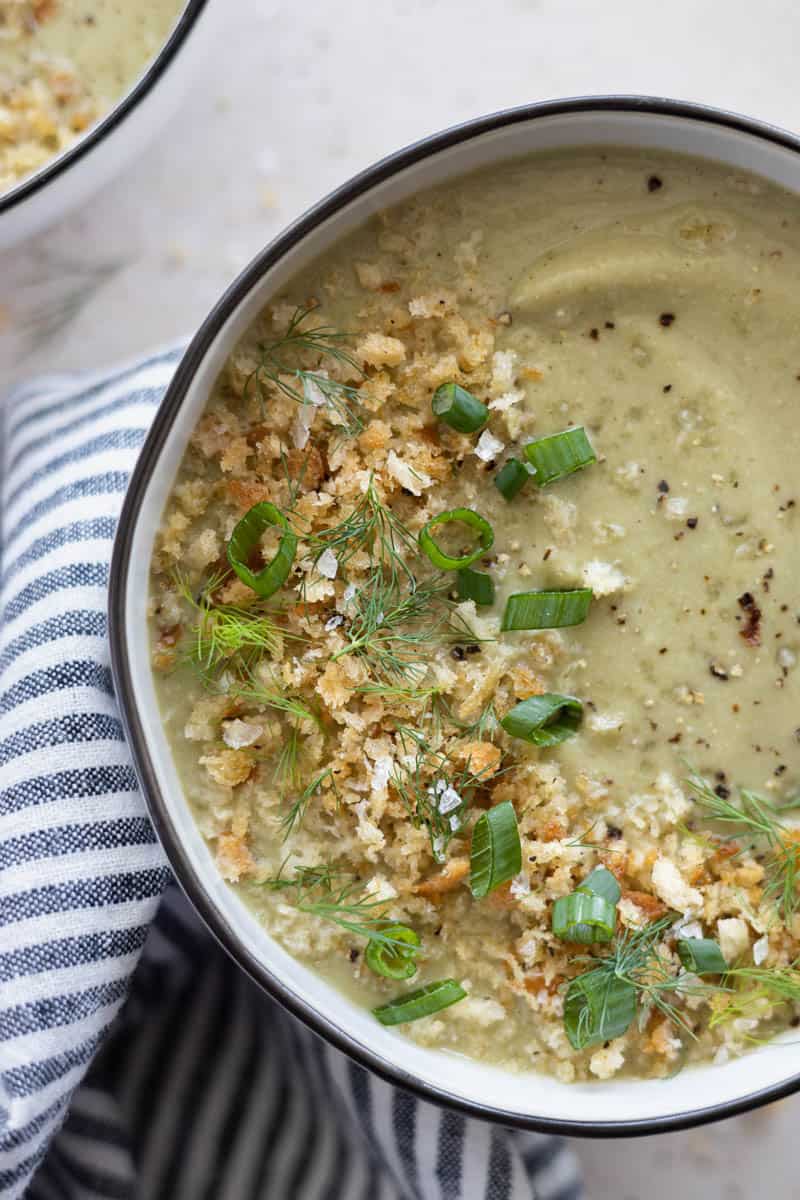 Below is my recipe for Spinach Cauliflower Soup. Leave a comment and let me know what you think!
Spinach Cauliflower Soup
A delicious and veggie-packed soup, perfect for springtime!
Ingredients
For Spinach Cauliflower Soup
2

Tablespoons

olive oil

1

yellow onion

chopped

2

cloves

garlic

chopped

1

head

cauliflower

broken into florets

4

cups

chicken or vegetable stock

2

cups

water

2

large handfuls

fresh spinach

½

cup

raw cashews

1

teaspoon

salt

½

teaspoon

ground pepper

¼

teaspoon

red pepper flakes

fresh dill and green onions

for topping
For Crispy Breadcrumbs
2

slices

crusty bread

torn into chunks

2

teaspoons

olive oil

¼

teaspoon

garlic powder

¼

teaspoon

kosher salt

⅛

teaspoon

ground black pepper
Instructions
In a large Dutch oven, heat 2 Tablespoons olive oil over medium heat. Add onion and garlic and sautée for 2-3 minutes until soft and fragrant. Add cauliflower florets and sautée for approximately 8 minutes.

Add soup stock, water, spinach, cashews, red pepper flakes, salt and pepper. Add more water if needed to cover all ingredients. Stir to combine. Bring to a boil, then reduce heat to low and simmer uncovered for 15-20 minutes or until the cauliflower is fork-tender. Remove from heat and let cool slightly.

While the soup simmers, preheat the oven to 350°F. Tear your bread slices into chunks and add to a spice grinder or small food processor. Pulse until coarsely ground. Transfer to a small baking sheet, drizzle with olive oil, garlic powder, salt and pepper. Toss to evenly coat. Bake for 10-12 minutes, or until slightly browned. Set aside.

Working in batches, transfer your slightly cooled soup to a blender and blend until smooth (you can also use an immersion blender). Pour into individual bowls, top with crispy breadcrumbs, and garnish with fresh dill, green onions, and an additional sprinkle of salt and pepper.
Tried this recipe?
Leave a comment below and tag @thisjess.cooks on social!