Let me start by saying I really dislike leftover chicken. There's something about how the texture and flavor changes once it's reheated that I just don't like. But I also hate wasting food, and this Healthy Chicken Tortilla Soup is the perfect way to use up leftover chicken to make a healthy (and dairy-free) meal!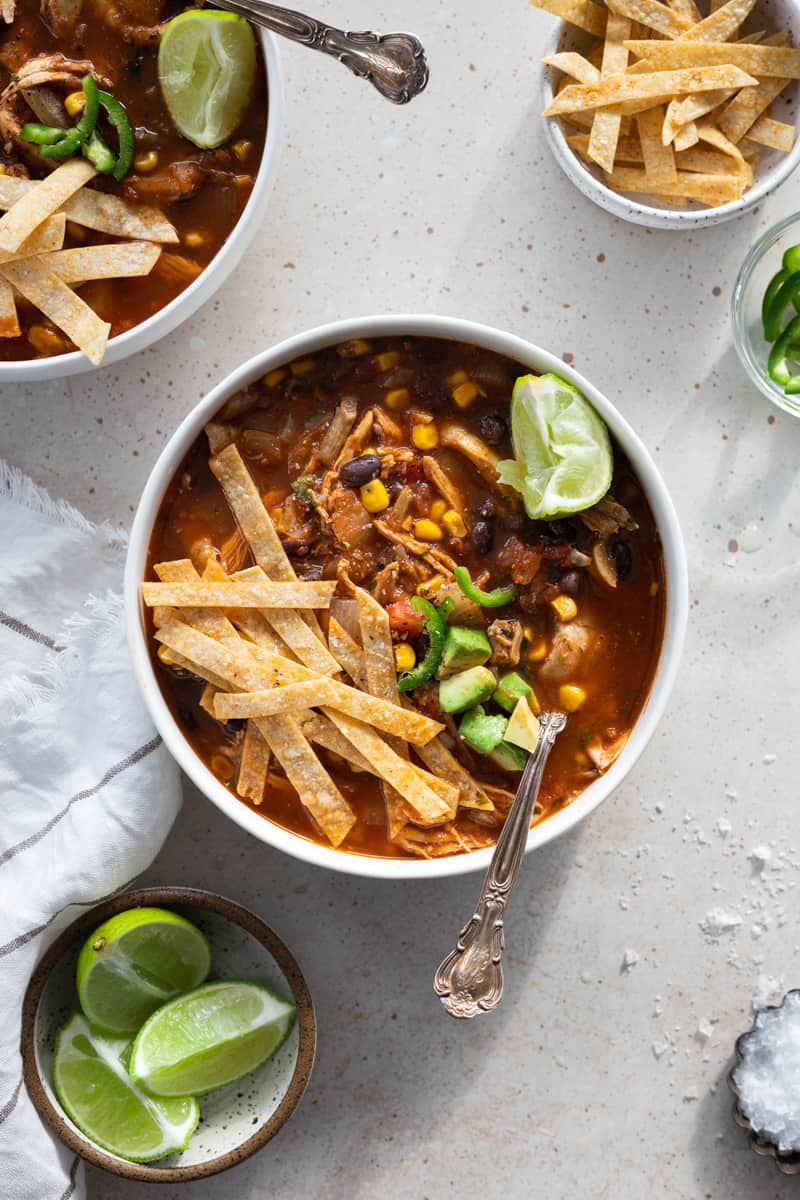 You can absolutely make this recipe with chicken that you cook specifically for this soup. But I love to roast a whole chicken (check out my Citrus & Herb Whole Roasted Chicken recipe), make homemade chicken stock with the carcass, and then make this Chicken Tortilla Soup with the leftover chicken meat.
Looking for other soup recipes? Check out this Butternut Squash and Red Pepper Soup, or this Curried Pumpkin Carrot Soup. Both are dairy-free and perfect for any time of year!
Jump to:
As always, I do include a few affiliate links in this post for products I truly use and love. This just means that if you make a purchase after clicking one of those links, I'll earn a little money (at no cost to you) to keep the kitchen up and running, which I promise to use to create more fun content like this! One of those affiliates is with Amazon, which requires a very clear disclosure: as an Amazon Associate, I earn from qualifying purchases. If you have any questions about affiliates, please reach out!
Ingredients
Shredded chicken: This is where I love to use leftover chicken. If you're cooking chicken specifically for this recipe, you'll want to cook 1-2 chicken breasts (about 1 lb. of chicken), and then shred. Make sure to shred the chicken into bite-sized pieces.
Low-sodium chicken broth: You can either make your own homemade chicken stock or use store-bought, but make sure to grab the low-sodium option.
Jalapeño pepper: this adds a little kick to the soup, and can also be used for the toppings.
Low-sodium black beans: Rinse the black beans before adding to the recipe, and make sure you're using a low-sodium option.
No salt added canned corn: I find canned corn to be easiest to use as it's available any time of year, but you can also make this recipe with fresh corn (removed from the cob), or frozen corn. One 15 oz. can of corn is equivalent to just under 2 cups of corn.
Corn tortillas: We will use the tortillas to make baked tortilla strips to top the soup. By baking the strips, we're reducing the amount of oil that would've been used to fry them. Keep in mind how much salt you're adding to these as well - a little goes a long way!
See full recipe below for detailed instructions.
Instructions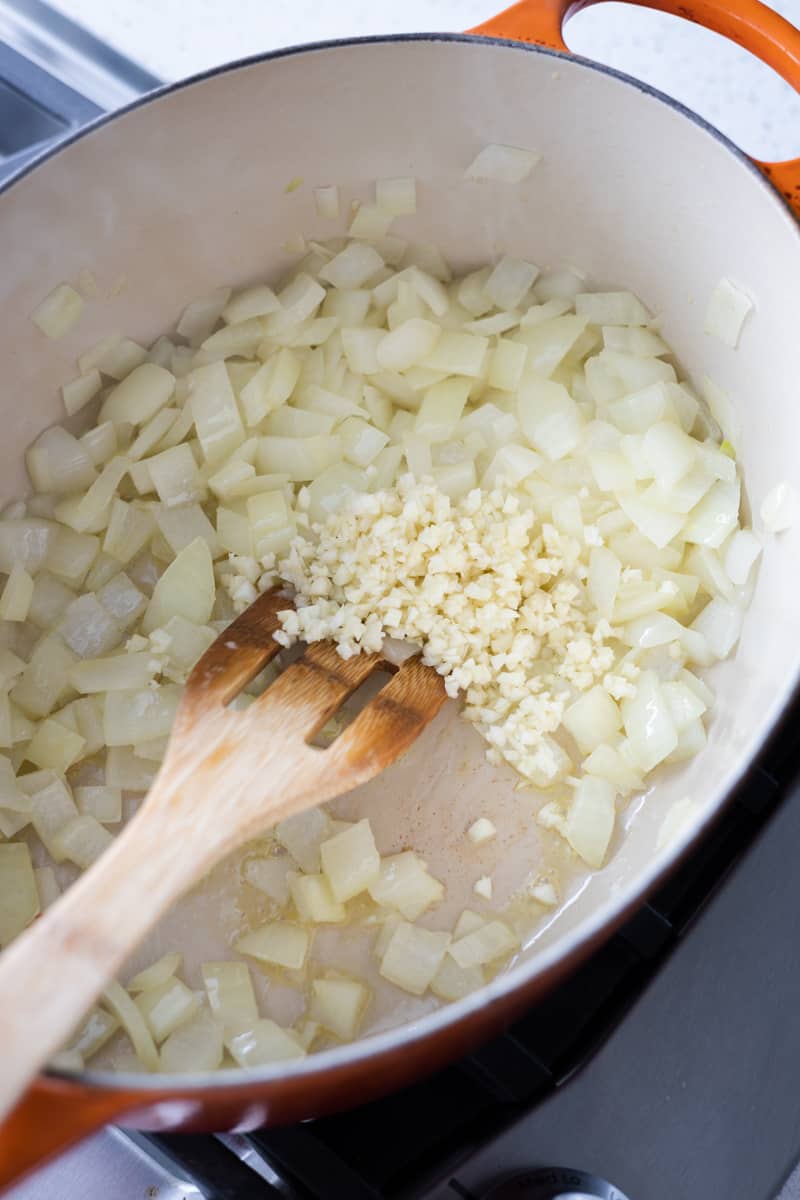 Heat the olive oil in a Dutch oven over medium heat. Sautée the onions until soft and translucent, then add the garlic.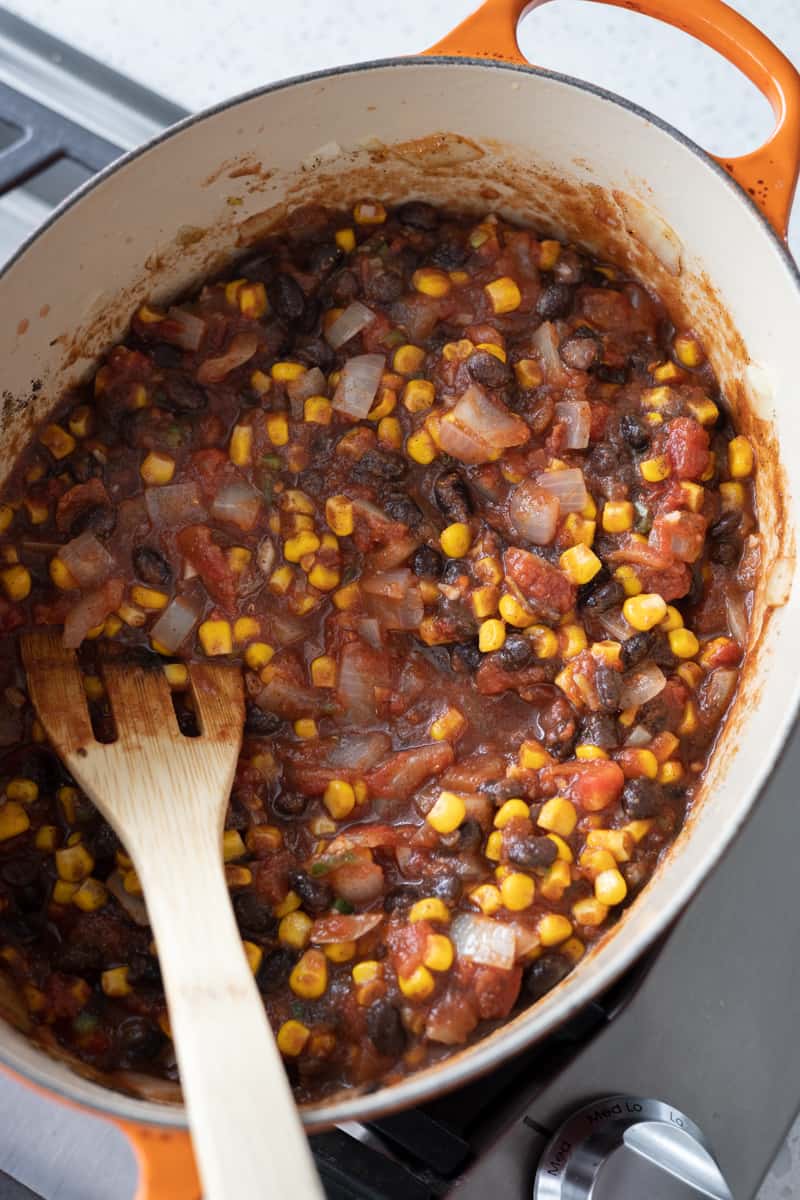 Add the jalapeño, crushed tomatoes, corn, black beans, tomato paste, cumin and chili powder. Mix to combine.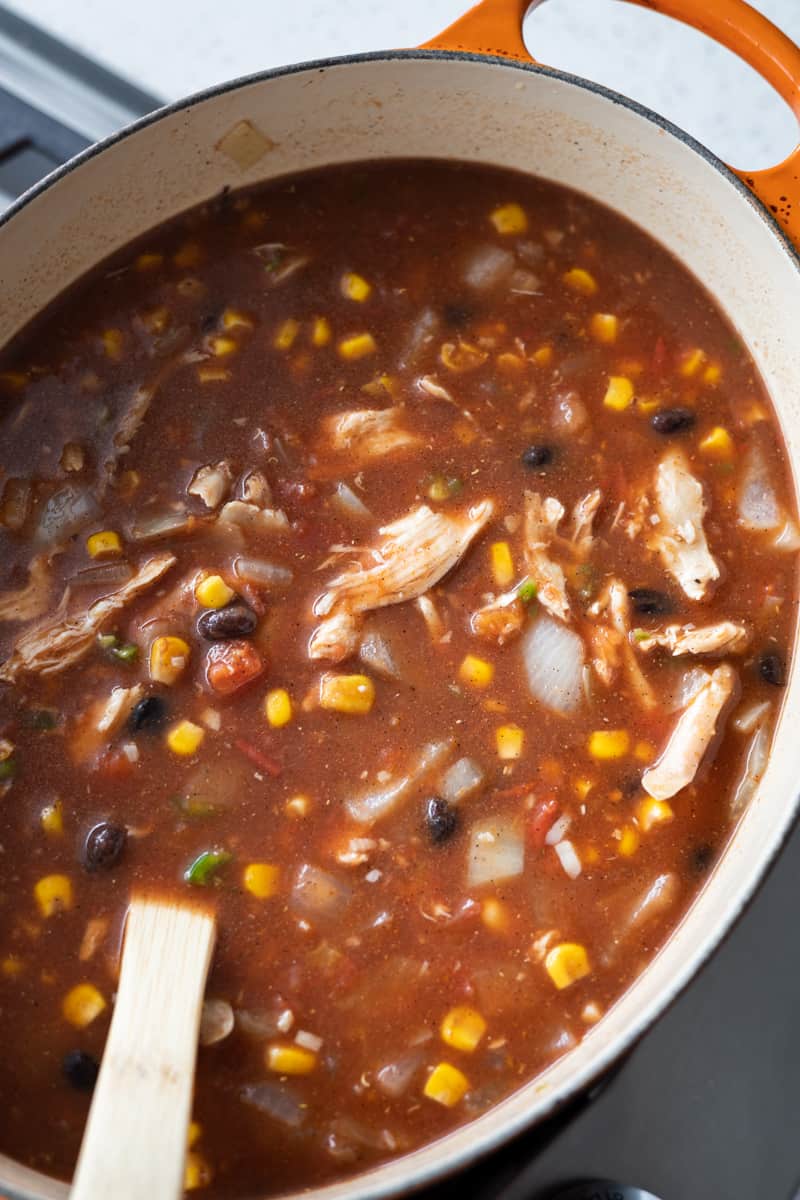 Add the chicken stock and shredded chicken.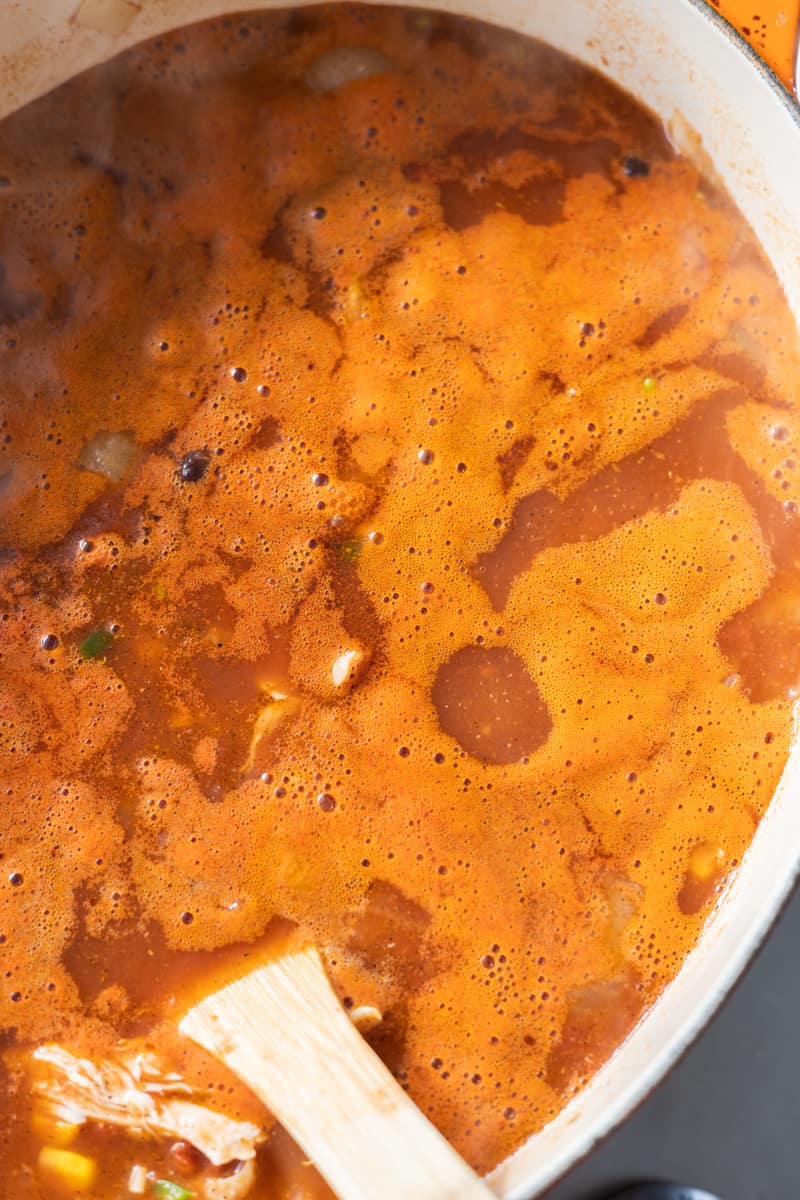 Bring to a boil, then reduce heat to low and simmer uncovered for 20 minutes.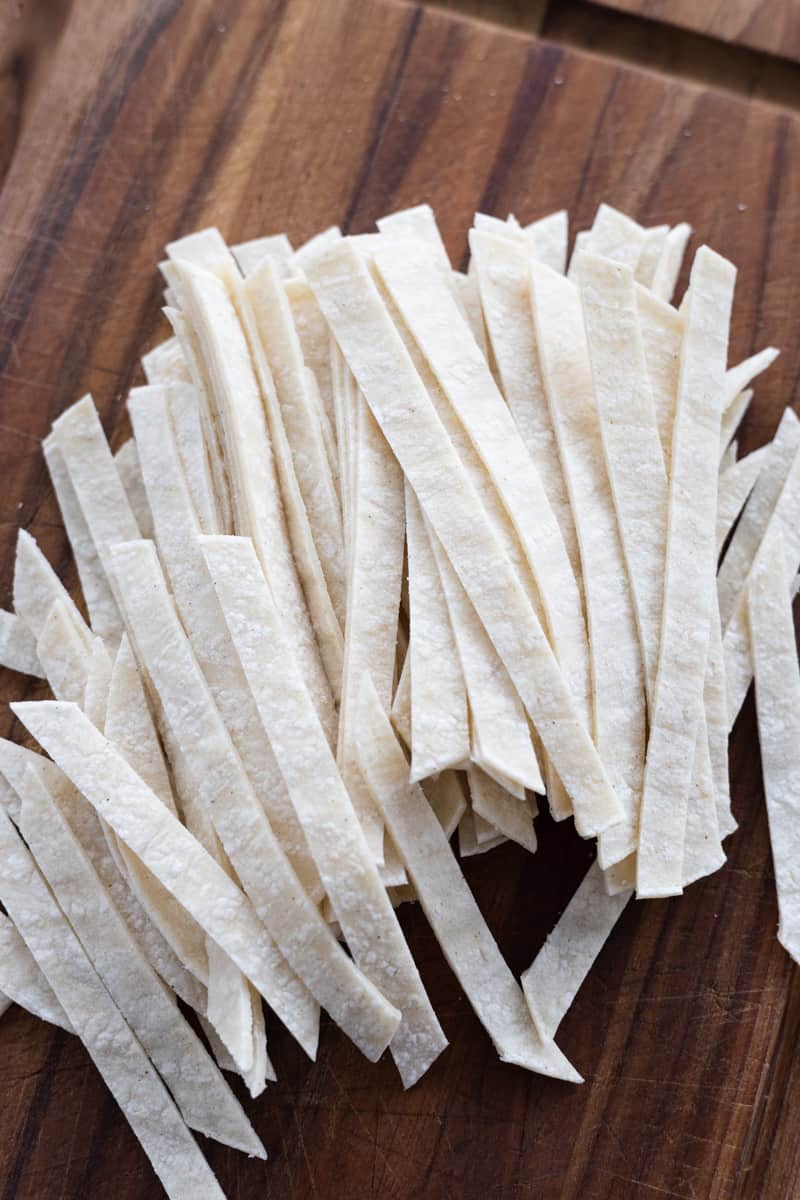 Slice the tortillas into ¼-inch wide strips.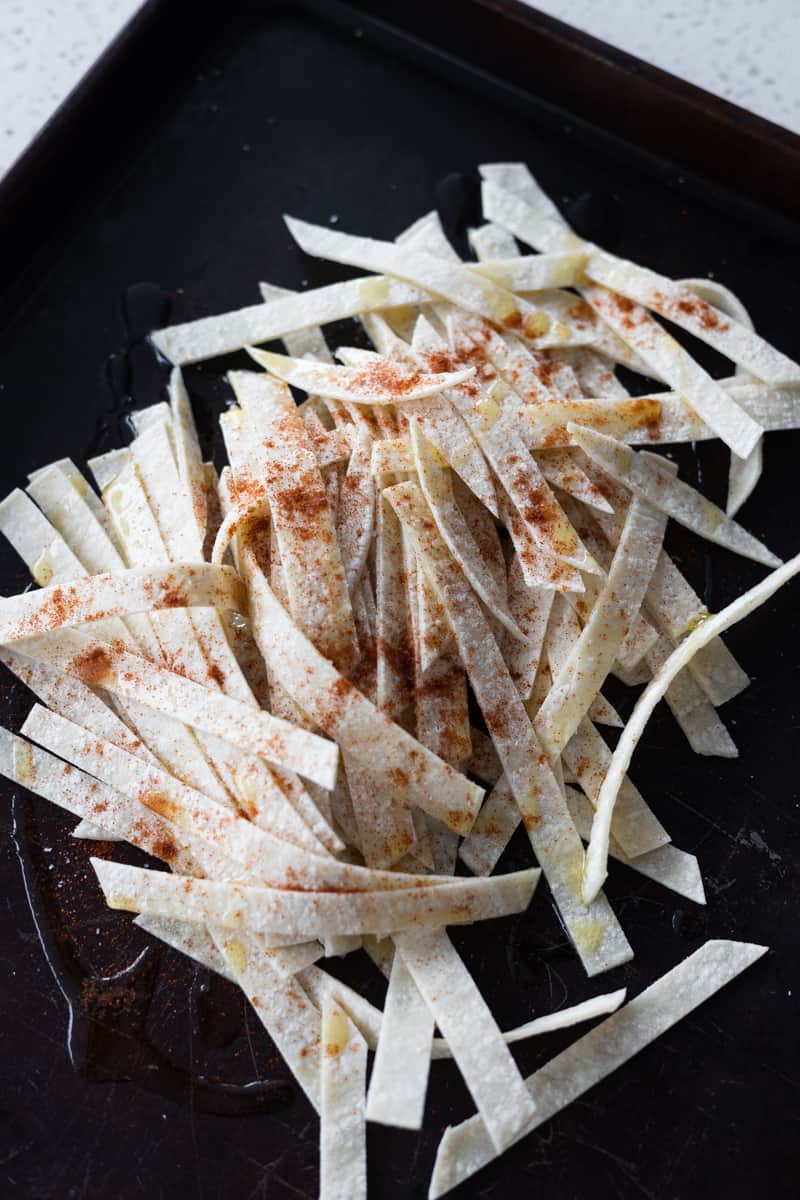 Drizzle with olive oil, salt and paprika. Then toss to combine.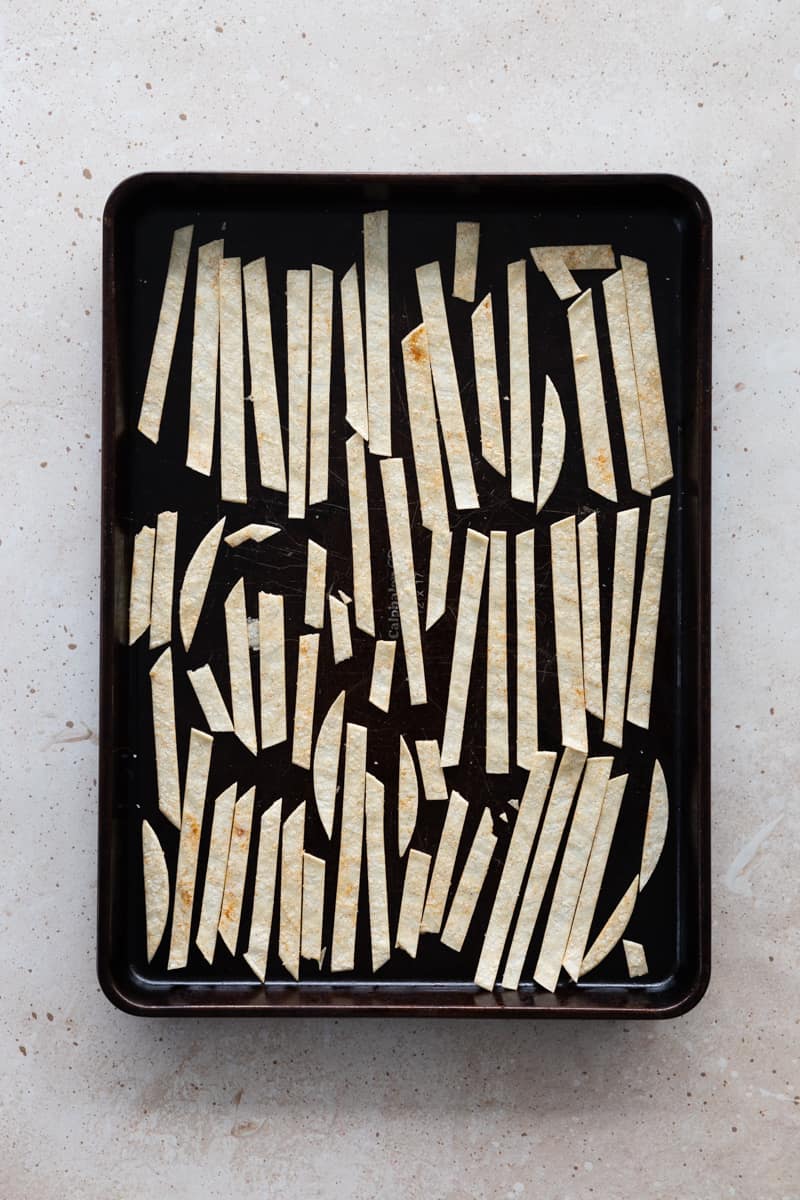 Spread the tortilla strips on a baking sheet and bake 12-14 minutes until crisp.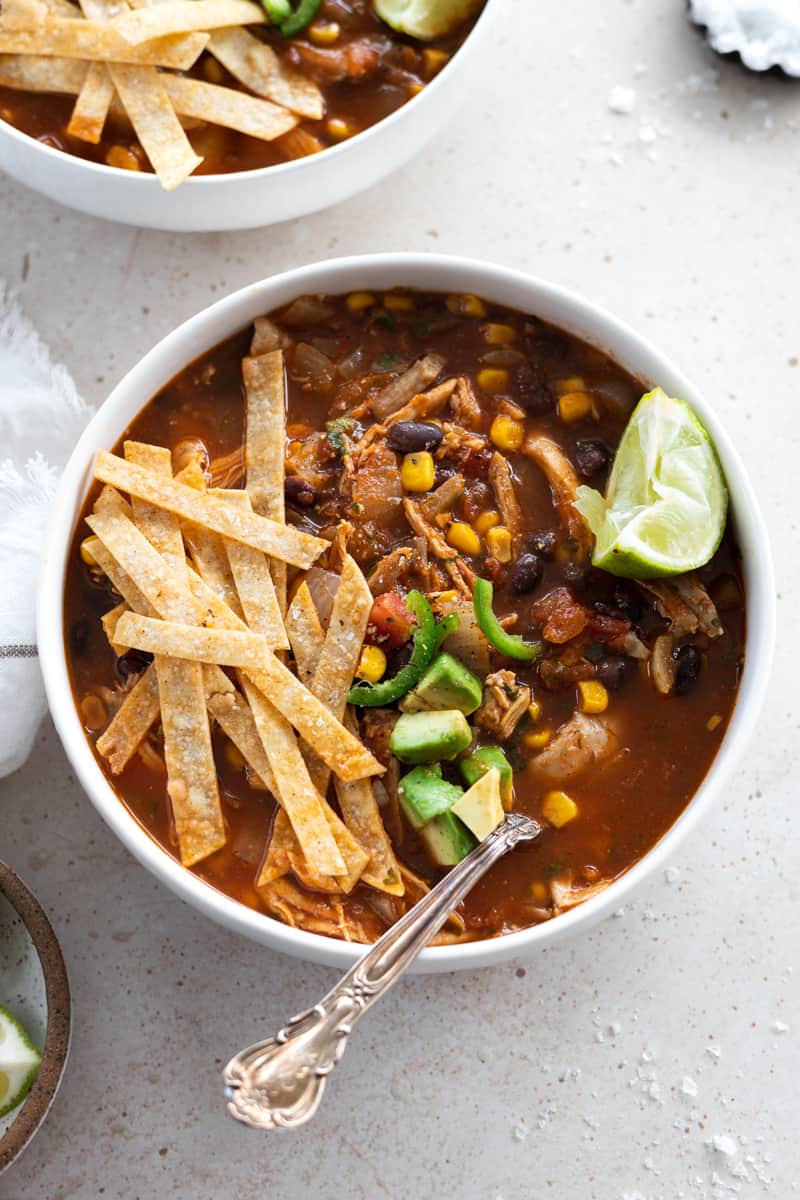 Serve the soup topped with tortilla strips, sliced avocado and a lime wedge.
Hint: The tortilla strips will start to lose their crunch once they're in the soup. Add them only once you're ready to serve!
Variations
This recipe is very forgiving. If you have a few odds and ends in the fridge that you want to use up, throw them in! Below are a few other variations to consider:
Add some red or green pepper: Have a few peppers in your fridge? They would be a great addition to this soup!
Pump up the heat: Do you love all things spicy? Increase the heat in this recipe by adding more jalapeño. You can even add some with the toppings.
Add some dairy: If you're not dairy-free, feel free to add some sour cream or cheese to the toppings.
Equipment
There are only a few things you'll need to make this recipe. I recommend using a Dutch oven or a large soup pot so you have enough space. I like to use The Dutchess from Great Jones or a Le Creuset 8-Quart Dutch Oven. For the tortilla strips, you'll need a baking sheet (I like these Calphalon Baking Sheets).
Storage
You can serve this soup right away, but for any leftovers, let cool fully then store in an airtight container in the refrigerator. You can keep this soup for up to 4-5 days. Reheat in a pot on the stovetop or in a bowl in the microwave.
Make sure to store the tortilla strips separately from the soup. Store the tortilla strips in an airtight container at room temperature for 2-3 days. They'll start to lose their crunch, but you can always make another batch!
Top Tip
Use up your leftovers in this recipe! This Healthy Chicken Tortilla Soup is ideal for leftover chicken and odds-and-ends vegetables. Throw them in - it will be delicious!
Recipe FAQ
Do I have to use leftover chicken?
No! You can definitely make chicken specifically for this recipe. Cook 1-2 chicken breasts (about 1 pound of chicken), then shred and add to the soup.
Can I use fresh corn?
Yes, you can use fresh, frozen, or canned corn for this recipe. Use a 15 oz. can of corn, or about 2 cups of either fresh or frozen corn.
Why is this soup healthy?
This soup is packed with veggies, and also full of flavor. Make sure to watch how much sodium you're using (that's why the recipe uses low-sodium broth, low-sodium black beans, and no-salt-added corn). Make sure the chicken you're using is also prepared in a healthy way. If it's a rotisserie chicken from the grocery store, check the nutrition information as it may be very high in sodium.
Healthy Chicken Tortilla Soup
A delicious and dairy-free soup, perfect for making with leftover chicken.
Ingredients
For the soup
2

Tablespoons

olive oil

1

onion

diced

3

garlic cloves

minced

1

jalapeño pepper

deseeded, minced

1

can (28 oz.)

crushed tomatoes

1

can (15 oz.)

no salt added corn

rinsed

1

can (15 oz.)

low-sodium black beans

rinsed

2

Tablespoons

tomato paste

2

teaspoons

cumin

1

Tablespoon

chili powder

4

cups

low sodium chicken stock

1

lb.

shredded chicken

½

cup

cilantro

chopped, plus more for topping

1

lime

juiced

1

teaspoon

kosher salt

½

teaspoon

ground black pepper

Avocado slices

for topping

Lime wedges

for topping
For the tortilla strips
1

Tablespoon

olive oil

8

corn tortillas

cut into ¼ inch strips

½

teaspoon

kosher salt

¼

teaspoon

paprika
Instructions
Heat olive oil in a Dutch oven over medium heat. Add onion and cook, stirring occasionally, until fragrant and slightly transparent, 4-5 minutes. Add garlic and cook, stirring for 30-60 seconds.

Add jalapeño through chili powder and stir to combine. Pour in chicken stock and add your shredded chicken. Add more stock (or water) if needed to reach the consistency you like. Bring to a boil, then reduce heat to low and simmer uncovered for 20 minutes, stirring occasionally.

While the soup simmers, preheat oven to 350°F. Place the tortillas in a stack on a cutting board, then cut through the entire stack to create ¼ inch wide strips. Transfer to a baking sheet. Drizzle with 1 Tablespoon olive oil, ½ teaspoon salt and ¼ teaspoon paprika. Toss to coat, then spread evenly in one layer on the baking sheet (you may need to spread to a second baking sheet).

Bake the tortilla strips for 12-14 minutes, or until crisp but not browning. Set aside to cool.

Once the soup has simmered for 20 minutes, remove from heat and stir in cilantro, juice from 1 lime, salt and pepper.

Serve the soup topped with a handful of tortilla strips, avocado slices, a lime wedge, and additional cilantro.
Tried this recipe?
Leave a comment below and tag @thisjess.cooks on social!