While blood oranges are in season, I want to put them in everything! And as you would expect, they're also delicious in cocktails! This recipe for a Blood Orange Old Fashioned uses Blood Orange Simple Syrup (if you make Candied Blood Oranges, you'll have a big batch of simple syrup left over) and also a dried sliced orange garnish. Of course, you can change this up and use a blood orange peel, or slice, as a garnish instead!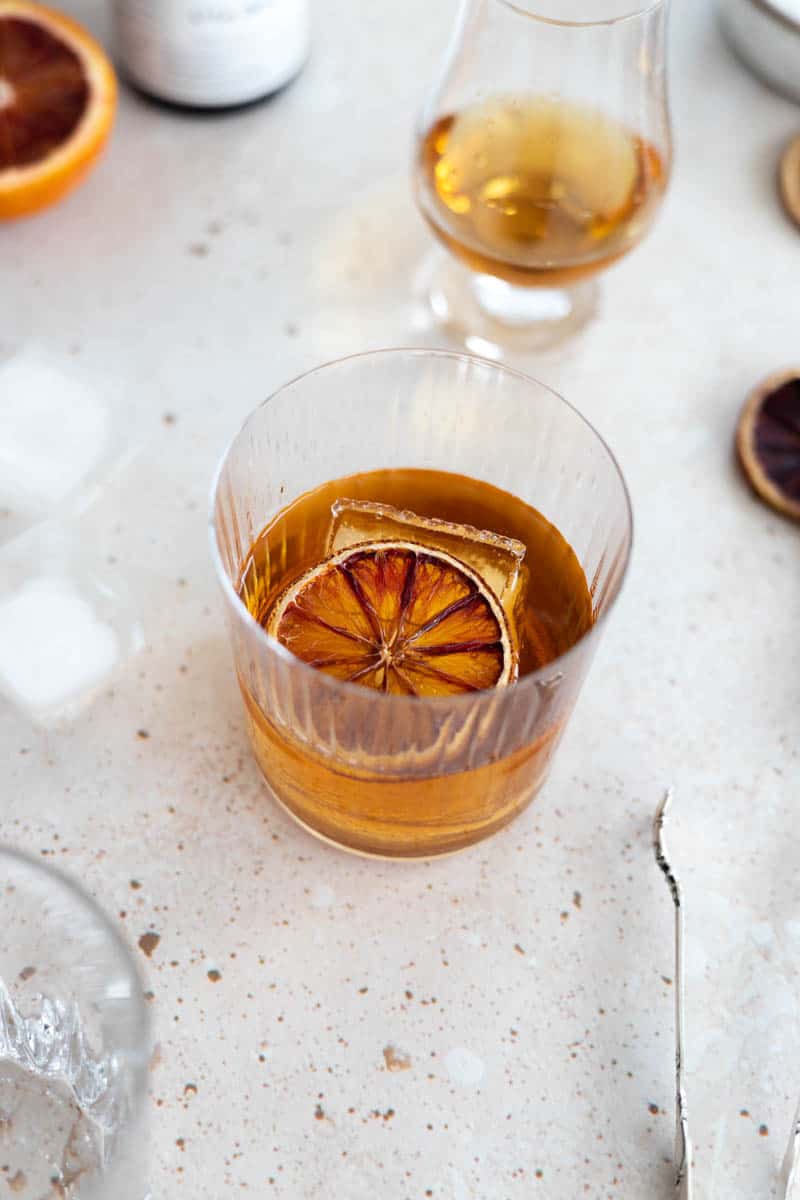 These Dried Sliced Oranges are a wonderful hostess gift, as is the Blood Orange Simple Syrup that is leftover after making Candied Blood Oranges! If you're looking for other food-related holiday gift ideas, try making homemade vanilla extract!
Jump to:
As always, I do include a few affiliate links in this post for products I truly use and love. This just means that if you make a purchase after clicking one of those links, I'll earn a little money (at no cost to you) to keep the kitchen up and running, which I promise to use to create more fun content like this! One of those affiliates is with Amazon, which requires a very clear disclosure: as an Amazon Associate, I earn from qualifying purchases. If you have any questions about affiliates, please reach out!
Ingredients
There are only a few ingredients you'll need to bring this festive cocktail together.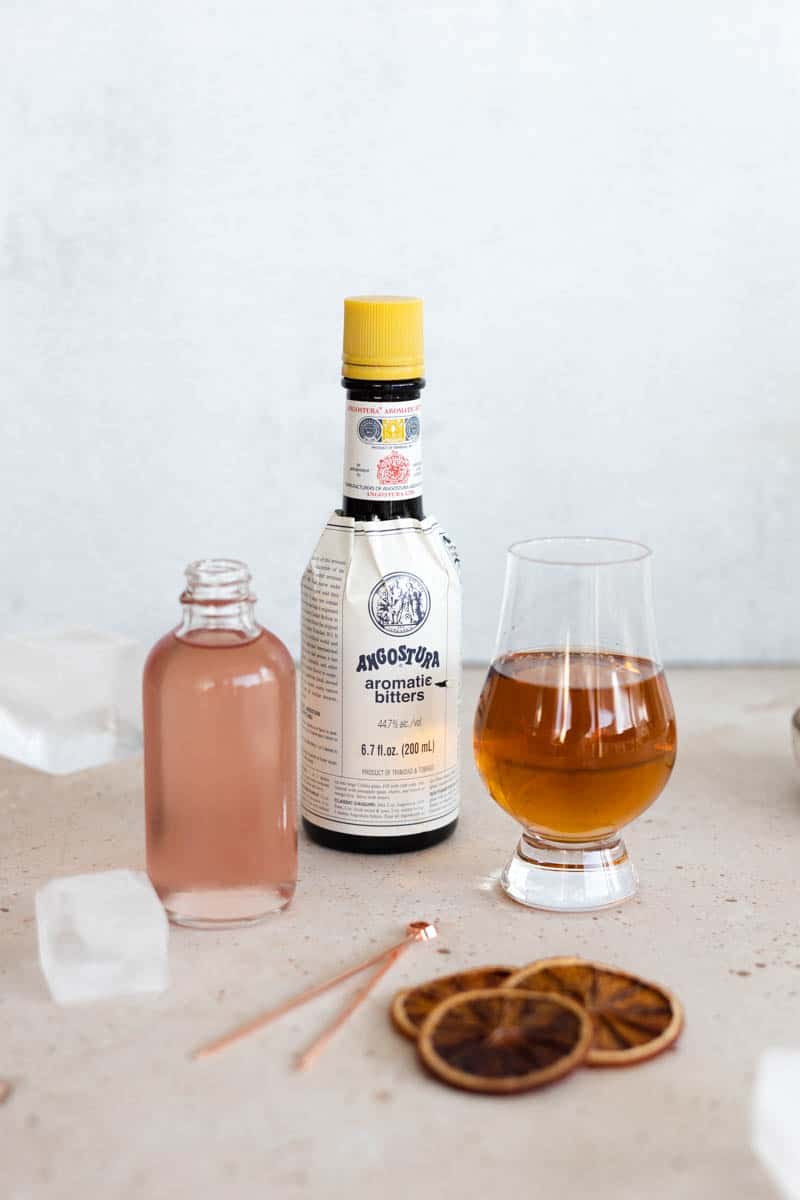 See full recipe below for detailed directions.
Instructions
Cocktails are very easy to make, and always add a festive flair to an event or evening!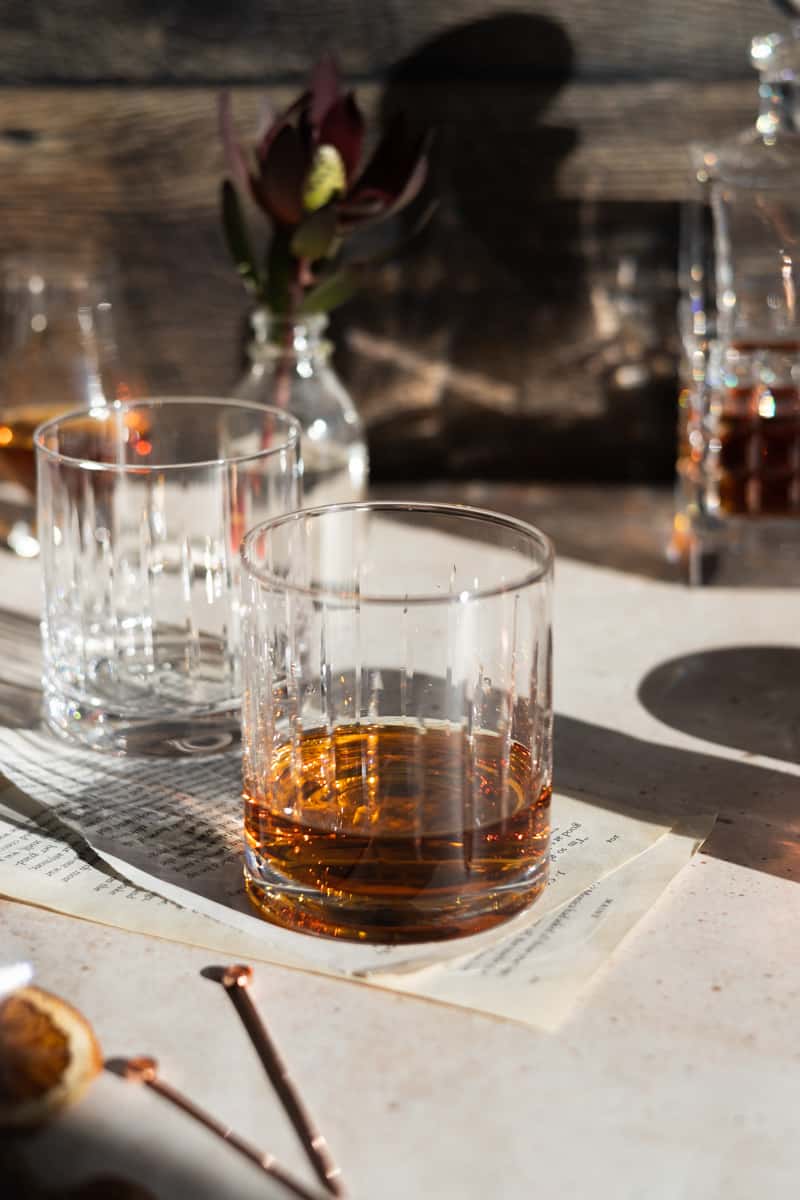 Pour your bourbon into an Old Fashioned or rocks glass.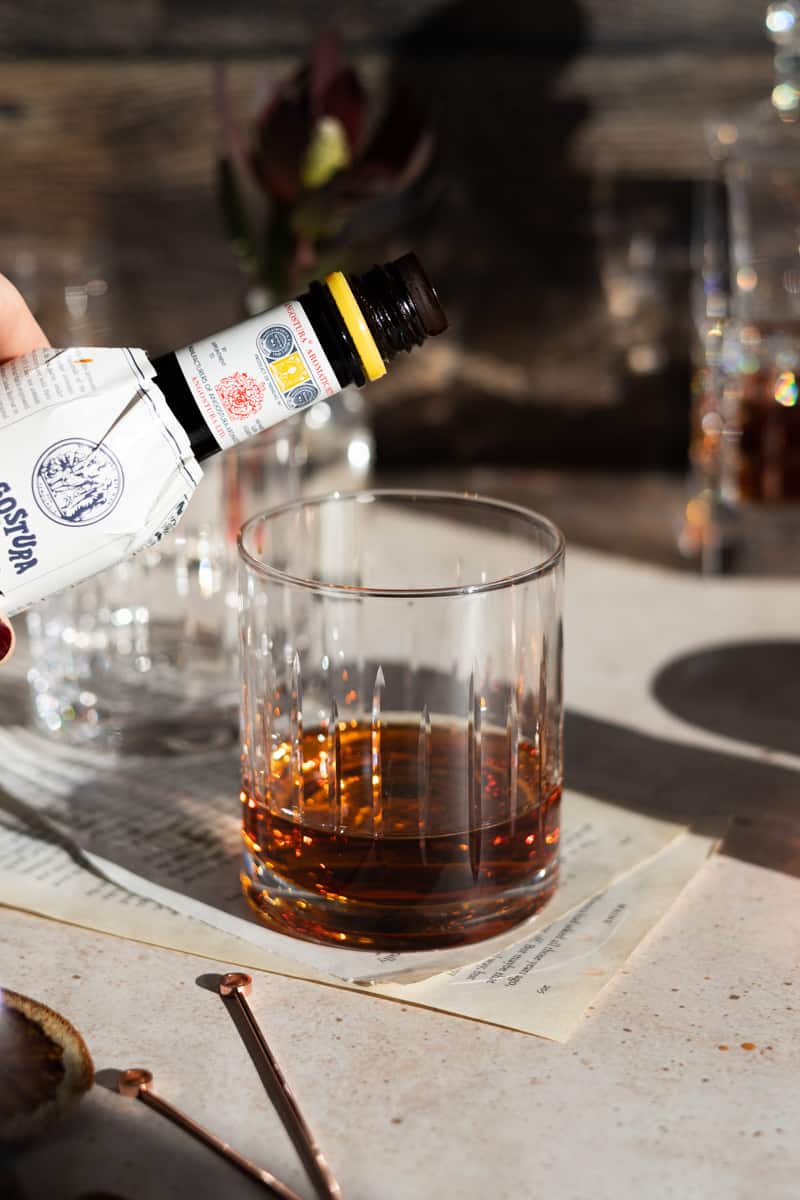 Quickly add your dashes of bitters (watch out, this will likely splash / spill and it will stain).
Add your simple syrup.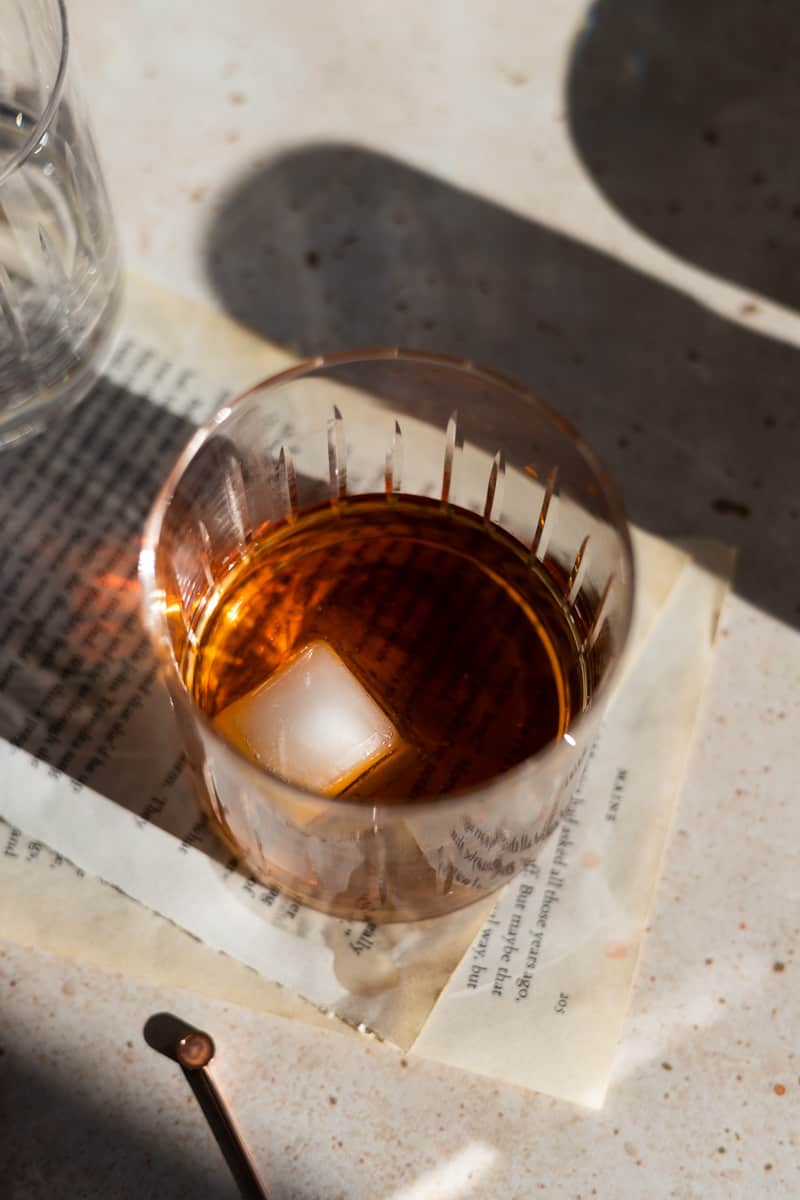 Stir, then add an ice cube of your choice and garnish with a dried sliced orange.
The dried orange slice is strictly for garnish (and a hint of flavor), but it is also edible!
Hint: All of these ingredients can be adjusted to your preference. Do you prefer a sweeter cocktail? Add a little more simple syrup. Do you like a bigger or smaller ice cube? Use that!
Equipment
This is one of the easier cocktails to make and there isn't much you need. A few things that I find make cocktails easier:
Storage
If you needed to make a batch of these cocktails in advance, you could! Mix the ingredients together without the ice or garnish, then store in the fridge until you're ready to pour. As you're assembling the cocktail, pour the mix, add the ice and then the garnish.
Recipe FAQ
I can't find any blood oranges - what are my options?
A traditional Old Fashioned is made with regular oranges, so you can always do that! And really, any type of orange will taste great in this cocktail.
Do I need to make my own Blood Orange Simple Syrup?
You certainly can (and I recommend it), but you can also buy premade simple syrup. If you do make your own, you can make a batch of candied blood oranges to enjoy as well!
Do I need to make the dried blood orange garnish?
I think dried sliced oranges are really beautiful (and tasty), but you can also garnish with a slice of blood orange peel, or simply a slice of blood orange if you prefer. They'll all be delicious!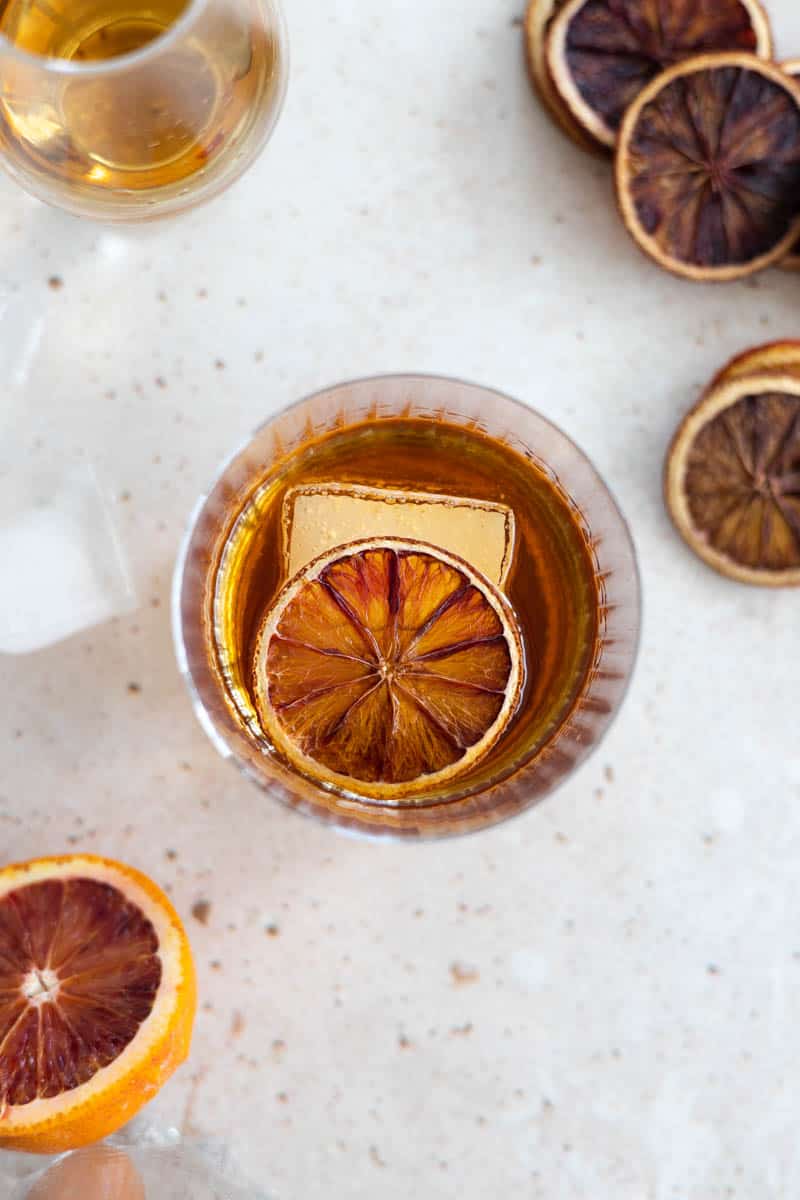 Blood Orange Old Fashioned
A delicious spin on the classic Old Fashioned cocktail - perfect for blood orange season!
Ingredients
2

ounces

bourbon

2

dashes

angostura bitters

1

teaspoon

blood orange simple syrup

1

piece

dried sliced orange

or other blood orange garnish
Instructions
Pour your bourbon into an Old Fashioned glass and add 2 dashes of bitters, then 1 teaspoon of blood orange simple syrup. Stir to combine.

Add an ice cube (shape of your choice) and garnish with a dried sliced orange, or other blood orange garnish (such as a peel or a slice of the blood orange itself).
Tried this recipe?
Leave a comment below and tag @thisjess.cooks on social!