It's always a good time for fries and these Garlic Rosemary Fries are a crispy, crunchy and flavorful addition to any meal! They're tossed with fresh rosemary, sprinkled with flaky sea salt, and perfect to serve with your favorite dipping sauce.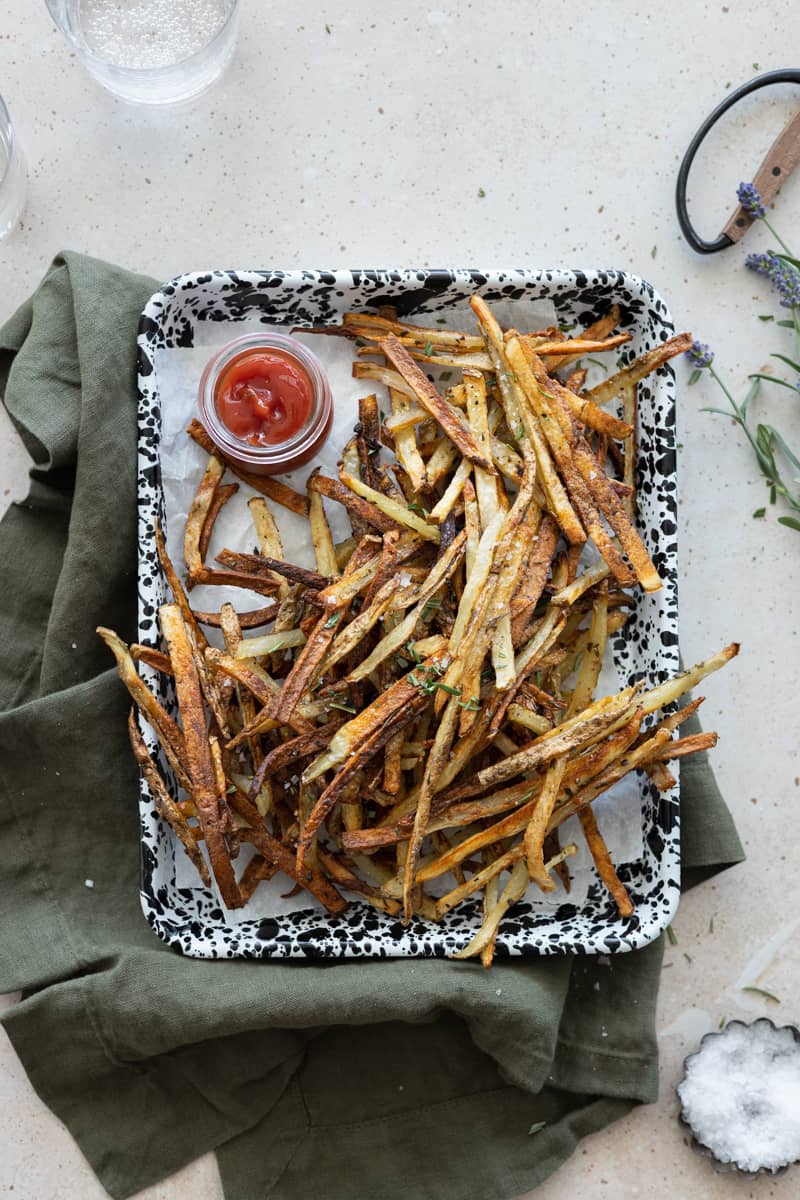 These Garlic Rosemary Fries would be delicious served with this Sriracha Aioli. Also, check out these Crispy Garlic Potato Wedges and these Baked Zucchini Slices for other "fries" options!
Jump to:
Why you'll love this recipe
This recipe is easy to make with less than 15 minutes of prep time!
These are crispy, crunchy fries that are perfect for serving with your favorite dipping sauce.
You can easily modify this recipe to make Sweet Potato Rosemary Fries, Rosemary Parmesan Fries, or Truffle Rosemary Fries.
It's a great way to use some of that fresh rosemary you have in the garden!
Ingredients
There are just a few key ingredients you'll need to make these Garlic Rosemary Fries.
Russet potatoes: These potatoes are the best for making fries because they have lower water content and are high in starch, which gives you a crispier texture and helps the fries hold together. You can use other potatoes as well, but keep in mind they may be softer.
Garlic: Fresh, minced garlic is the best. If you're in a pinch, you could also use powdered garlic for this recipe.
Fresh rosemary: Definitely stick with the fresh rosemary for this recipe. You'll want to de-stem and coarsely chop the rosemary before adding to the garlic fries.
Flaky sea salt: I like to use Maldon Sea Salt to finish this dish!
See full recipe below for detailed directions.
Substitutions & Variations
There are a few easy variations you can make to these Garlic Rosemary Fries. Below are a few ideas to get you started:
Sweet Potato Rosemary Fries - Try this recipe with sweet potatoes! These won't be as crispy because sweet potatoes have more water content and are softer, but the flavor combination will be delicious.
Rosemary Parmesan Fries - Before serving, top with a bit of shredded Parmesan cheese. This will melt since the fries are warm and will be so tasty.
Truffle Rosemary Fries - Why not add a little truffle! After baking the fries, toss with a little bit of truffle oil (a little goes a long way here) to add some really wonderful truffle flavor.
I have not tested this recipe with other variations, but if you do, let us know how it turns out in the comments! I always love to hear how you're adapting these recipes and use those as ideas for future recipes as well!
How to make Garlic Rosemary Fries
The hardest part (and I say that lightly!) of this recipe is cutting the potatoes. Once the potatoes are cut, you'll toss with the herbs and spices and bake. That's it!
Thoroughly wash your potatoes and leave the skin on. Cut into "disks" either using a knife, or with a mandoline set to 6-7mm.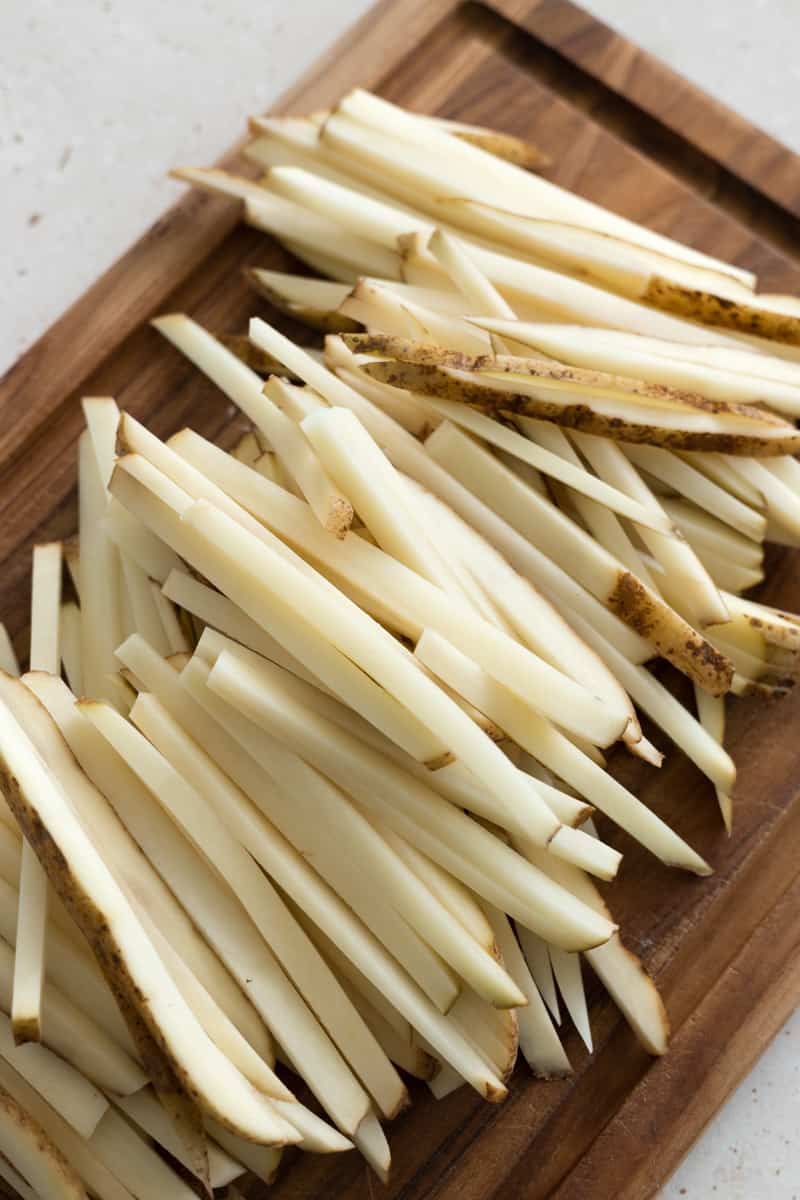 Using a knife, cut each disk into individual fries. You want them to be as uniform as possible so they'll all bake at the same time.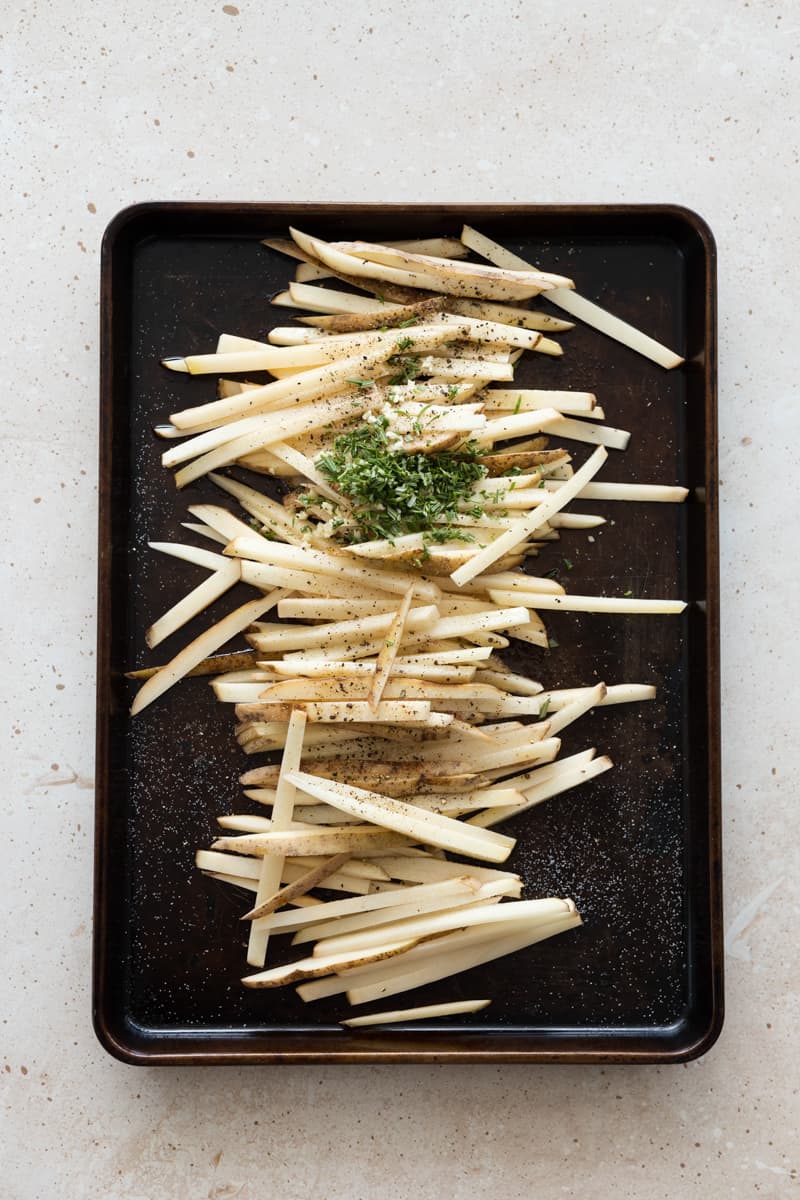 Drizzle with olive oil, garlic, herbs and spices.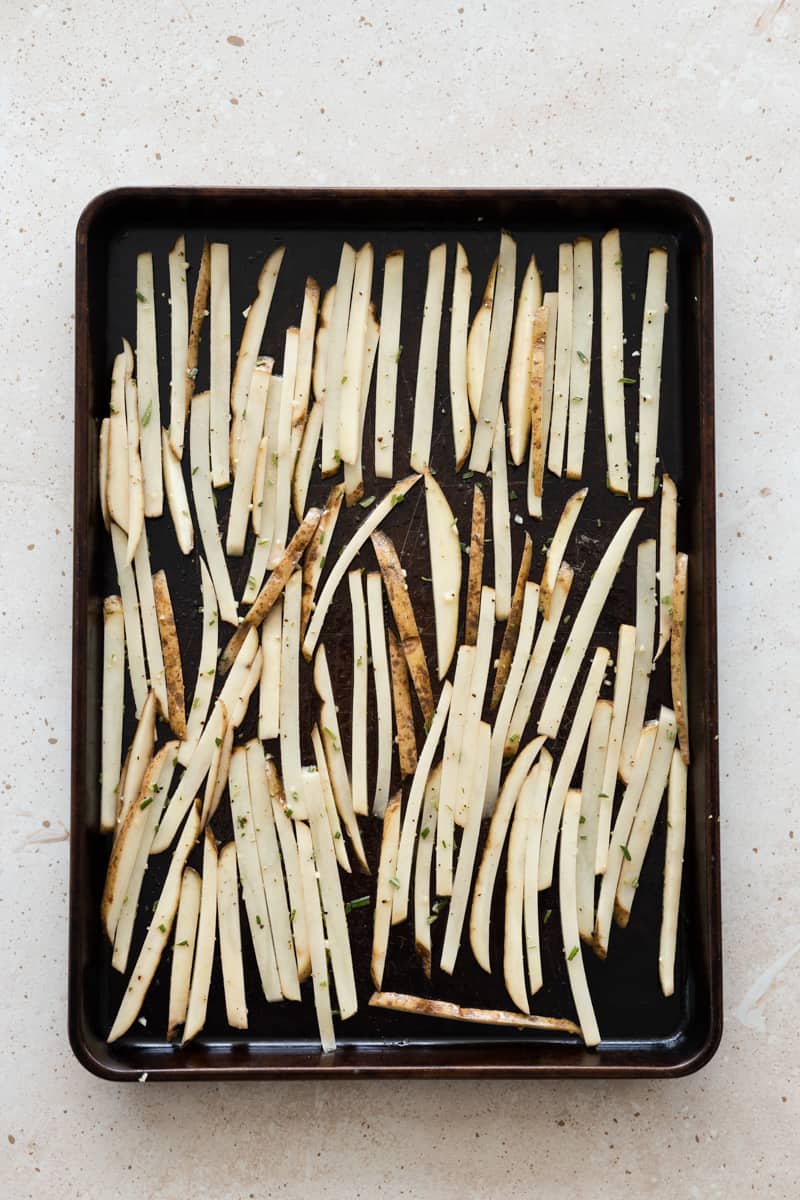 Toss to combine and spread the fries evenly on a baking sheet (you might need to use 2 sheets to give the fries enough room to spread out).
Make sure your fries have "room to breathe" on the baking sheet and are in one layer. This will allow them to get as crispy as possible. If you're making thin, matchstick fries, keep an eye on them at the end of the baking time: they can burn quickly!
Expert Cooking Tips
Cut the fries in a uniform size; this will help to ensure they all bake at the same rate. If you have very thin and very thick fries, some will be burnt, while others will be undercooked.
You can cut these fries to be as thin or as thick as you like. Prefer matchstick fries? Thicker fries? Both will work! Just keep an eye on the baking time as thicker fries may need additional time.
Spread the fries in one layer on the baking sheet. This will allow them to crisp up on the sheet.
Serve these Garlic Rosemary Fries with your favorite dipping sauces. They're great with ketchup, mayonnaise, or this Sriracha Aioli.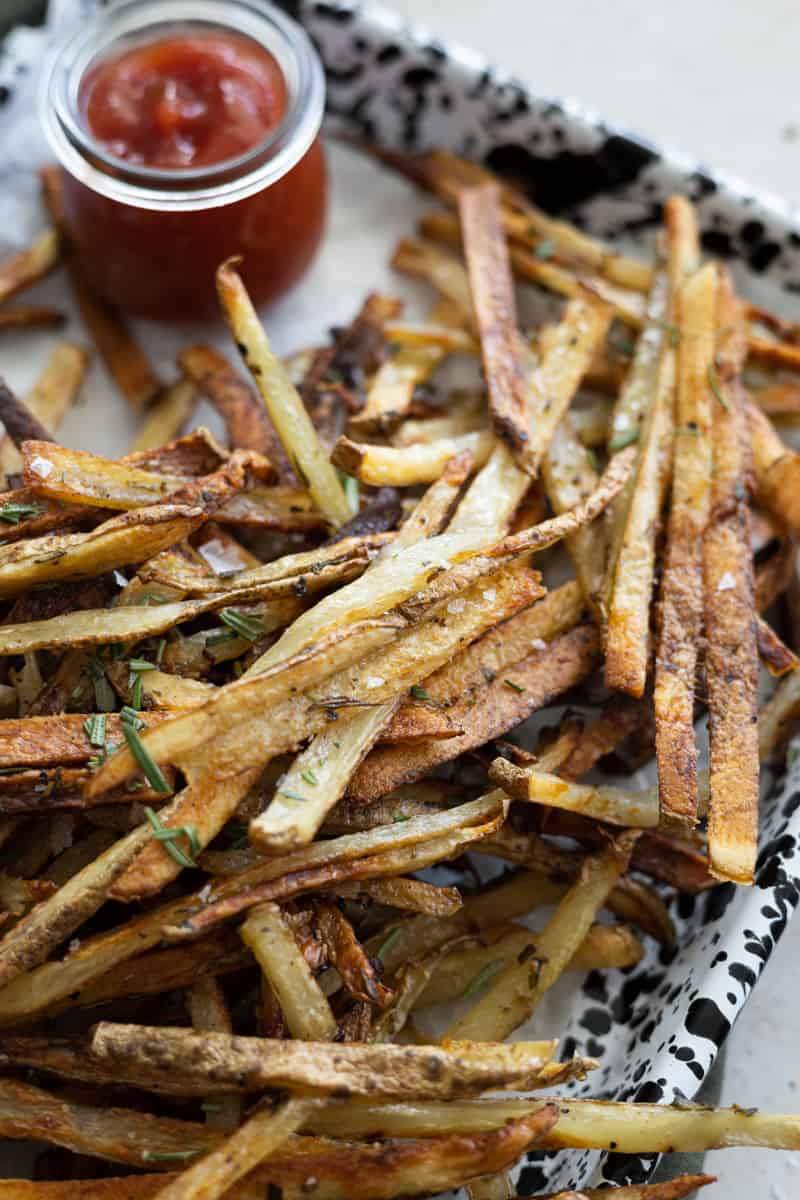 Storage
Refrigerator Storage: If you have leftovers, store the fries in an airtight container in the fridge for up to 3-4 days. Reheat the fries in the microwave for about 30-60 seconds.
Recipe FAQ
How should I cut these fries?
I recommend cutting the potatoes into a dish (with either a mandoline or a sharp knife), and then slicing into individual fries of your preferred size.
Why are my fries sticking to the pan?
Make sure you're using enough olive oil, but also keep in mind that they will stick to some extent. When you're flipping the fries, do this carefully. If they're sticking too much, you can always let the fries bake a little longer and then flip.
Why did my fries burn?
Thinner fries may bake more quickly than thicker fries. Keep an eye on the fries towards the end of the baking time to make sure they aren't overbaked!
Can I use dried rosemary for this recipe?
Fresh rosemary will give you the best flavor, but in a pinch, you could use dried rosemary (use 1 teaspoon dried herbs in place of 1 Tablespoon fresh herbs). Another option would be to use another fresh herb, such as fresh parsley, in place of the rosemary!
Can I use garlic powder for this recipe?
I recommend using fresh, minced garlic, but you could also use garlic powder for these fries. Substitute ½ teaspoon garlic powder in place of the garlic cloves.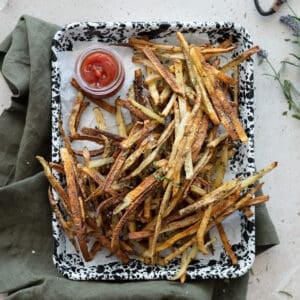 Garlic Rosemary Fries
A delicious recipe for Garlic Rosemary Fries - perfect to serve with your favorite dipping sauce!
Ingredients
3

medium russet potatoes

2

cloves

garlic

minced

3

Tablespoons

olive oil

2

Tablespoons

fresh rosemary

coarsley chopped

1

teaspoon

kosher salt

½

teaspoon

fresh ground black pepper
Instructions
Thoroughly wash your potatoes and leave the skin on. Using either a knife and cutting board, or a mandoline set to 6-7mm, carefully slice potatoes into "disks" length-wise. Then cut each "disk" into fries of your desired thickness.

Transfer the fries to a baking sheet and drizzle with olive oil, garlic, rosemary, salt and pepper. Toss to coat. Spread the fries evenly in one layer on the baking sheet (you will likely need to spread to a second sheet).

Bake for 40-45 minutes, carefully flipping the fries halfway. If you find the fries are sticking to the pan too much to flip them, let them bake a little longer before flipping.

Watch the fries carefully at the end as thinner fries may burn quickly if over-baked. Serve immediately with a sprinkle of flaky sea salt and your favorite dipping sauce.
Tried this recipe?
Leave a comment below and tag @thisjess.cooks on social!