Jump to Recipe
There are few things better than a stunning, delicious and moist (feels like an ok use of the word, ok?!) whole roasted chicken. Whether you're entertaining guests, creating a special meal at home, or just want to have leftovers ahead of the week, I highly recommend it! Also, roasting a whole chicken is not hard. It can be intimidating, but with a good recipe, a meat thermometer, and a little attention to the bird's moisture, you will have a show-stopping meal. This Citrus & Herb Whole Roasted Chicken will become a staple at your house.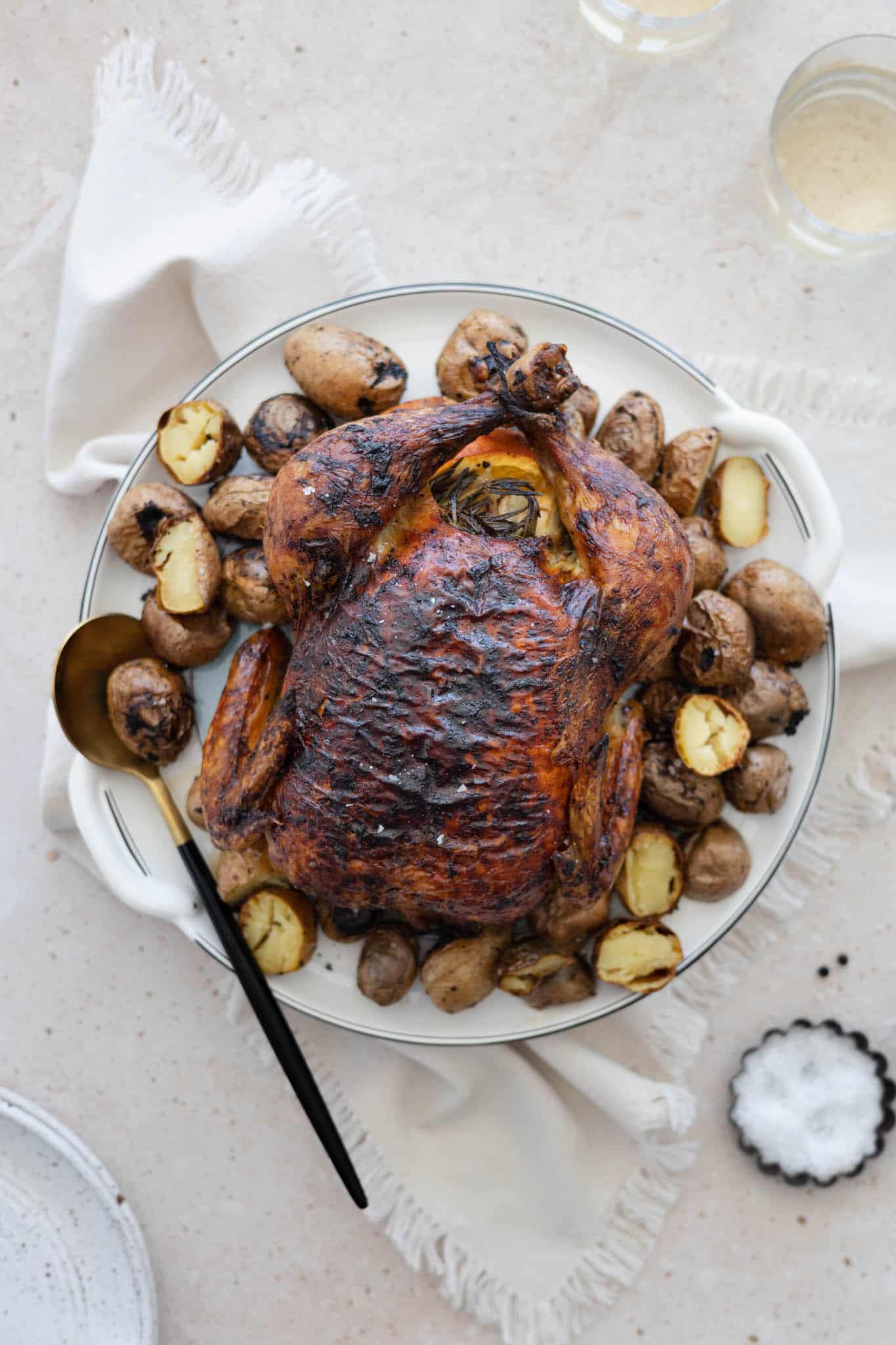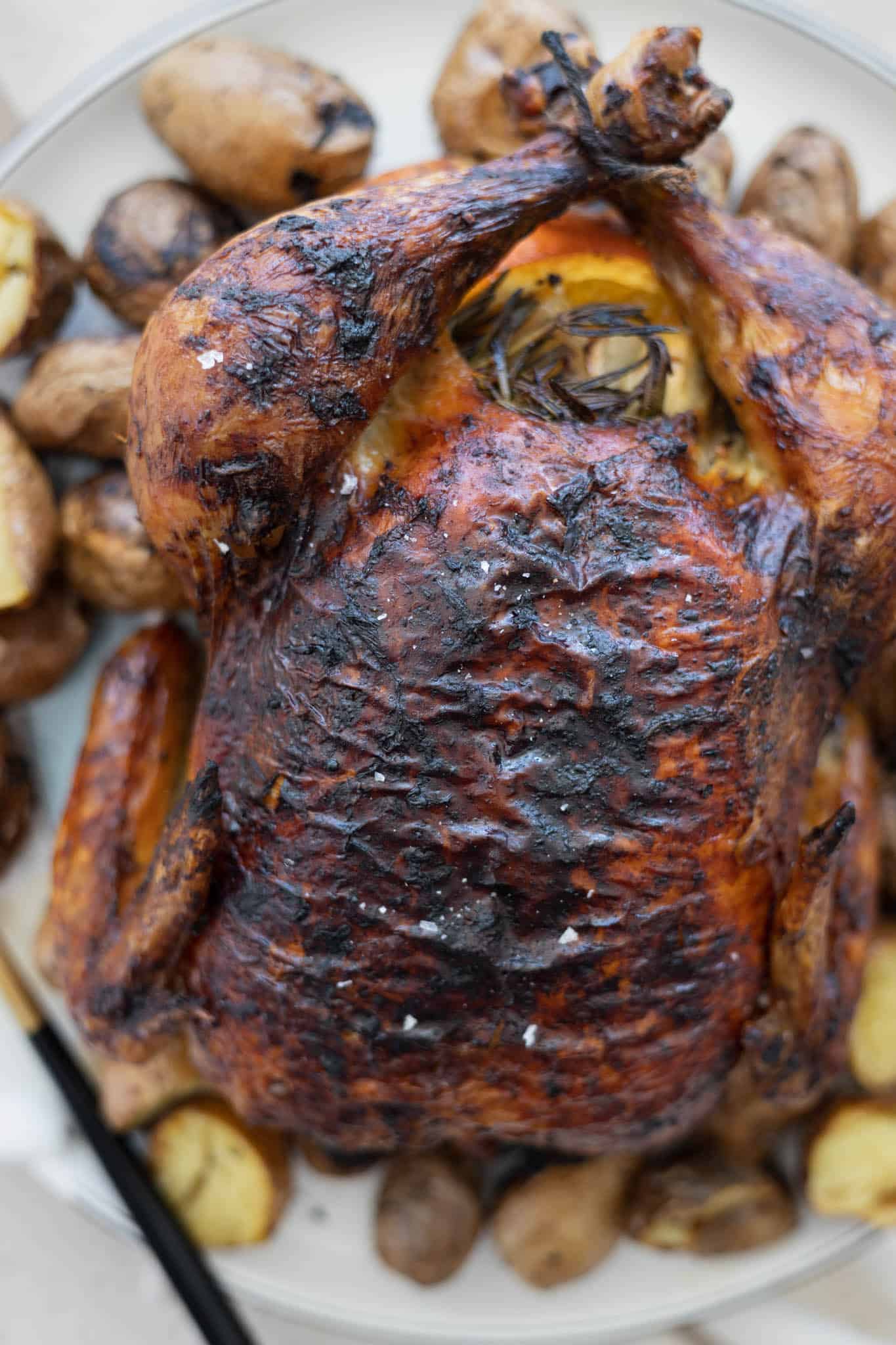 I also encourage you to use this recipe as a template. There are countless variations you could make. I like to use oranges and rosemary or thyme, but you could very well do this with lemon or lime, and a different combination of herbs. Experiment! You'll find something that you truly love!
As always, I do include a few affiliate links in this post for products I truly use and love. This just means that if you make a purchase after clicking one of those links, I'll earn a little money (at no cost to you) to keep the kitchen up and running, which I promise to use to create more fun content like this! One of those affiliates is with Amazon, which requires a very clear disclosure: as an Amazon Associate, I earn from qualifying purchases. If you have any questions about affiliates, please reach out!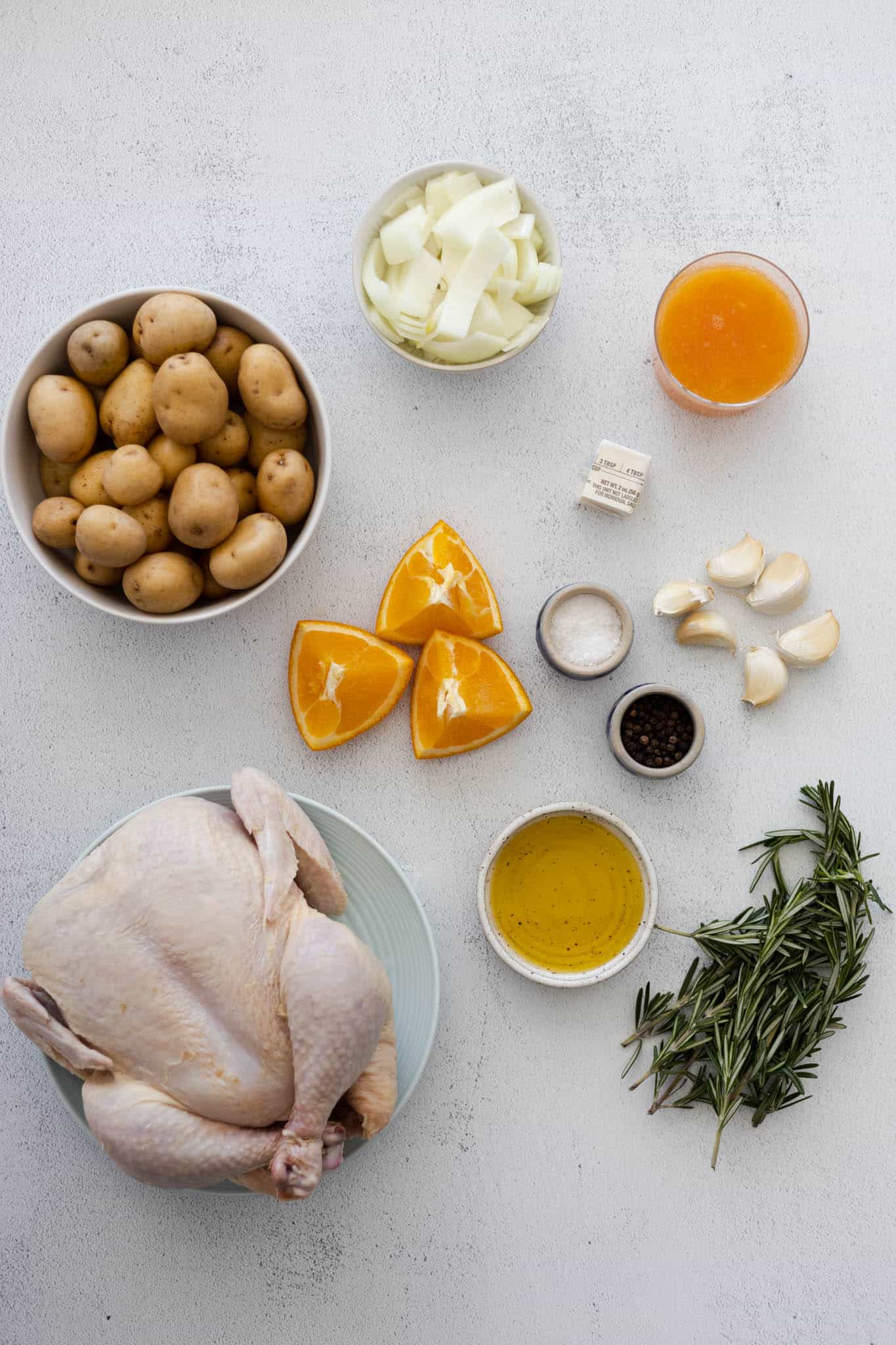 Ingredients you'll need
The name really implies it.... right?? But seriously, here is what you'll need:
A whole roasting chicken: for this recipe, you want to find a bird that is 5-6lbs. Smaller birds will need less cooking time.
Rosemary or thyme: you can use either - they're both delicious
Orange (or lemon) and orange juice: the lemon would work well here too, but I particularly love the orange flavor this gives
Butter: helps the bird develop its crispy skin
Garlic cloves: for a little flavor!
Onion: this adds moisture to the bird while it's roasting
Potatoes: I like to use yukon gold or baby dutch potatoes. If you're using a larger potato, you may need to cut it in half or in quarters. The potatoes will roast below the bird in the roasting pan. Adding these helps to soak up the liquids from the bird which are delicious, but it also keeps your oven from getting smokey while the bird cooks.
Pantry staples including kosher salt, black pepper and olive oil.
Equipment you'll need to get started
There are a few things that will make this recipe much easier: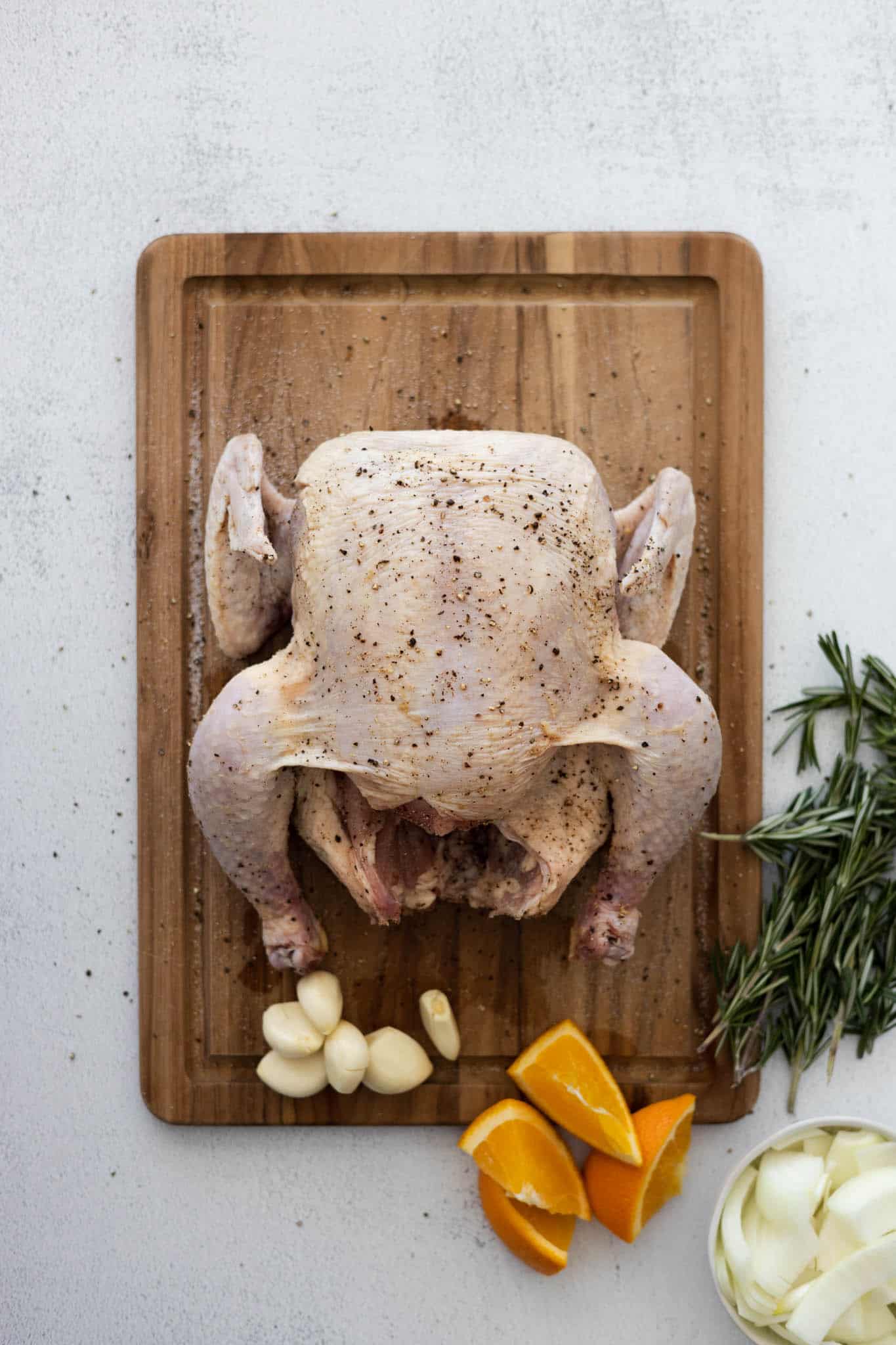 Prepping the Bird
Like painting a room, the prep is the most important part of cooking a bird. Firstly, remove anything that might be inside the bird. Sometimes this will be a little bag filled with parts. Something no bag and you'll need to take some parts out. Either way, this should be fairly easy to do (and honestly, as long as you can get over this part, you'll be golden!).
You'll want to use water to rinse your bird both inside and out, then pat dry with paper towels. Generously salt and pepper the bird (inside and out!), and then you're ready to stuff.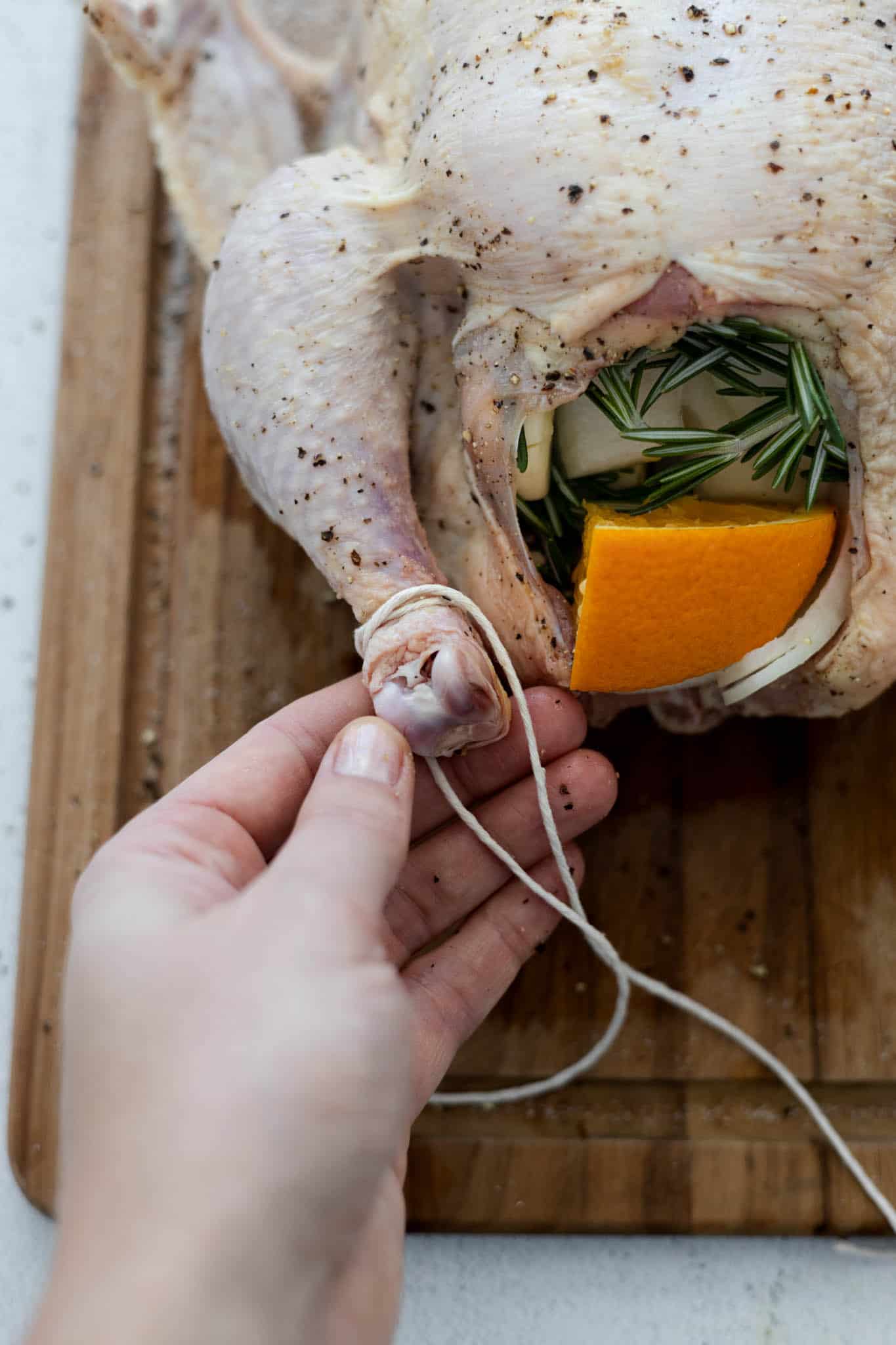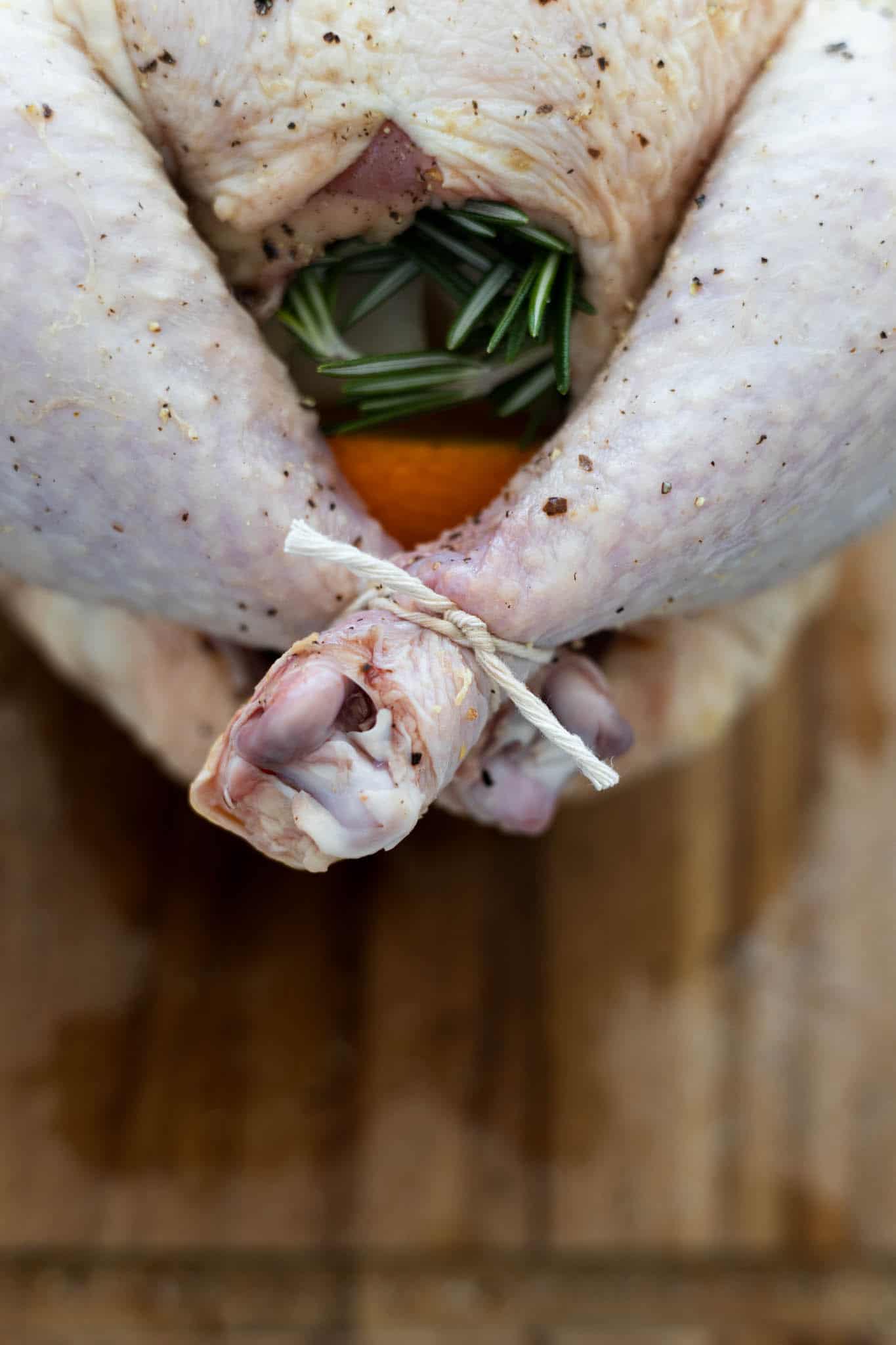 Stuffing & Tying the Bird
You'll want to stuff as much as you can inside the bird. This will depend on the size of your chicken, as well as the size of the items you're using for stuffing (you can always cut things smaller, if needed). Orange quarters, for example, can be quite large, so cut them down if needed!
Once your bird is full, you'll use kitchen twine to cross and tie the legs of the chicken together. The whole point of doing this is to keep the ingredients securely inside. It's not a precise science, and if it's a little messy, that's ok! Once your bird is tied, it's ready to transfer to the roasting pan.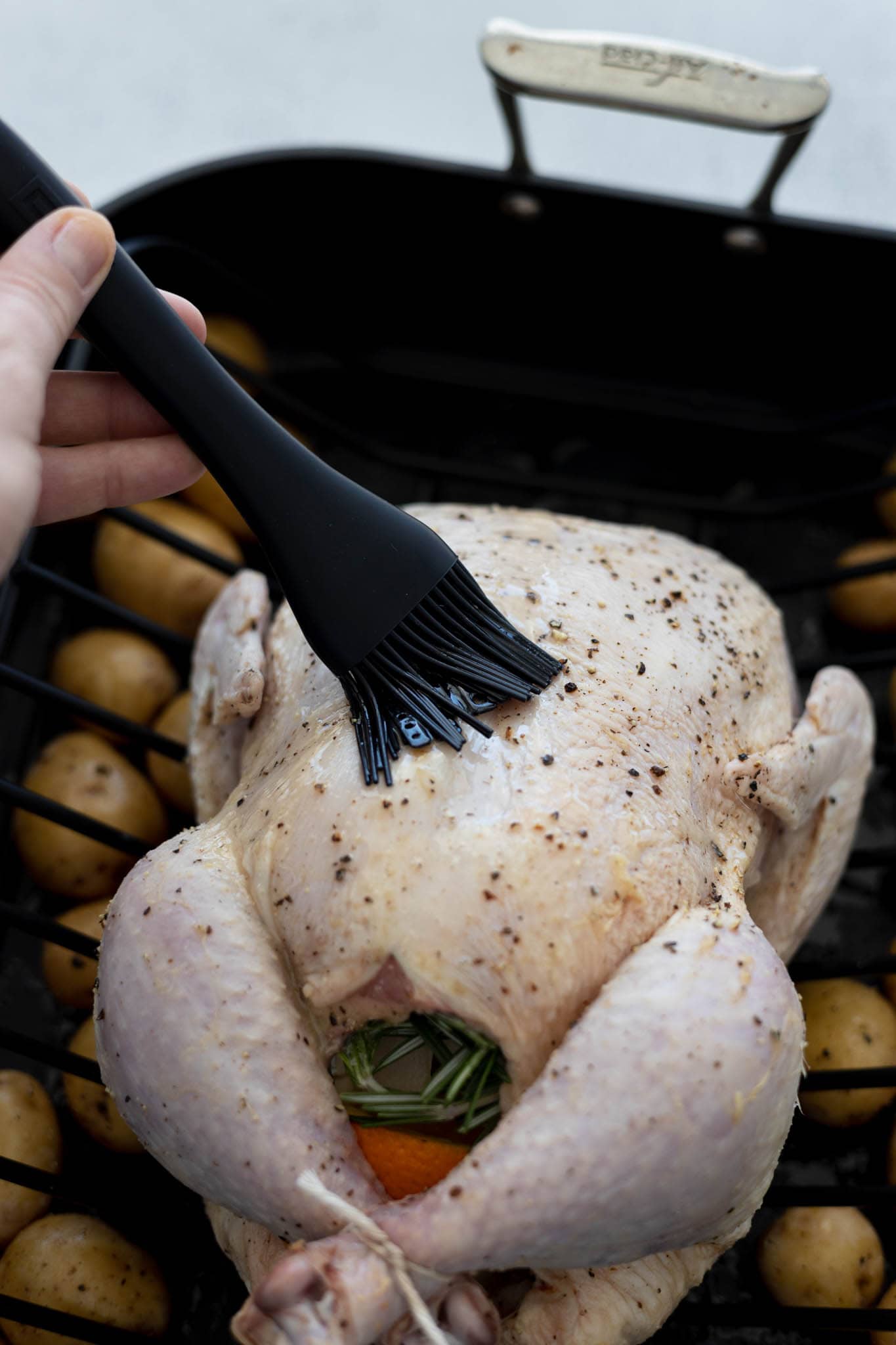 Frequently Asked Questions
What if I don't have kitchen twine?
You'll need to tie your bird, but if I don't have twine on hand, I use regular, unflavored dental floss and it works just fine. You could also use any kind of undyed, unflavored yarn, or anything along those lines. It just needs to be strong enough to hold, and of course, you don't want to add any dyes or flavors that shouldn't be eaten.
What should I do with leftovers?
When you're done with your meal, remove all meat from the carcass. You can reheat this as leftovers, or use it in something like a soup (wink wink, more to come here!). Keep the carcass to make chicken stock (recipe coming here too!). If you don't want to make it right away, you can put the carcass in a freezer bag and pop it in the freezer. Then, whenever you're ready to make stock, you can just add it to the pot.
Can I use different citrus / herbs?
Yes! This recipe is really a guideline. I used orange and rosemary, but you could easily use other citrus (lemons, or limes) and herbs (thyme is great) as well.
What if I don't have a meat thermometer?
You can make this without a thermometer, but I would highly recommend getting one. If you're not using one, you'll know the bird is done when the juices run clear when you cut between leg and thigh.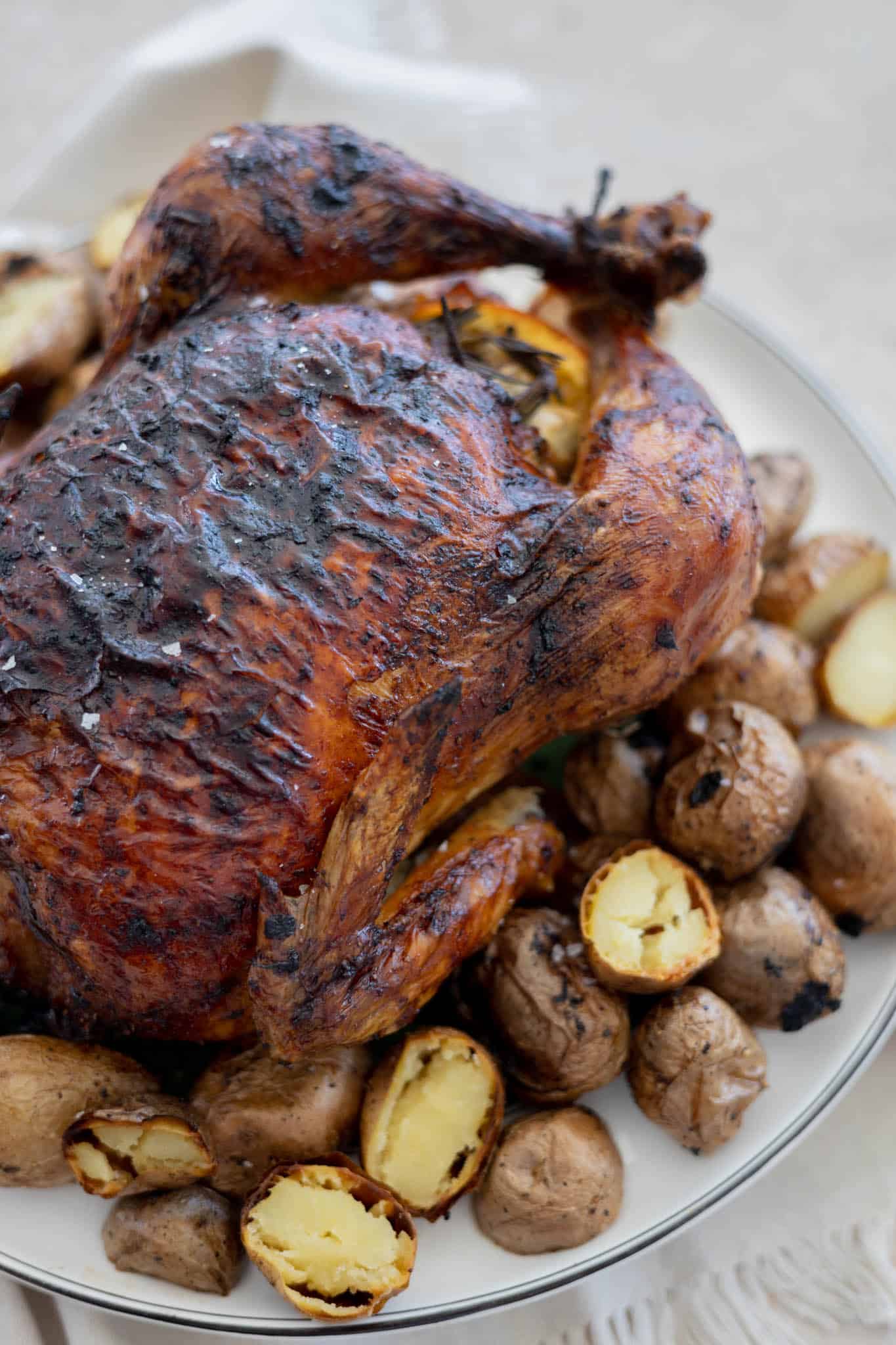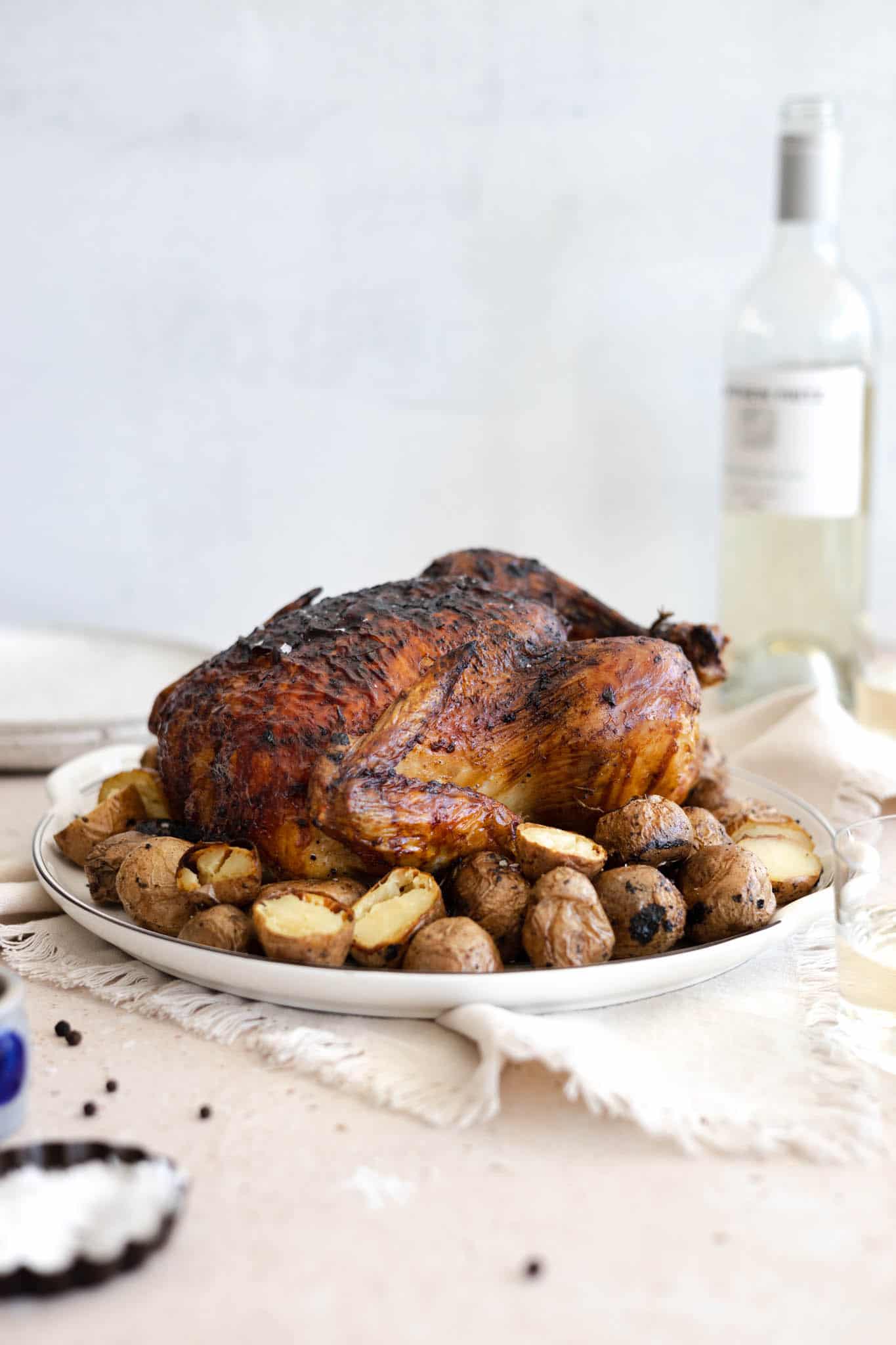 Below is my recipe for Citrus & Herb Whole Roasted Chicken. I hope you love it! Leave a comment and let me know what you think!
Citrus & Herb Whole Roasted Chicken
A show-stopping dish perfect for a cozy meal at home, or entertaining!
Ingredients
1

(5-6lb.)

whole roasting chicken

1-2

lbs.

yukon gold potatoes

halved or quartered

2

Tablespoons

olive oil

½

onion

chopped

½

orange

quartered

6

garlic cloves

peeled

¼

cup

orange juice

1

bunch

fresh rosemary or thyme

4

Tablespoons

unsalted butter

melted

Kosher salt

Ground black pepper
Instructions
Drizzle the halved potatoes with olive oil and sprinkle with salt and pepper. Toss to combine. Add to the bottom of the roasting pan.

Remove the innards from the chicken and rinse the bird inside and out. Remove any excess fat (anything you wouldn't want to eat) and pat the outside dry with paper towels. Generously salt and pepper the inside and outside of the bird. Stuff the cavity with as much of the rosemary, quartered orange, onion, and garlic as possible. It may not all fit and that's ok!

Cross the legs of the chicken one over the other and tie with kitchen twine. Place the bird on the roasting rack in the pan (breast side up) and tuck the wings under the body. Brush the outside of the bird with 2 Tablespoons melted butter (be sure to get it in all the nooks!) and sprinkle with additional salt and pepper.

Roast the chicken for 1 ½ hours, checking on the bird every 30 minutes and alternate brushing with orange juice or melted butter to keep the bird moist. Towards the end of the cooking time, if you feel the bird is browning too quickly, you can tent it with aluminum foil.

The bird is finished when a meat thermometer inserted into the thickest part of the breast reads 165°F and the juices run clear when you cut between the leg and thigh. Transfer the chicken to a cutting board, tent with aluminum foil, and let rest for 20 minutes.

Slice the chicken and serve with roasted potatoes.
Tried this recipe?
Leave a comment below and tag @thisjess.cooks on social!